on
News Briefs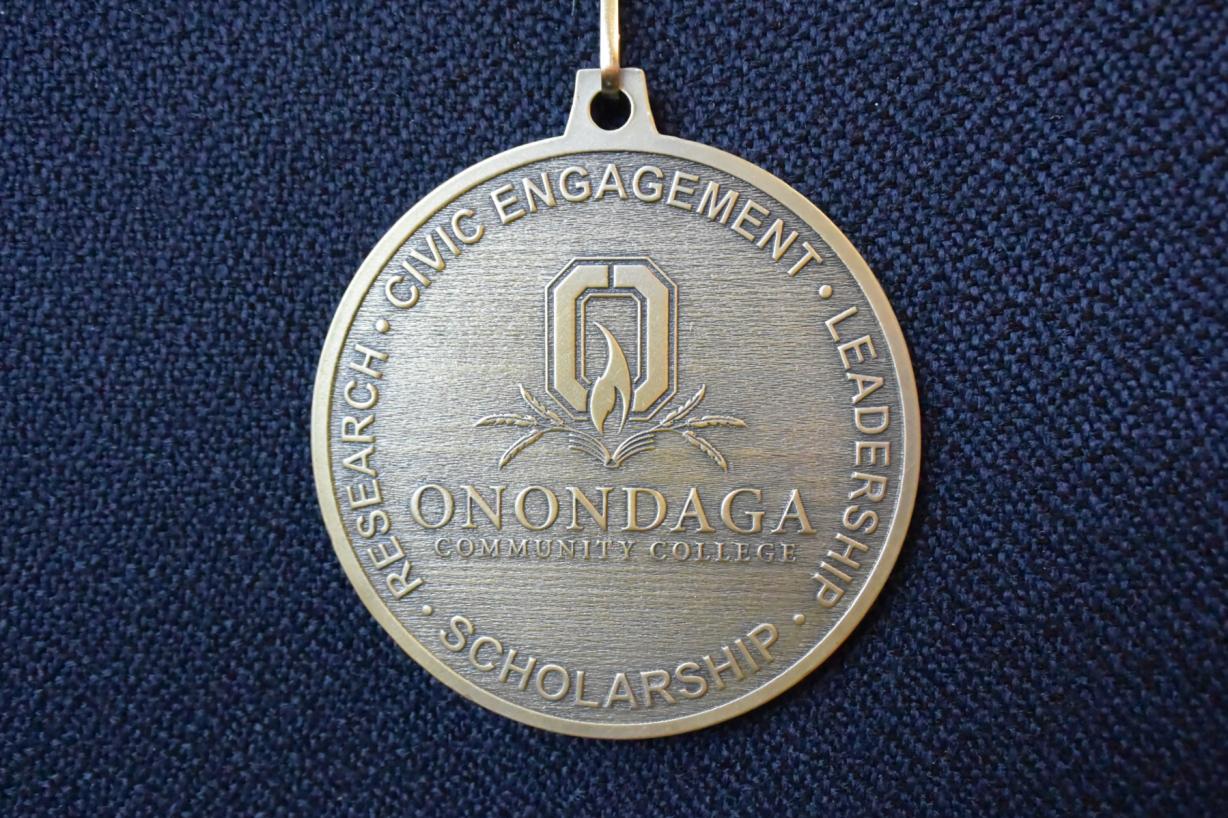 Onondaga Community College's Pinnacle program honors students who have shown excellence in one or more of the following fields: leadership, civic engagement, and scholarly research. The students selected clearly demonstrate not only an exemplary academic performance, but a strong connection with the campus or community.
Each year we recognize these students during a ceremony on campus. Unfortunately due to COVID-19, we were unable to do so this year. We salute our nine Pinnacle Award honorees.
Dawn Penson, Office of Accessibility Resources
Testimonial from Nancy Carr of the Office of Accessibility Resources: "Although Dawn Penson has received many other honors and accolades, the Pinnacle Award in 2020 may be the most reflective of Dawn, the person we know and have worked with for several years now. When you first meet Dawn you are immediately impressed with her warm and engaging personality and her sense of humor. I'm sure these traits have helped her through many a hurdle. We didn't anticipate the worldwide events of this spring. Dawn is a SUNY Chancellor's Award for Student Excellence award winner, a USA Today Phi Theta Kappa All-New York State student honoree, and is the Student Trustees on the College's Board of Trustees. She has also been an intern in our office. Like many parents Dawn is also now dealing with the online education of her young son. We had hoped to celebrate all these momentous recognitions in person. Dawn! We owe you a large party!"
Patrice Samuels, Collegiate Science and Technology Entry Program (C-STEP)
Testimonial from Lara Chappell: "Patrice Samuels is a December 2019 graduate of the Nursing program where she was also an active member of C-STEP. In her studies at OCC, she was exceptionally hard working and dedicated and she continued to do so as she has transitioned to a practicing nurse. She quickly passed her boards and was hired as a nurse in the Syracuse area. Patrice is currently working on the frontline of treating patients during the COVID-19 crisis. Her warm, caring, and confident manner along with her outstanding skills as a nurse will surely make a difference every day in the lives of her patients."
Anthony Acevedo, Louis stokes Alliance for Minority Participation Program (L-SAMP)
Testimonial from Lara Chappell: "The characteristics that make Anthony Acevedo stand out as a student are those qualities that cannot be taught. Anthony exemplifies students in the L-SAMP program. He has a natural curiosity about science, unbridled enthusiasm, and fearlessness about trying new academic opportunities. He has had two research opportunities in the past academic year; one with OCC in the Chemistry department, and the other at Brookhaven National Laboratory. Anthony is a natural at research, which makes him an outstanding student in science and will propel him to success at OCC and beyond.
Shania Guzman, Residence Life
Testimonial From Shawn Edie: "Shania Guzman is an outstanding leader who is known across campus! Not only has Shania excelled with her academic work, she is a well established student leader on campus! While Shania has served as a Resident Assistant for the Office of Residence Life for the 2019-2020 academic year, she is probably better known for her exceptional leadership with the student club JAMAA and Unity Day! She leaves a lasting impact on the OCC Community and we are confident she will make the same impression at the next stop on her academic journey."
Rebekah MacLean, Student Government Association
Testimonial from Shawn Edie: "Rebekah MacLean has been an active and vocal leader on campus since she joined OCC in the fall of 2018. Rebekah gas served as a Student Ambassador with the Student Recruitment Office, a Social Media Reporter for OCC's Office of Marketing & New Media, and has served in two different roles within the Student Government Association. In the fall Rebekah took on the role of Vice President of Media. Her responsibilities included a weekly blog story highlighting upcoming events, stall signs, and marketing for programs and events sponsored by the Office of Student Leadership and Engagement, and the Student Government Association. In the spring Rebekah became the Vice President of Entertainment & Programming, taking on the tall task of creating engagement efforts for the OCC community. She has been an active voice in sustainability and social justice efforts. I look forward to hearing about all her future endeavors."
Augustine Wait, Educational Opportunity Program
Testimonial from Larry Goodman: "Augustine was born and raised in a refugee camp in Thailand and arrived in the United States in 2011. I have personally witnessed her discipline, determination, and persistence when it comes to her educational goals. Since the Fall of 2017 her GPA has increased each semester. Along with maintaining a high grade point average (currently 3.589) Augustine is actively involved in making her community a better place through civic engagement and volunteering in various capacities. She is also an OCC student-athlete. She is a great student who does well in her classes and also works hard and seeks assistance in classes that she may be having difficulties with. Augustine is also a former EOP work-study student."
Patrick Barnett, Veterans
Testimonial from Steve White: "Patrick is a graduate of West Genesee High School who enlisted in the United States Army after graduation. Patrick served as an Army infantryman for four years. Upon returning home Patrick enrolled in the Computer Information Systems degree program. Since arriving on campus Patrick has also been a fixture in the OCC Veterans Office where he currently serves as a Veterans Administration work study student as well as the Treasurer of the OCC Veterans Club. Patrick has dedicated a tremendous amount of time and effort to serve and support the military connected population at OCC, both students and staff. Patrick will graduate from OCC in May and has been accepted into the Cybersecurity program at Le Moyne College."
Anahi Cadinonos, International Student
Testimonial from Meghan Peryea: "Anahi came to OCC in January 2019 from Argentina. After just three semester here she is on track to graduate in May with a 4.0 grade point average in Business Administration. From the time I began interacting with Anahi she has been unbelievably kind and patient. She is very diligent in all that she does. It is evident by her 4.0 GPA that she takes her work seriously and excels in what she sets her mind to. Anahi is one of those students who is always planning ahead and consistently follows through with her commitments. She is always showing appreciation. While that is certainly not necessary, it just shows how thoughtful she is about other people. Anahi has such a sweet nature to her. She has that perfect balance of being fun and lighthearted, but also serious and responsible. Her gratitude is contagious. It is Anahi's plan to apply for Optional Practical Training (OPT) so she can work for a year in the United States before going on to her next educational endeavor. She already has a position lined up for when she graduates and her OPT is approved. I'm so excited to honor Anahi as the International Student Services spring 2020 Pinnacle Award recipient."
Emily Durand, Athletics
Testimonial from Mike Borsz: "Emily Durand is just finishing her first year at Onondaga, a year she has maximized with her heavy involvement in academic pursuits and campus life. Emily is a strong student who excelled academically, earning a position on the President's List for the fall 2019 semester. She is a member of Phi Theta Kappa and part of the Honors College program. Emily is also a dedicated and respected athlete, taking on the difficult task of balancing two sports, splitting her limited time between the Women's Soccer and Softball programs. Emily is also a vocal advocate for her fellow student-athletes, offering many insightful comments and suggestions to the Athletic Department throughout the year as a member of the Student-Athlete Leadership Council. Emily is a thoughtful and caring student and I cannot think of a student-athlete more deserving of this award than her."