on
Alumni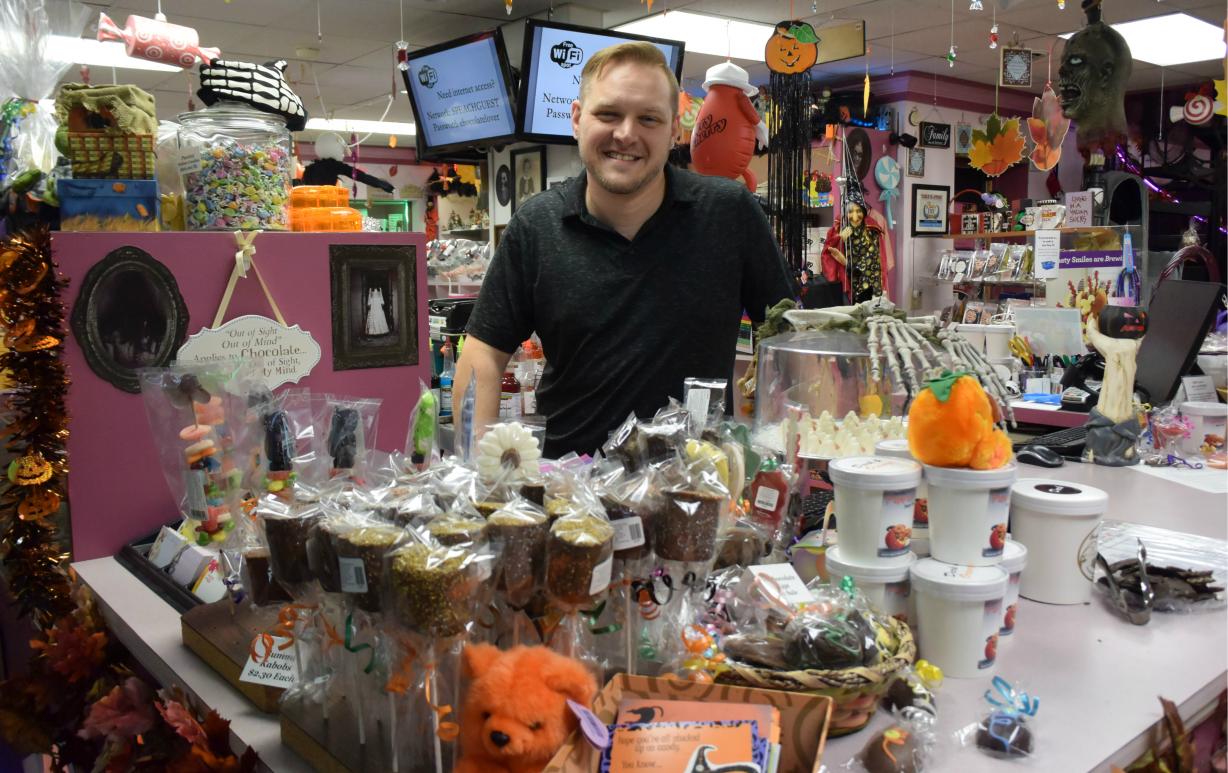 When Michael Speach was growing up, life revolved around the family business. He couldn't wait to get as far away from that life as possible. "We didn't enjoy the holidays because those were our busiest times and we were exhausted. My view of life and holidays were very skewed. We didn't take a family vacation until I was 15. I told my parents I didn't want to have anything to do with the business."
Today Speach is the business. He's the fourth generation President and Head Chocolatier of The Speach Family Candy Shoppe, located at 2400 Lodi Street on Syracuse's north side. Next year Speach and his family will celebrate their 100th year in business. "Making it to 100 years means you've overcome a lot. To survive so much is exciting."
Speach's first step away from the family business was in 2000 when he enrolled in Onondaga Community College's Electronic Media Communications (EMC) program. His parents wanted him to go to school for business but he preferred something performance related which appealed to his creative side. He was most interested in sound and lighting. While learning about those within the EMC major he also received what he referred to as a 'well-rounded education' which paved the way for him to transfer to Ithaca College. He did so well at OCC he received a full scholarship while earning a bachelor's degree in Theatrical Production.
From Ithaca it was on to New York City where he was hired as an apprentice on Broadway. He was working on nine different shows at once. He loved the work but not some of the things which surrounded it. "I had some awful experiences. I had learned how to be creative but wasn't prepared for the politics of the job." 
Exhausted and disillusioned, Speach returned home in the summer of 2007 and 'slept for three straight weeks.' By mid August the State Fair was approaching and his mother asked if he could help make fudge to sell there. She gave him his space and let him work at his pace. "She checked in on me a couple of days later. She was expecting me to have two cases of fudge and literally half the store was filled with it because I didn't have anywhere else to put it. I got to be creative making the fudge and making the labels. I really enjoyed it!"
While the Fair was a success, the business was at a crossroads and hard decisions needed to be made. Years earlier his mother Susan, who is also an OCC alumna, had taken a job with the United Postal Service so she could provide the family with benefits. They had invested everything in the business but weren't getting back what they had put in. Speach's parents wanted to either sell the business or sell the building and liquidate. Speach sat down with his parents and two sisters to discuss the future, and committed to running the business. "I said I would give it three years. I cashed in all my retirement and savings, cleaned out the store, and started over."
Part of starting over meant creating a website and that brought him back to his days as an OCC student when he took classes in computer programming and web design. "When I built my first website I referred to those textbooks and reached out to my old professor. It was very helpful."
In the 1980s the staple of the family business was chocolate covered potato chips. Speach still makes them and you can buy them on Amazon. But he's also branched out and expanded his product line. "I diversified. We make over 300 kinds of truffles now. Brickle used to be a holiday product. Now it's year-round and we have more than 90 kinds. We became one of the first companies to import edible food coloring from Italy. We're having a lot more fun now and being more creative."
They're also branching out into other parts of the country. A broker is helping them expand into the midwest and they just completed their first sizable shipment to Illinois. Eventually Speach wants to get his entire product line on Amazon. He's also collaborating with local businesses like Recess Coffee, creating products which combine his chocolate with their coffee and is called Recess Chocolate.
A century after an Italian immigrant named Michele Spicciati started the business, his great grandson has big plans for the 100 year celebration in 2020. Speach will release 100 new products next year. He is also organizing "Ten Decades of Giving." Speach will partner with a different non-profit each month, and create a custom sweet treat for each for which they will receive 100% of the profits. The non-profits were selected during an on-line nomination process. Speach received over 2000 nominations and the top ten vote getters were chosen. They are Cystic Fibrosis Foundation, Gigi's Playhouse, Rescue Mission, Front Row Players, Hospice of Central New York, ACR Health, Joseph's House for Women, Vera House, Misfits Animal Rescue, and Father Champlin's Guardian Angel Society.
Twelve years after deciding to pour his heart and soul into the family business Speach is in a good place. "I had to go away and do what I had to do for myself. I needed to rebel to appreciate what was here. If I would have just stayed in the business I probably would have been downtrodden and tired like my parents. My mom realized she loved making candy but didn't do business well. I think I would have been in that same frame of mind."
Speach has also conquered the holiday problem and learned to celebrate them on his calendar. Christmas, Valentine's, Easter, and Mother's Day are their four busiest periods. "One of my sisters works here, one works in retail, and my mother works at the post office. We've come to accept the fact that Christmas can be whenever we want it to be. The Sunday after Christmas is when we celebrate. Same thing with Valentine's Day. We do whatever we do after the holiday. From October through May if you see me you're lucky, and if I'm not covered in chocolate I probably just showered!"