on
Succeeding @ OCC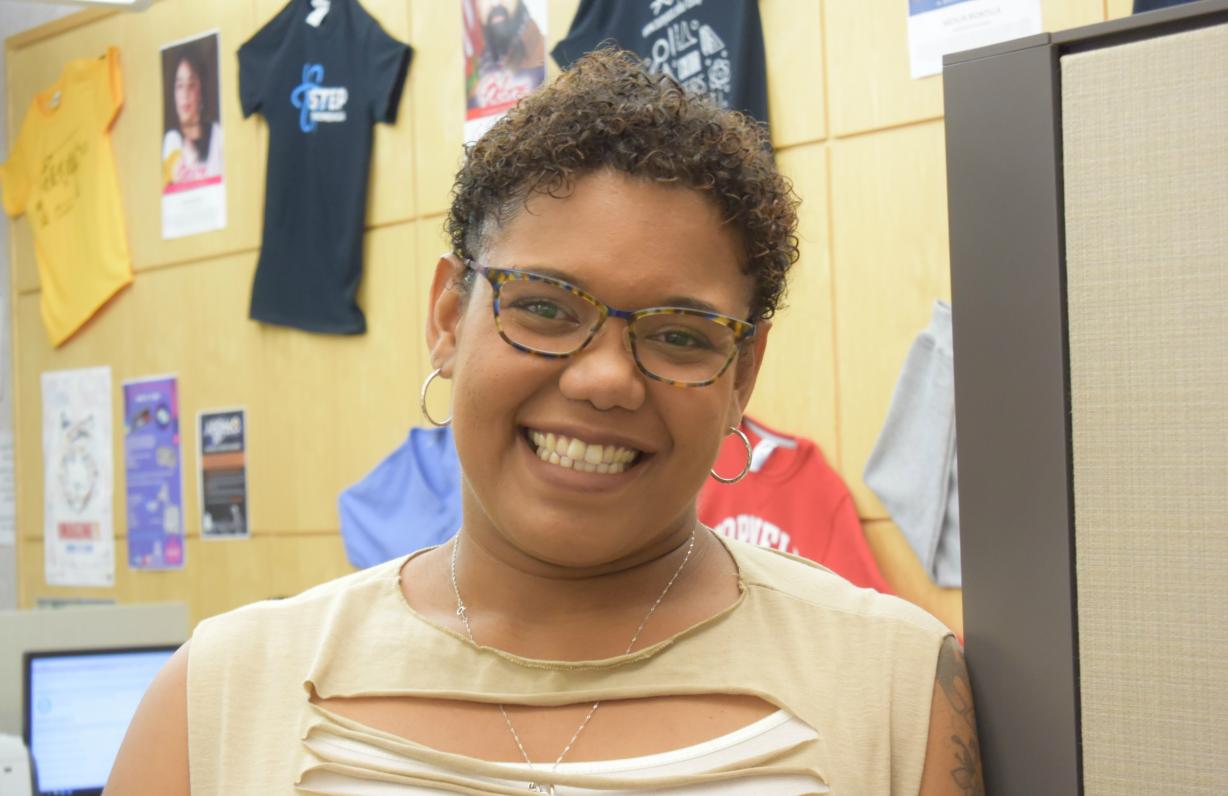 Major: Humanities
High School: Corcoran, class of 2002
Kiki Horton is experiencing a personal renaissance. She has a second chance at life and her education and she's taking advantage of both opportunities. "I'm looking at school as a steppingstone to being great. If I want something no one is going to give it to me. I have to go and get it. I have to be great."
Horton wasn't always on the path to success. Seventeen years ago she graduated from Corcoran High School and came to OCC. "It was 'let's do it for my mom.' I was raised in a single parent home and I wanted to make my mom proud." Horton started as a Criminal Justice major, switched to Nursing, and quit after two years. She didn't realize it at the time but she was facing obstacles she couldn't overcome on her own. "I was undiagnosed when I was here for the first time. I learned I had anxiety and bi-polar disorders. I'm in a better place now. I'm more aware of what my strengths are and I feed off those.
During her 14 year absence from OCC Horton got her life in order, got married and started a family. It was her oldest son, now 12 years old, who motivated her to try college again. "Even though he's so young he had been talking about going to college. I decided I wanted to be an example, a pillar, a beacon of light for my kids. I had been a stay-at-home mom. It was time to go back to OCC and finish where I started."
Horton had one more hurdle to clear. She needed affordable child care for her daughter who is now one-and-a-half years old. She found it in the College's on-campus day care. "I wouldn't be back here if it wasn't for the Children's Learning Center. I bring my daughter with me to school every day and she's in their care. I'm able to experience success because of child care here. It's really encouraged me to be great because there's nothing stopping me. It's very comforting to know she's so close to me if she needs me."
In August of 2018 Horton became a full-time student at OCC again. Her first day back was very challenging. "It was overwhelming. I had to sit and focus for a long time. It was information overload. I wasn't used to it being a stay-at-home mom. I was being asked to sit for 90 minutes and focus."
Horton quickly adjusted and settled in. "College became so interesting because I wanted to learn." Just as the Children's Learning Center had provided assistance she needed, so too did the C-STEP office on the second floor of Coulter Hall. C-STEP stands for Collegiate Science and Technology Entry Program. "It's a great organization. They helped me with my science background. If I have questions related to Biology or a medical field, I can go there and ask questions and be directed to medical resources. If I want to do an internship, they can help me with that."
All of Horton's hard work paid off earlier this year when she received the Distinctive Merit award for her academic achievement, and was named to the Provost's List for earning a grade point average between 3.40 and 3.69. "It really gave me the motivation to carry on. I was very encouraged. It made me want to do better." 
In December Horton will receive her degree, a degree she started working toward 17 years ago. "I'm nostalgic. This is something I earned myself. No one can take it away from me. I'm very proud about where I'm headed."
Horton has been accepted to the St. Joseph's School of Nursing and will start there in 2020. Currently she is also taking Emergency Medical Technician (EMT) classes which will conclude in December. "I figured if I took the EMT route to get experience while I was waiting to start Nursing school, it could only benefit me in the long run."
As she wraps up her final semester Horton has advice for new students. "Get a study buddy. Get a partner you can work with who is as driven as you who can help you be great. Put your education first. If I would have had a study partner I would have had more drive. It would have made a difference."