on
Succeeding @ OCC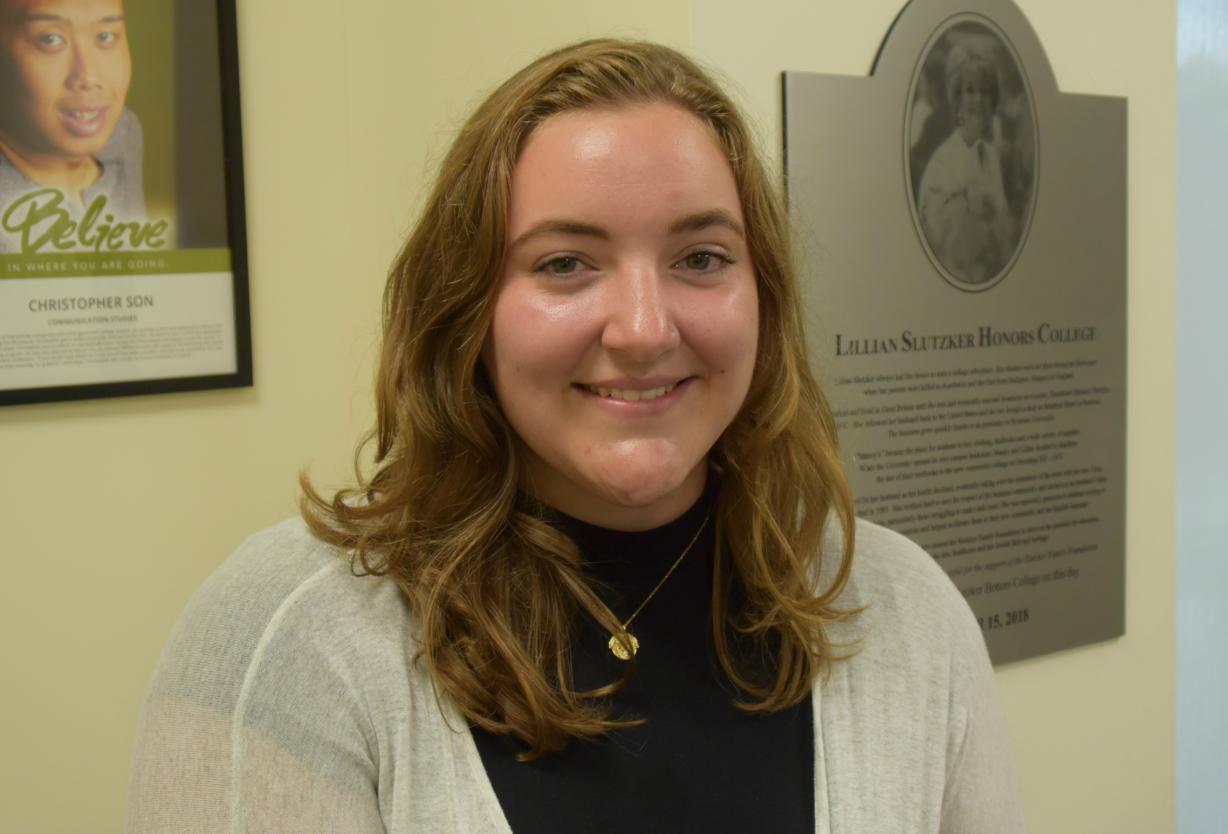 Major: Humanities & Social Sciences
High School: Skaneateles, class of 2017
Maddie Bohrer loves being productive. During the summer she juggles three jobs, splitting time between duties as a server at The Kreb's restaurant in Skaneateles, a lifeguard and swimming instructor at Skaneateles Country Club, and a greeter at the Schweinfurth Art Center in Auburn. "I don't like to stand still. I always want to be doing something."
With the fall semester underway she's returned to being a full time student and is beginning her tenure as president of the college's chapter of international honor society Phi Theta Kappa (PTK). "I actually started thinking about becoming part of the leadership team during my PTK induction ceremony. Maysarah Mohamed (a PTK officer at the time) said to me 'why just be on the team? Why not be the president?' Go big or go home was her message."
Bohrer is the third member of her family to attend OCC, following in the footsteps of brother Calvin who has since transferred to Northeastern University, and sister Emma who is enrolled at American University. "We all studied abroad for a year after graduating from high school. I traveled to Brazil, my brother spent a year in Hungary and my sister lived in Japan. Neither my brother's or my sister's original plans included OCC, but after traveling they decided they wanted to study at home for a year to figure out the next steps for their education. My plan was always to go to OCC."
Unlike her siblings Bohrer is attending OCC tuition-free as a member of the Lillian Slutzker Honors College. Growing up in a single parent home where every penny counts, she had always planned on paying her way through school. "This has been incredible. It's really helped to be part of the Honors College. And I get a stipend for my books as well. You don't realize how expensive they are until you actually have to buy them yourself."
Bohrer's future came into focus after an internship coordinated by OCC's Career Services office. "They revamped my resume and helped me apply to the Syracuse Peace Council. I had wanted to pursue something in the field of international relations. I spent a semester there volunteering. Now I have a much clearer picture about what I want to do."
The OCC experience has been everything Bohrer hoped it would be. "Attending a community college just makes so much sense. In high school I didn't know what I wanted to study so I didn't think it was a good idea to go and spend thousands of dollars at a private school. Since we have this great resource right here at home, it felt better to stay put and figure out my life plan.
Bohrer's first duty as president of PTK was to speak at Convocation, an event which marks the ceremonial beginning of the academic year. Her message to her fellow students was to take advantage of all of the opportunities on campus. "My original plan was to come here, keep my head down, earn my degree and get out. The more I became friends with people, talked to professors and saw what was going on, the more I thought how great it was right here. I knew then that I wanted to connect and take part on a deeper level. The more I engaged, the more things seemed to open up for me. We have so many opportunities here. I encourage everyone to take advantage of everything OCC has to offer and get involved!"