on
News Briefs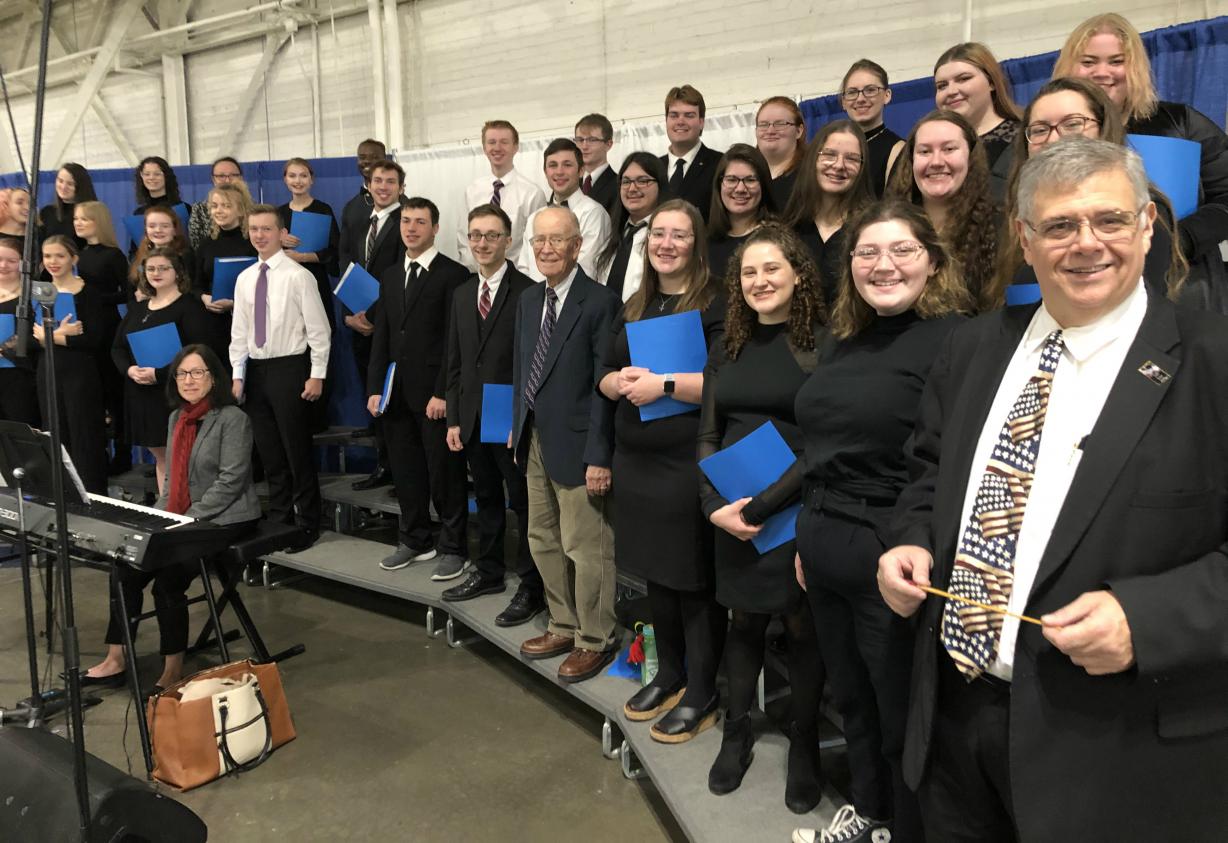 The sounds of Onondaga Community College's Concert Choir filled the Center of Progress building at the New York State Fairgrounds with pride and passion on the morning of Saturday, November 9. That's when students performed "Here Rests in Honored Glory," New York State's hymn of remembrance in honor of all American veterans at the Central New York Veterans Parade & Expo. The song was authored by OCC Music Professor Emeritus Donald Miller who flew in from North Carolina with his wife Mary to see and hear the OCC Concert Choir's performance. "I'm very very grateful to share in this. It's such a humbling experience. We can never thank our Veterans enough," Miller said.
The Concert Choir performed under the direction of OCC Music Professor Dr. David Rudari. He began working with the students on this performance at the start of the fall semester. "During our rehearsal last Tuesday something really clicked with them and I was incredibly pleased with their performance on Saturday. To have Don Miller here and to get a strong audience response was very rewarding. It's incredible to see our hard work and connection to the literature, especially patriotic literature, reinforced."
Dr. Rudari wishes to thank several people who made the students' performance happen, including:
Assemblyman William Magnarelli and his staff who invited OCC's Concert Choir to participate in the Central New Veterans Parade and Expo.
Susan Tormey, Government Relations at OCC who works tirelessly on behalf of students and the College.
Jim Kelly and OCC's Facilities team which transported much of the equipment the Concert Choir needed to the Fairgrounds.
Electronic Media Communications Professor Professor Tony Vadala and his business partner and OCC alum Matt Langley who own and operate Sound Design Service, Inc. They provided all of the sound equipment and sound mixing which amplified the outstanding work of the Concert Choir.
You can listen to "Here Rests In Honored Glory" by clicking on this link.