on
On Campus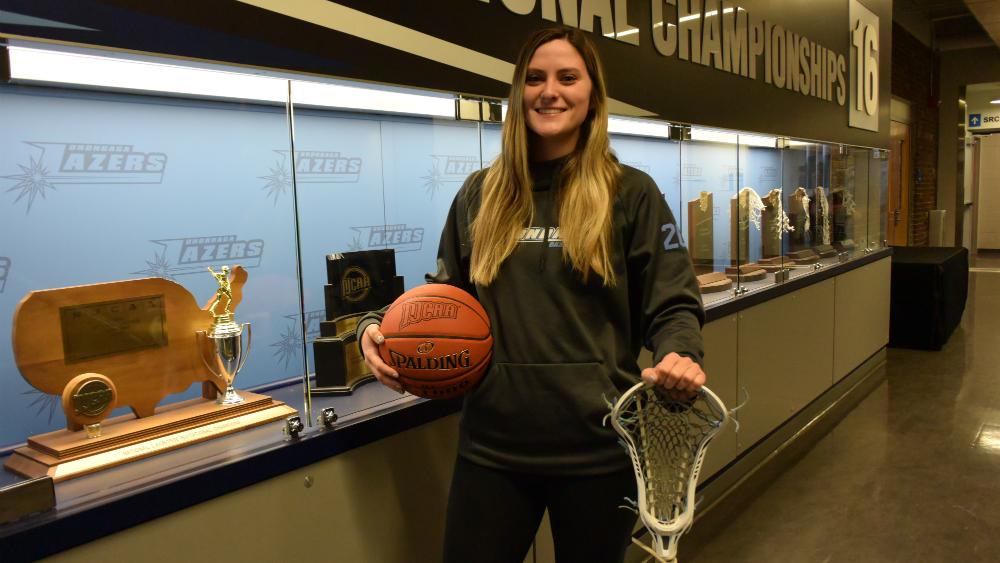 Two years ago Katelyn Karleski had a difficult decision to make. She was a senior at Westhill High School where she was an outstanding student and a three-sport athlete (soccer, basketball, lacrosse). She had been accepted academically at both Le Moyne College and SUNY Cortland but neither school would guarantee her a spot on an athletic team. That's when she started seriously considering Onondaga Community College. "The coaches here were willing to work with me so I could continue playing basketball and lacrosse even though they overlap. My best bet was to come here for my education, saving money, and playing two sports."
Karleski has blossomed on the OCC campus. She's been one of the top students in the College's Early Childhood major. She's also been a standout student-athlete on the Lazers nationally ranked basketball and lacrosse teams. "I've loved it here and am so glad I chose to come here. It's a great starting point."
When she's not juggling her time between athletics and coursework, Karleski works at Partners in Parenting daycare in Camillus. She started working there during her senior year at Westhill. Her goal is to become an elementary school teacher.
Her decision to choose OCC was validated recently when she was offered a scholarship to attend Le Moyne in the fall and play lacrosse there. "I'l be able to play so close to home and play for such a great lacrosse program. It's all worked out very well."
In the meantime she'll spend her final semester at OCC working toward her associate degree. She'll also continue competing on the basketball team at the shooting guard position, then it's on to lacrosse where she is a midfielder.
For current high school seniors who are in the same position she was two years ago, Karleski reflects on how things worked out for her and offers advice. "It's so smart to go to a two-year college first. When I came here, I didn't know I wanted to be a teacher. It makes so much more sense to start here and figure out what you want to do."