on
News Briefs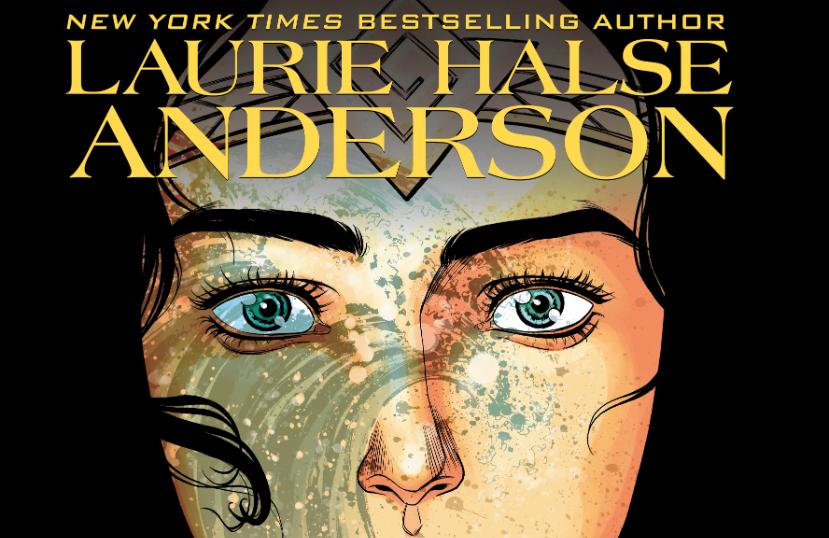 When Laurie Halse Anderson was 10 years old she had a Wonder Woman poster on the closet door of her bedroom. Today the Onondaga Community College Alumna and New York Times Bestselling Author's latest book is making its worldwide debut. Wonder Woman: Tempest Tossed is a 208 page graphic novel published by DC Comics. "It's crazy, right? Wonder Woman has been my hero since I was a little girl. To have the opportunity to write a story about her and be part of this legacy of creative people for decades was the thrill of a lifetime."
Anderson is a 1981 graduate of OCC who has been a vocal supporter of the College and its mission. Four decades after she was a student here, the OCC experience remains a significant part of who she is. "I am who I am today because of the education and the opportunities I received at Onondaga Community College. This is where I found my love of learning, it's where I grew up, it's where I began to understand the discipline required in the adult world, and I could afford it. I went to OCC while I worked on a dairy farm in Marcellus."
Anderson's novels became required reading for young adults, providing them with an outlet as they underwent transformations in their lives. Her breakthrough novel, Speak, was released in 1999. It portrayed a high school freshman who was raped by an upper classman during a summer party. It chronicled her descent into isolation and depression before eventually finding her voice and strength on her way to vindication. During her amazing career her books have sold more than 8 million copies.
Two years ago Anderson was approached by DC Comics about writing Wonder Woman: Tempest Tossed. The format for the book would be a graphic novel, meaning it would include illustrations. "I've written a lot of novels. If you think of a novel as a tapestry, you can think of writing a graphic novel as creating a tapestry that is three dimensional. The creative experience is a complete joy."
Wonder Woman: Tempest Tossed explores Diana of Themyscira's teen years. She believes her 16th birthday will be one of new beginnings, namely acceptance into the warrior tribe of the Amazons. But her birthday celebrations are cut short when rafts carrying refugees breaks through the barrier that separates her island home from the outside world. When Diana defies the Amazons to try to bring the outsiders to safety, she finds herself swept away by the stormy sea. Cut off from everything she's ever known, Diana herself becomes a refugee in an unfamiliar land. "When you're 16, when you're a refugee, if you're a child victimized by traffickers, you are in a very vulnerable situation. One of the things that drew me to Wonder Woman was her strong sense of justice and the passion she has for fairness to take care of people who are being hurt. What I want everybody to take away from this is there is a superhero in all of us and it's always waiting to be tapped because we all have a responsibility and an opportunity to help make the world a more just and equitable place."
With everything happening across the country right now including a pandemic, the videotaped death of George Floyd while in police custody and the resulting protests, the message in Anderson's new book seems incredibly timely. "We need a superhero. We will find the superhero we need the next time we look in the mirror. I love the dream of the United States of America. I love the promises we made in the Declaration of Independence, in the Constitution, and at the foot of the Statue of Liberty. We must all recognize those promises have never been fulfilled because they've never been offered to everybody. Wonder Woman is the embodiment of the superhero. By writing where she is in a realistic world as opposed to some of the more fantastical stories she is occasionally in, she reminds us we can all do this. We can all change the world to make it better."
One of the things Anderson is most proud of with Wonder Woman: Tempest Tossed is that the creative team which worked on the book is comprised solely of women including artist Leila del Duca, colorist Kelly Fitzgerald, and Siena Temosonte who was responsible for the book's lettering. "When they sent me the early pages to review, every time I opened the book I cried. The art work took the story and elevated it so powerfully. We were all so proud of what we accomplished. We were Team Diana!"
While Wonder Woman: Tempest Tossed is just going on sale, Anderson is moving on to her next project. She's editing a graphic novel anthology titled Wonder Women of History. "We've got a bunch of very talented authors and another bunch of very talented artists who are writing short pieces about incredible bad-ass women from history around the world. It's so much fun. I've been so fortunate to write different kind of things. It's keeps my information fresh and I love it."
As she works on that project, Anderson hopes anyone considering bettering their lives through higher education will consider the route she chose 40 years ago. "With this pandemic we have never been at a place as a nation where community colleges are more important. As the pandemic is affecting the finances of families, the need to be educated is not going to go away any time. It's not just kids. We know there are plenty of adults whose lives have been overturned who are maybe going to have to pivot to a new career path. A community college is a great place to explore that."