on
Succeeding @ OCC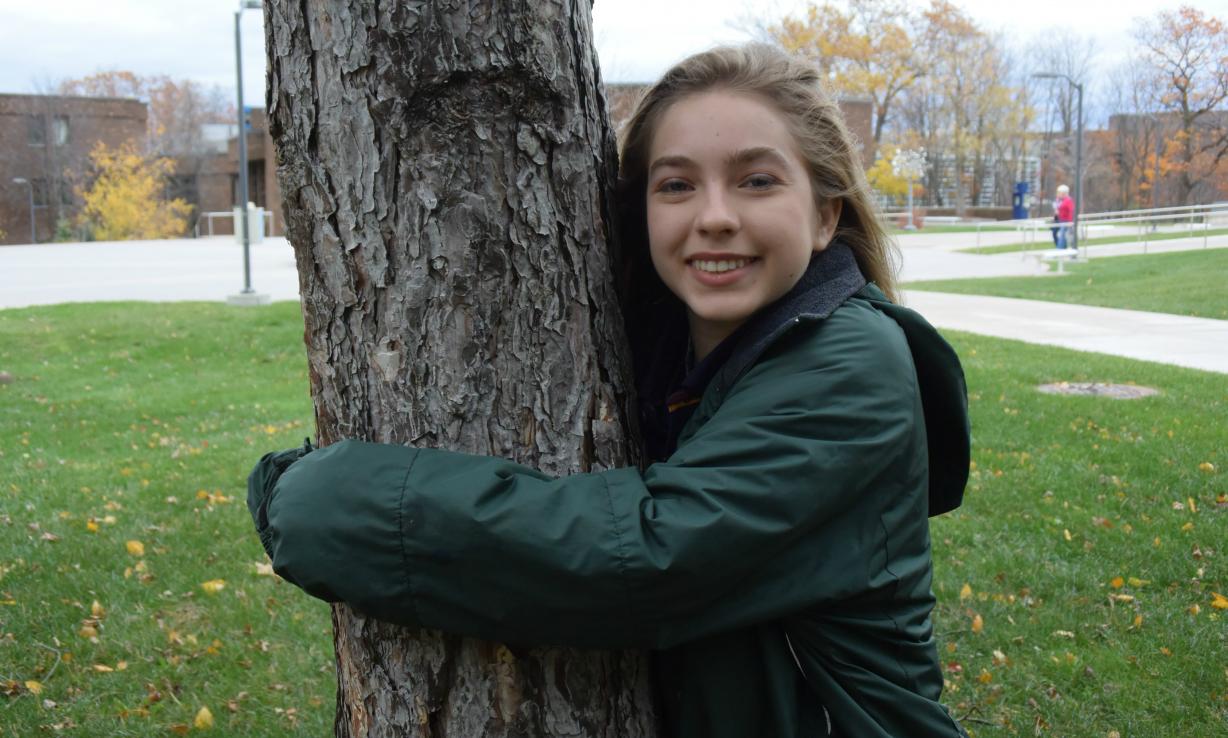 Major: Mathematics & Science
High School: West Genesee, class of 2018
Anna Gonchar has always known she wanted a career in a field related to the environment. "I grew up four miles away from Onondaga Lake and heard stories about how heavily polluted it was. I was naturally curious to know why it happened and what I could do to improve it. I've always been the 'nature girl.' Everyone calls me a tree hugger and I'm fine with that."
During her time at West Genesee High School, Gonchar was a member of clubs which participated in competitions in a forestry setting. Extracurricular activities also presented her the opportunity to volunteer at SUNY-ESF (Environmental, Science and Forestry). "It had a big impact on me. I was helping professors and graduate students with whatever they needed for their experiments. I could see what it would be like to be a graduate student in the degree program I want."
Gonchar enrolled in OCC's Mathematics & Science major in the fall 2018 semester. She was honored to be one of just 15 students selected to the first class in the Lillian Slutzker Honors College. "We've all become very close with each other. The program offers a lot of successful tips which help us communicate, deal with stress, and transfer."
Students in the Lillian Slutzker Honors College attend OCC tuition-free and receive a stipend for books. "The financial part has been very helpful coming from a family as big as mine." Gonchar is the youngest of six girls, all of whom were born in Kazakhstan, a former Soviet Republic located in Central Asia. The family moved to the United States when she was one year old. She and her sisters are all first generation college students.
While growing up, Russian was the predominate language in the household. As each of the six daughters started school and began learning English, it became the sisters' primary language. During her time in school Gonchar has excelled at multiple languages. At West Genesee she earned seals of bi-literacy in both Russian and Spanish. During a presentation at the Baldwinsville Library she spoke fluently in both languages about who she is and her goals for the future. "I started learning Spanish because I wanted to take missionary trips and help communities. On a trip this past summer to Tampico, Mexico I was able to go out on my own and communicate with people. It's important to be able to do that and I want to be able to expand upon it."
Gonchar is also an accomplished violin player. She started playing 10 years ago in her church where they have a traveling violin orchestra. "We go to other churches and play. In all of our concerts there are opportunities for solos and duets. I've been doing solos for five years." One of her highlights came during a concert at the OnCenter in downtown Syracuse where she performed a duet with the first chair violinist in front of a large audience.
During her time at OCC Gonchar has been inducted into the college's chapter of international honor society Phi Theta Kappa (PTK). In her final semester she is an officer in PTK, serving as its Vice President for Service. "I've really enjoyed all of the opportunities here. They really help you determine exactly what steps you need to take to be successful. I think OCC is underrated."
Gonchar will complete work toward her associate degree at the end of this semester. She plans to transfer and pursue a bachelor's in Environmental Science at either SUNY-ESF or Cornell University. Wherever she winds up, she'll continue to live by her motto; 'to seek discomfort.' "In order for me to grow, as long as I'm uncomfortable, I know I'm going in the right direction. I always try to take advantage of the opportunities I have. I want to know I've done everything I could. I want to reach the highest potential I could possibly have in any area."