on
Succeeding @ OCC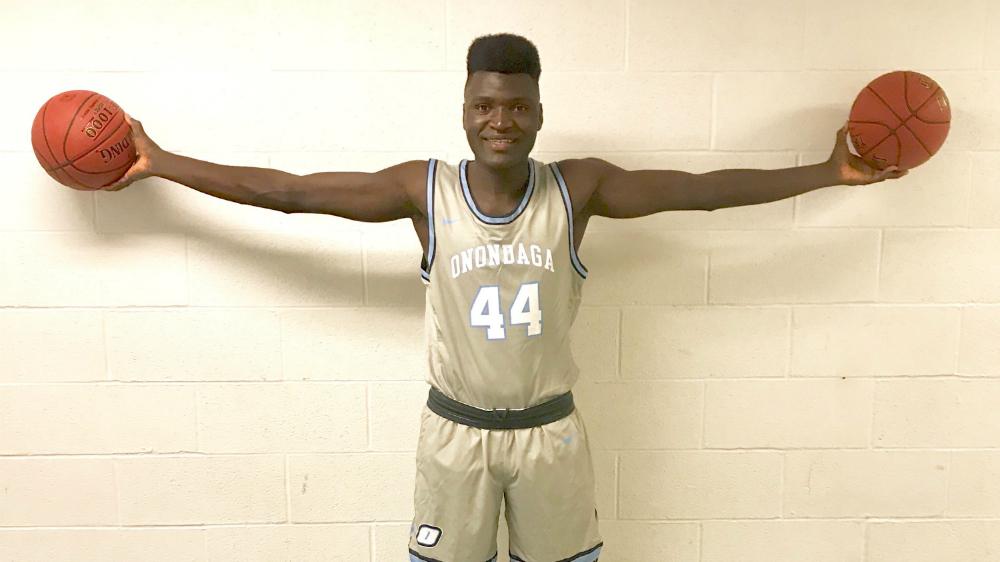 Major: General Studies
High School: Baldwinsville, class of 2019
Sunday Joshua has had a remarkable journey around the world. He's a refugee from Lagos, Nigeria who arrived in the United States in 2017 as winter was beginning. "I remember being so cold. I had never been so cold in my life. I felt lonely but my foster family worked hard to make me feel at home."
In November 2017 Joshua began attending Baldwinsville High School. He could speak and read English but was starting with zero high school credits. By June of 2019 Joshua had passed five New York State Regents Exams and earned his high school diploma.
Joshua had played a season-and-a-half of basketball at Baldwinsville and wanted to continue playing in college. It's one of the big reasons he chose OCC. He's 6-feet 8-inches tall, weighs 220 pounds, and is improving during his freshman season. "I'm playing to the best of my ability. Basketball is very different from where I come from. It's much more competitive here."
He's also making the adjustment to coursework at the college level. Joshua did well in his first semester thanks to his strong work ethic and OCC's outstanding faculty. "My professors are very nice. They understand English isn't my first language. They take the time to explain things to me so I understand them."
Joshua has also blended in well with the campus community. "It's so diverse here. I've met students from Africa. Everyone here is nice. OCC feels like home to me."
His career goal is to become a traveling nurse. "Because I'm a refugee I want to work with someone like the Red Cross, go to war-torn countries, and help people." Joshua will earn his degree in spring 2021. He plans to transfer to a college where he can pursue a nursing degree and continue playing basketball.