on
Employee Updates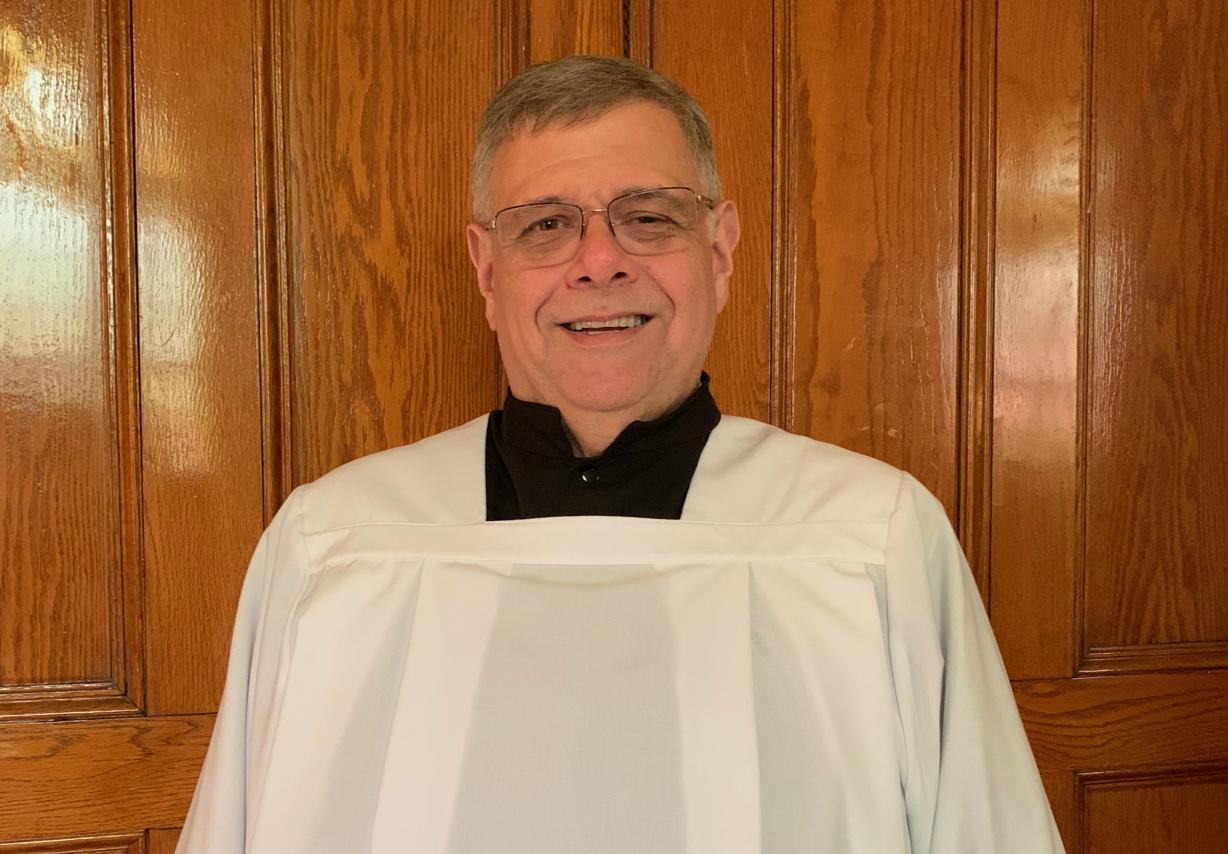 August 8 is a day Dr. David Rudari won't soon forget. More than 800 people were inside the Cathedral of the Immaculate Conception for the ordination of Bishop Douglas J. Lucia. Rudari was conducting a 45-person choir during the ceremony and enjoying every minute of it. "It was amazing. To have that wave of sound coming at me along with the amazing Cathedral organ was really cool."
Rudari is an Onondaga Community College Music professor who loves sharing his passion with the community. When he's not working tirelessly with students at OCC, he's a regular at events both on campus and across Central New York, lending his outstanding voice and leadership skills to everything he is part of. He sings regularly in area churches. His "home church" is Liverpool Presbyterian Church where he teams with organist and OCC alumnus Steve Uhl, '89 who teaches music at Baldwinsville's Ray Middle School.
Rudari's willingness to go where he is needed led to a unique opportunity early in the summer. When plans were being made for the installation of the new bishop in the Roman Catholic Diocese of Syracuse, the committee tasked with organizing the event needed someone to oversee the music. The key players all knew Rudari and he turned out to be the right choice.
The opportunity to conduct the choir came with an ambitious demand. "About a month before the event they handed me the scores and said, 'here's what we're doing. Get it ready.'" It included ten choral pieces plus all of the sacramental music. "With the choral anthems I was starting from scratch. It was a huge challenge, especially with an ensemble I'd never worked with before."
The 45-person choir would be made up of people from neighboring parishes, the Diocesan Music Director, OCC faculty and alumni, and even prospective students Rudari had formed relationships with. "It was a very good mix. We had a strong core." To get ready they would have to power through two 3-hour rehearsals. Rudari teamed up with Alan Lynch, Director of Music at the Cathedral who served as organist for the ordination, to prepare the choir for the big day.
On August 8 the choir performed flawlessly in one of the hallmark events of Rudari's distinguished career. "It was an incredible event. I love the artistry and the challenge of the choral music setting. We had trumpets and we had handbells which aren't part of traditional Catholic worship. If you listen to the recording, it's really cool because they're not featured. They're not solo. They're part of the whole accompanying ensemble. It really adds another dimension."
You can view the ceremony, and see and hear Rudari's work, by clicking on this link.