on
Foundation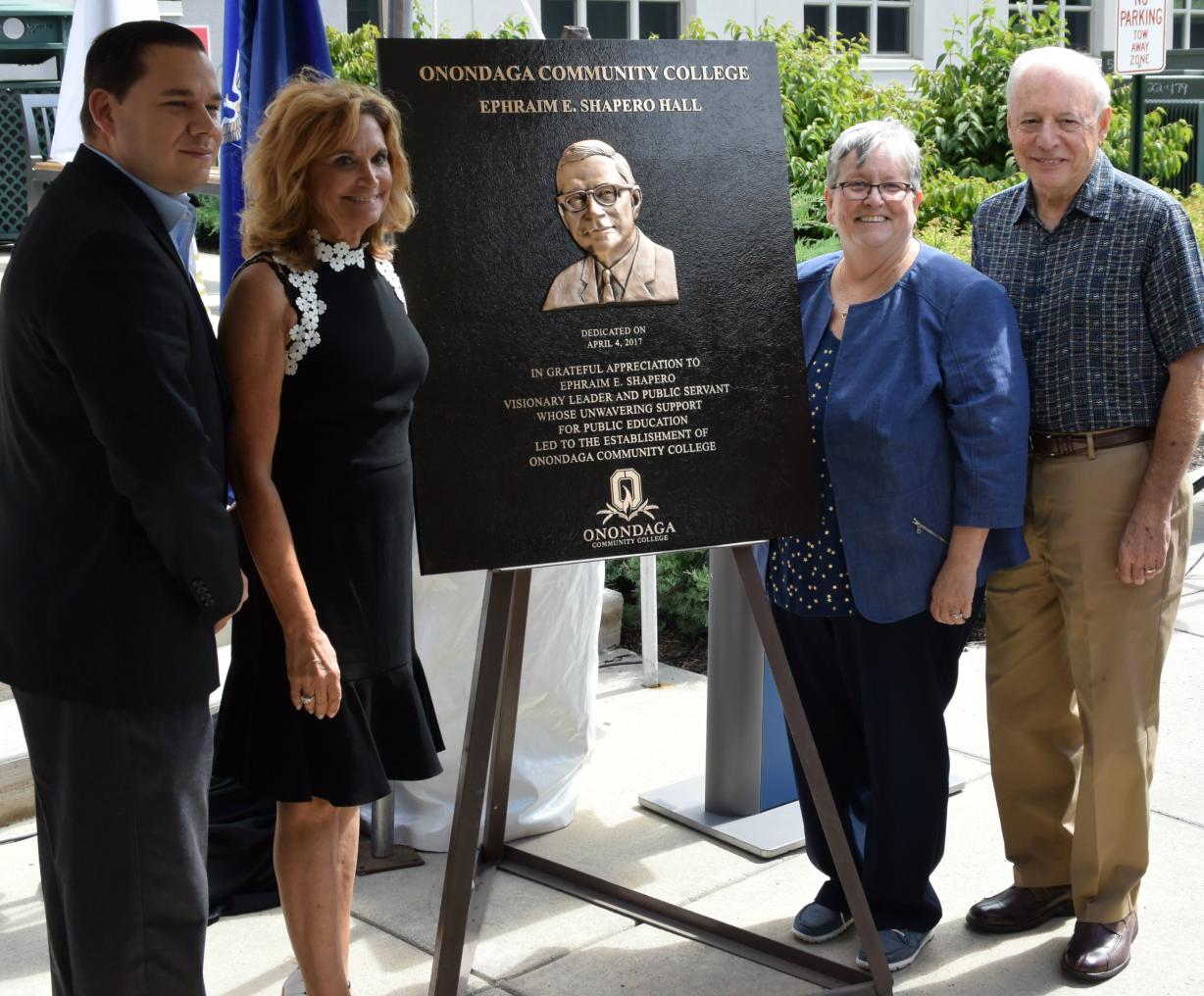 OCC renamed its newest residence hall "Ephraim E. Shapero Hall" in honor of the county lawmaker who played a critical role in the College's formation. The residence hall had been known as "H-3" since it opened in 2012.
A ceremony honoring Shapero was held Saturday, August 5. College President Dr. Casey Crabill emceed the event. "We are proud of our campus facilities and place a high priority on how students live, learn and play in them. When it came time to select an appropriate way to recognize Ephraim Shapero, there was little doubt that we would choose a space that characterized all three aspects of student life," said Crabill.
Other speakers included Melanie Littlejohn, Vice Chair of OCC's Board of Trustees; Rebecca Hoda-Kearse, OCC's Associate Vice President for Student Engagement and J. Ryan McMahon, Chair of the Onondaga County Legislature. McMahon presented Shapero's daughter, Ava Raphael, with a Gold Star Resolution recognizing the dedication of Shapero Hall and his role as college founder.
Raphael, who serves the community as a Surrogate Court Judge, also spoke at the ceremony. She remembered words her father said as he was leaving public service. "At my father's retirement dinner he said, 'If my many years in county government assured in even a small way, a better way of life for every man, woman and child in Onondaga County, then I really think it was worthwhile.' As we look around this marvelous campus I'm sure we all agree it was more than worthwhile."
Ava Raphael's children also took a moment to reflect on the impact their grandfather had on them. Brad Raphael spoke on behalf of his sister Brook and brother Brian who joined him at the podium. "Poppy was always there for us. Every Saturday after having breakfast with his buddy John Mulroy, he would show up at our house around 8 a.m. and drop off a trunk full of fruit with the best hand-picked strawberries, bananas, peaches and cherries. We remember he loved to teach us things. He taught us how to shoot baskets in the driveway, he taught us how to swing golf clubs in his backyard, he taught us how to swim, he taught us how to drive when we were six (laughter) and most importantly he taught us how to be generous and prioritize family. He taught us the importance of education. He taught us to be independent and follow our passions."
A bronze plaque honoring Shapero was unveiled during in the ceremony. It will be placed in the lobby of Shapero Hall. New signage was mounted on the exterior of the building and at the road.
Shapero was well-known during his 70-year legal career and 17 years of distinguished public service in Onondaga County government. He served as County Board Supervisor of the 17th Ward of the City of Syracuse, Chairman of the Onondaga County Legislature and a member of the Special Community College Study Committee which led to the establishment of OCC in 1961.
In recognition of his support of community college education, OCC previously awarded Shapero the Exemplary Service Award in 2008 and an Honorary Degree in 2012. Shapero passed away in 2008 at age 95.
Shapero Hall is adjacent to Mulroy Hall, named in honor of former Onondaga County Executive John H. Mulroy. Mulroy and Shapero were best of friends during their time together serving the public in Onondaga County government. Both played critical roles in the formation of OCC and were champions of the College and its mission.