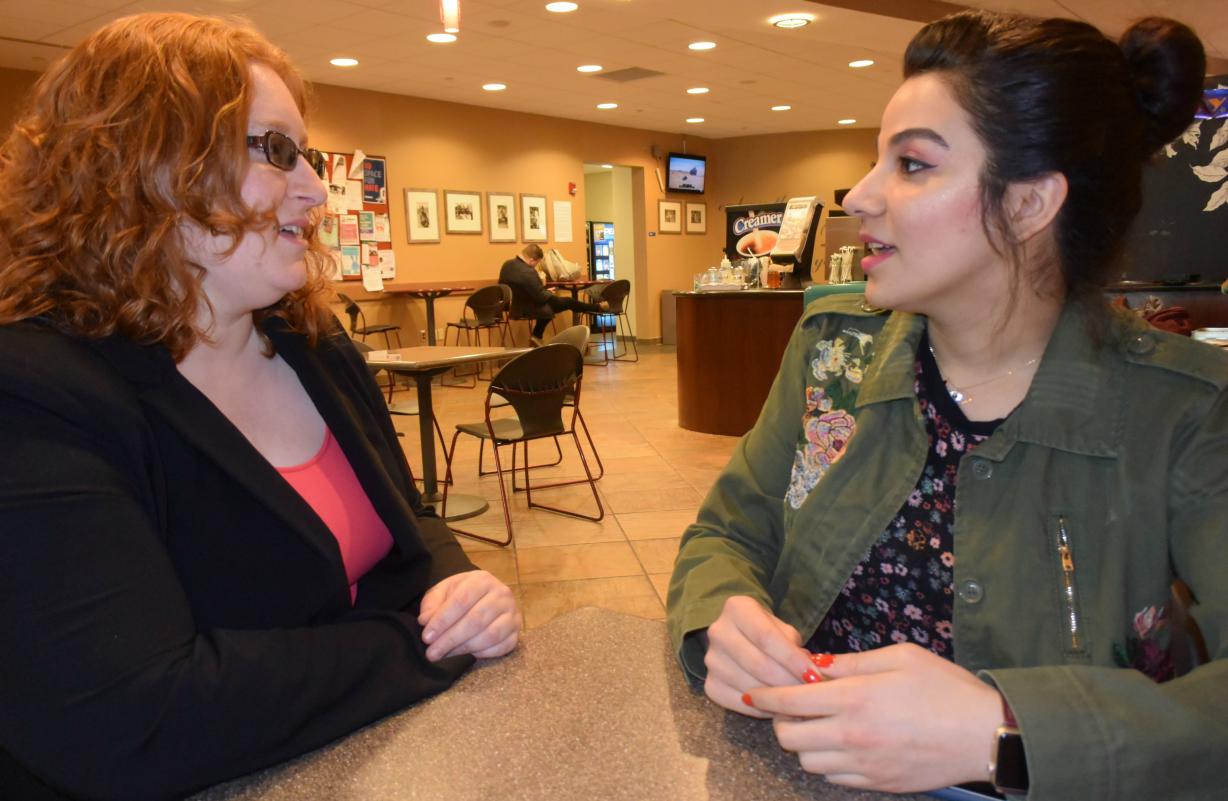 They sounded like old friends who worked in the same industry and loved to compare notes. "We're designing a kitchen. It needs a lot of storage, a TV, different lighting and flooring but she wants to keep the doors and windows. She wants a seating area, a built-in microwave, built-in oven, built-in stove and she wants it to feel larger," said Dunya Shaalan. "One of my first projects was a kitchen project. They're a challenge. There's small spaces and people want everything in them, including the kitchen sink," said Nicolette Havrish.
Shaalan and Havrish aren't old friends yet, but they seem to be on their way to a lasting professional relationship. Shaalan is a student at OCC majoring in Interior Design. Havrish works at Beardsley Architects + Engineers. They were brought together as part of the College's new Career Services Mentoring Program. "Our focus has been on career exploration, professionalism, networking and other related things," said Amy Stewart, Career Placement Specialist at OCC.
Stewart started building the program in the fall semester. Students worked with the Career Services office on their resumes and submitted applications to be part of the Career Mentoring program. The resumes and applications were sent to potential mentees and pairs were formed based on common interests. In the spring semester the mentors and mentees met each other and began forming their relationships. "We called, we emailed, we met," said Shaalan. "She was really good to me. Nicolette was able to answer every question and really help me." The program was equally rewarding for those giving advice. "It was great," said Havrish. "I completely believe in giving back to the generations that are coming. They are the ones that are going to change the world and make things happen."
The Career Services office wishes to extend a thank you to the professionals who took time out of their busy schedules to work with students throughout the semester. Those people include:
Natalie Bochino – New York State Troopers
Corinne Cerminaro – Crouse Health
Nicolette Havrish – Beardsley Architects & Engineers
Kelly Kinahan* - Kinahan Associates
Anthony Johnston* - Onondaga County District Attorney's Office
Kristine Knutson – Contact Community Services
Michelle Mark* - Independent Web Developer (formerly of KPH Healthcare Services, Inc.)
Sarah Murphy – OCC Criminal Justice Department
Betsy Nicholas – OCC Applied Engineering Department
Joshua Pisagih* - University of Rochester Medical Center
Anthony Rojas – Dalpos Architects and Integrators
Lauren Staniec – re-habitat
Kristin Szkolnik* – Dalpos Architects and Integrators
Michelle Tarby – Le Moyne College
Jackie Vidler – Enfoque Images
(* denotes OCC alumnus)
You can learn more about all of the services offered through Career Services
here
. The office is located on the first of Coulter Hall in room C110 which is just inside the main entrance.