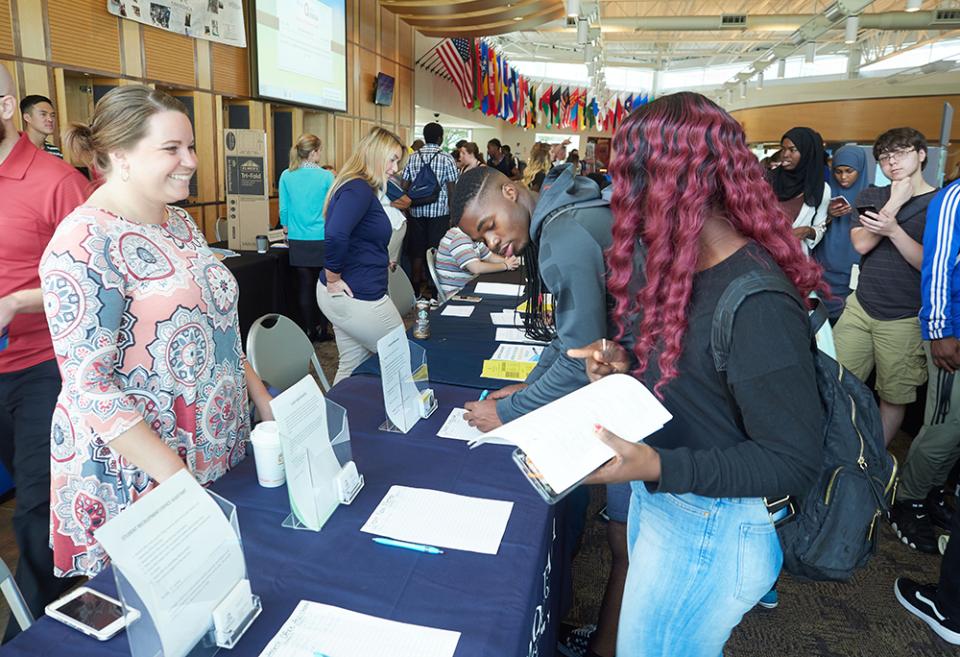 So, you've settled into the rhythm of your day: going to classes, taking notes, writing reports, trying to stuff pizza into your mouth without dripping grease on your notebook, etc. It's hard being  a full-time student, juggling your personal life and your grades. You know what else is hard? Being poor as dirt.
So you've decided that your lifestyle demands a little extra grease to keep the engine going. Maybe you need a metric ton of energy drinks to keep you going through the day. Perhaps you really need to take a break and your favorite band will be in town soon. Whatever the reason, you want moolah, paper, green, the almighty dollar…
In short, you need cash. And I can tell you how to get paid while you go to school. 
Part-Time Job Fair
Every semester, the school holds a part-time job fair to help students bring home the bacon. As many as 60 or more positions are available, ranging from on-campus opportunities to various organizations from the surrounding area, like Fed-Ex and Arise. This is a great chance to take a look at the options available to you, and as a plus, the non-school organizations don't require work-study!
This year the Part-Tim Job Fair is tomorrow, Thursday, August 29th from 11 a.m. - 1 p.m. in the Gordon Great Room! 
The Work-Study Program
The single most important thing that you can do is apply for the Work-Study program through the FAFSA. If approved, nearly every on-campus job becomes available to you, from Campus Security to Social Media Reporters like me.
If you haven't signed up for the Work-Study program yet, don't despair. Head on down to the financial aid office and talk to them about it. They'll take a look at your financial situation and see if they can fit you into the program. Talk to your financial advisor for more information.
You can also apply for the Work-Study Grant through the college website. You can get to the Grant section of the Financial Aid website here. From there, scroll to the Federal Work-Study section and click on the Federal Work-Study Interest Form link to get started!
Purple Briefcase
In addition to the fair, OCC hosts a sister website called Purple Briefcase, an online career center exclusively for OCC students. You can upload a resume to Purple Briefcase, and potential employers can view that on your profile and contact you. You can also take a look at all the local postings, and send them your resume with the click of a button. It's an amazing service if you need loot fast.
And don't forget to stop by the Career Center at Coulter C110 in person. An associate can take a personal look at your resume and help you develop it in a way that attracts the eyes and ears of businesses.
So there you have it, three ways in which you can get your hands on some scratch. In addition, don't be afraid to talk to your fellow students. There's always a chance that those speakers you never use are worth cold, hard cash for someone else.