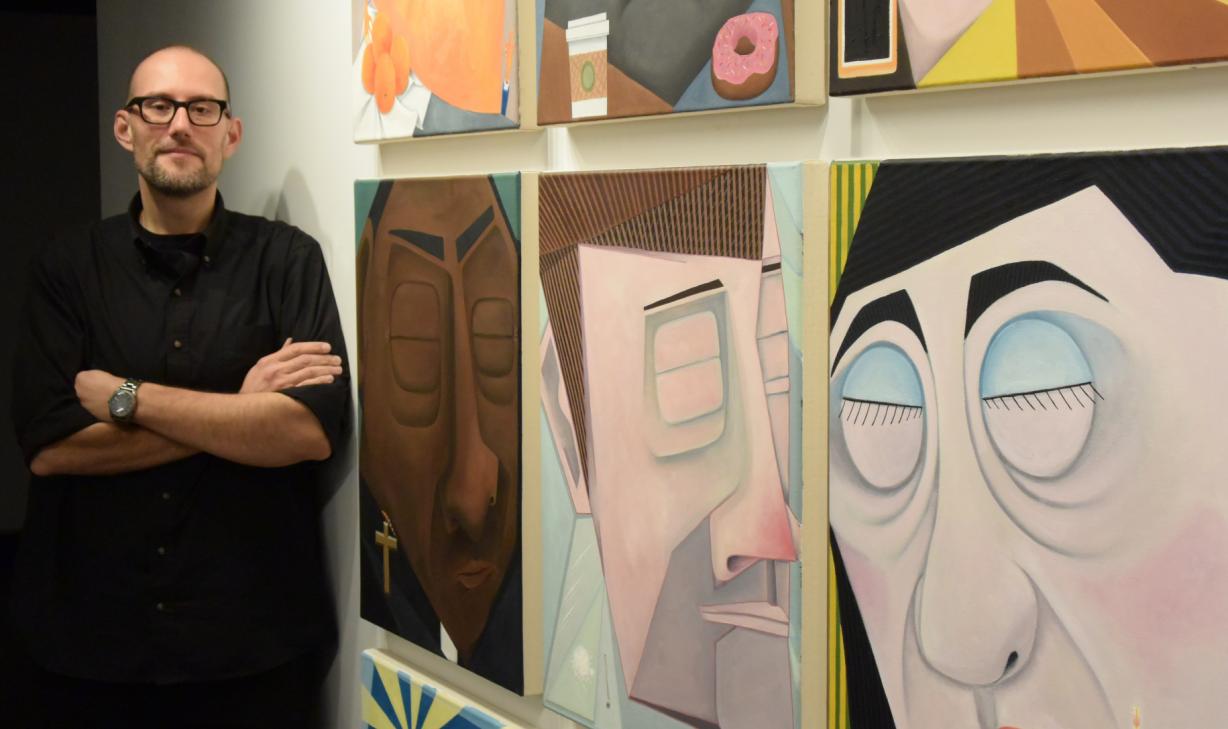 Onondaga Community College Professor Brian Cirmo has a reminder in his office of how hard he worked to get where he is. It's a framed patch from the College of St. Rose Security Department uniform. Cirmo wore the uniform and the patch for 15 years while he worked as a security guard by night, and as an adjunct professor at several different Albany-area colleges during the day. "I feel very fortunate I'm able to spend my life making paintings and teaching students how to make paintings. I couldn't imagine not being an artist and painting. It's a very gratifying thing."
Cirmo grew up in Utica and knew from an early age exactly what he wanted to do. When the Sunday paper arrived, he would take the comics section and practice drawing them. "I loved the Peanuts comic strip, Garfield, things like that. By the time I got to high school I wanted to be a comic artist. I had really good art teachers who fostered it. It was something I always kept doing and loved doing."
While excelling in Art, he was very average in nearly everything else. When it was time to figure out what followed high school Cirmo chose to attend the Munson William Proctor Institute in Utica for Art, and Mohawk Valley Community College for everything else. "My drawings were amazing but my academics were really poor. Mohawk Valley accepted me because it was a community college."
From Mohawk Valley and Munson William, he transferred to the College of Saint Rose where he earned his bachelor's degree. It's also where he got his first taste of having his art work displayed somewhere other than a college campus. His drawings and paintings were part of a senior art show at the Albany Center Gallery. "The general public was seeing my work along with people from St. Rose. That was a pretty special moment. You get hooked and say, 'I want to do this again.'"
Cirmo completed his masters degree at SUNY Albany in 2002 and began working as an adjunct professor at several area colleges. The list of places he taught in the capital district included Columbia Greene Community College, Rensselaer Polytechnic Institute, Sage College of Albany, SUNY Albany, and the College of St. Rose. He had multiple jobs and he had income, but he didn't have health insurance coverage. That's when he heard about a full-time security guard position with benefits at the College of St. Rose. He took the job and began working as a security guard by night and a college professor at multiple schools by day. "I figured I would do it for a couple of years until I got a full-time teaching job. That couple of years turned into 15."
While spending his days going from job to job, he also continued drawing and painting. He got more and more shows locally, then started to get some national shows. He built his resume and kept waiting for his opportunity. It finally arrived in 2017 when he was hired at OCC where he now teaches painting, drawing, two-dimensional design, and color theory. "Many of the students I work with are a lot like I was. For whatever reason they weren't great students. I like the idea that I can help flip the script in their lives and help them the way professors helped me." 
Cirmo is proud of how much work he put into getting where he is today, and grateful to have the opportunity to come to the OCC campus every day and work with students. "I feel so lucky I was able to get a full-time job here. I'm fortunate I'm able to spend my life making paintings and teaching people how to make paintings. It's a very gratifying thing. I'm very fortunate."