on
Alumni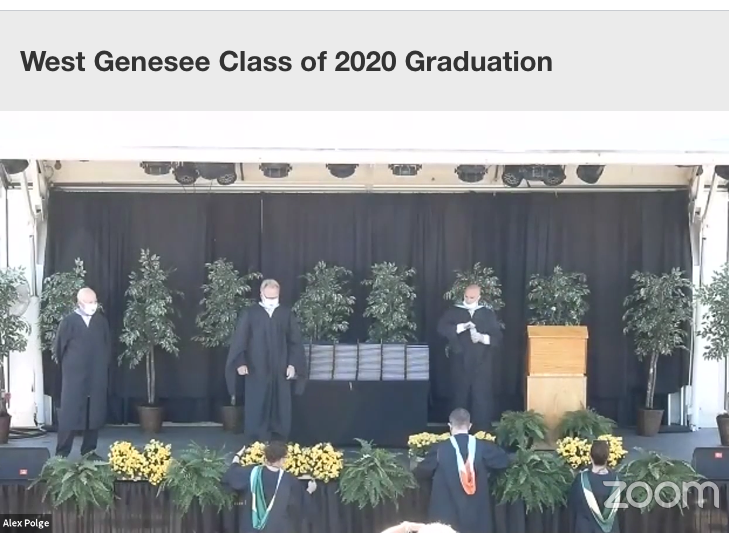 Working through COVID-19 has given people a new appreciation for their colleagues, especially those who specialize in Information Technology. One of those invaluable employees is Alex Polge, '20, a key member of the West Genesee School District's Technology Department. Saturday he was in charge of the livestream of the high school's drive-through graduation ceremony, providing friends and family members who couldn't attend a way to view the ceremony from the comfort of their home. The ceremony, which was available via Zoom, had nearly 3,500 unique viewers. "We were given one week notice. I thought the livestream looked like it had been planned for a month and was very professional as well as looking and sounding great. I thought the best job was done considering the current constraints."
Polge started working for the school district in the summer of 2017 as part of the summer cleaning crew. At the time he was in between his junior and senior years at West Genesee. He received his diploma in 2018, came to OCC where he majored in Computer Science, and completed work toward his associate degree last month. All the while he kept working for West Genesee. Less than a year ago he became a Building Tech at the high school. He would spend his mornings working there, then come to OCC in the afternoon for his Computer Science classes.
By mid-March life changed considerably. His classes at OCC became online. At West Genesee, Polge and colleagues in the Technology Department were tasked with making Chromebooks available to families who needed the technology in their home for students to continue learning online. Polge was in charge of removing and prepping Chromebooks from Stonehedge Elementary. "I had to make sure everything was documented for when we need to return those devices to where they came from." When more Chromebooks were needed they were removed from Split Rock Elementary for distribution. In all more than 2,000 Chromebooks were handed out.
Last week, as Polge was planning for the graduation livestream, families began returning Chromebooks. "Each one needed to be sanitized, updated, and inventoried in case schools are still closed in September and we have to do this again." Otherwise the Chromebooks will be returned to the school buildings where they came from.
If the computers need to be handed out again, Polge may not be part of the process. He's planning to attend the Rochester Institute of Technology where he will be working on a bachelor's degree in Computing and Information Technologies.