OCC's main campus spans a total of 280-acres, and sits on a picturesque plot of land on Onondaga Hill. When it comes to getting to and around campus, we're here to help. Here are some things to know about transportation at OCC. 
Lazer Line Shuttle Service
The Lazer Line shuttle system runs on a loop across campus, eliminating long walks, trudging through bad weather, and cumbersome drives to different parking lots. Hop on a bus, take the Lazer Line, and make your way around campus easier than ever before. Plus, the estimated maximum wait time is only 20 minutes! Shuttle services begin on the first day of classes and are available through the last day of final exams.
Hours of Operation:
Mon. – Fri.: 7:00 a.m. – 10:30 p.m.
Sat. & Sun.: 12:00 p.m. - 8:00 p.m. 
Urgent Care Shuttles
Need to see a doctor? The Lazer Line also provides transportation to and from the Upstate Golisano After Hours Care at the following times:
Monday - Friday:  6:15 p.m., 7:15 p.m., 8:15 pm., and 9:15 p.m. 

Saturdays and Sundays: 2:15 p.m., 3:15 p.m., 4:15 p.m., and 5:15 p.m.
Want to see where the shuttle is? Use the tracker!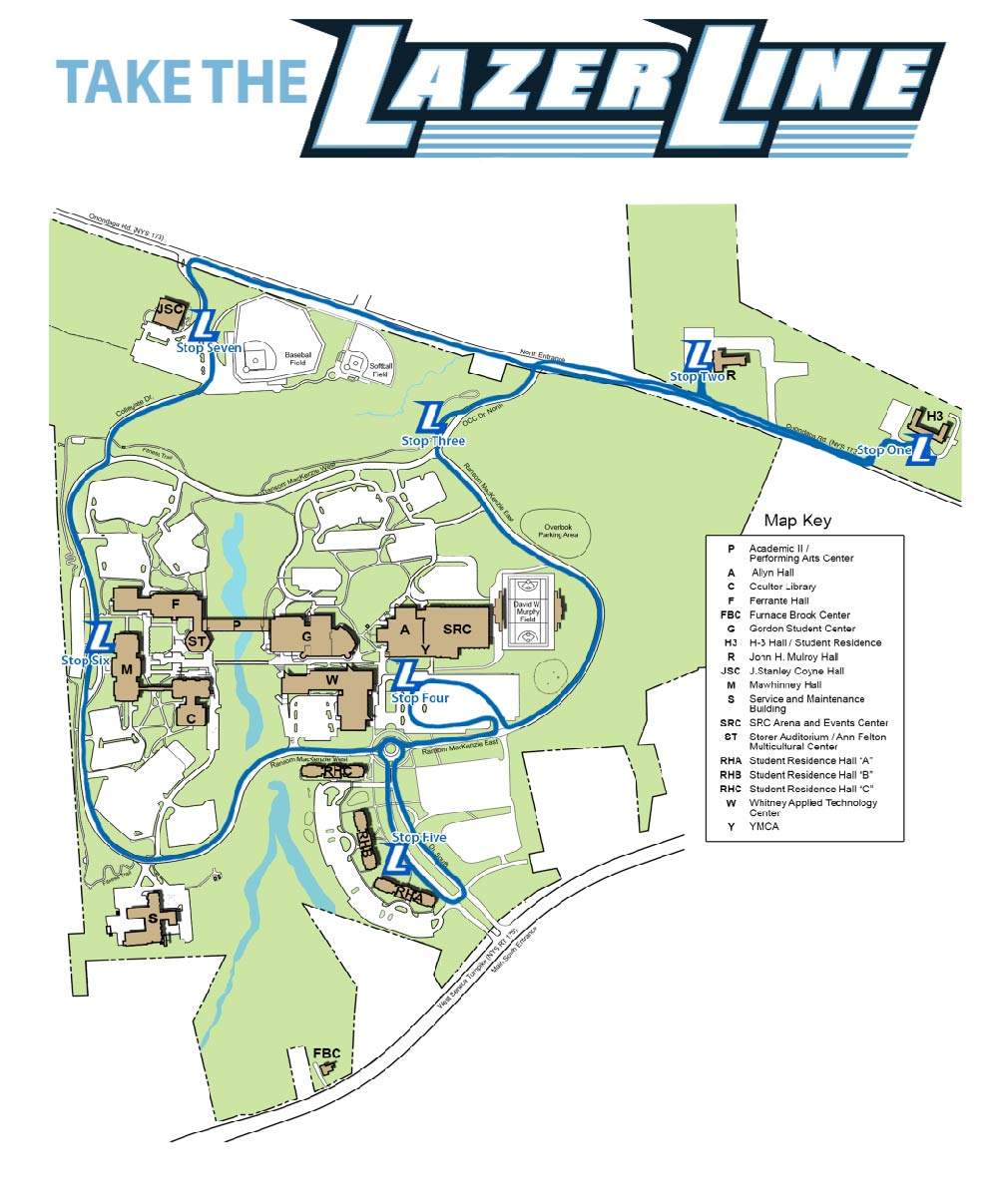 Parking on campus
Parking at OCC is free of charge for commuting students. Here are some more details about how and where to park on campus:
 All students and employees need a parking permit, available via Student Central in Gordon Student Center and through the Campus Safety and Security Office. 
Parking permits are free, and come with a sticker, that should be placed in the rear passenger window of the driver's side of the vehicle. 
Residence hall students are charged a fee for parking and must park in designated lots adjacent to the residence hall buildings. 
Visitors will find special parking areas provided, and should obtain passes from the Campus Safety and Security office in the Service and Maintenance Building.
Overnight parking is not allowed on campus, with exception made for residence hall students.
All illegally parked vehicles (such as vehicles parked in fire lanes, handicapped areas without sticker and handicap permit, or traffic lanes, and vehicles that block the movement of another vehicle, or vehicles parked in official or reserved spaces, etc.) will be ticketed and / or towed without notice at the owner's expense.
Looking for a parking lot? Download a printable copy of the campus map.
Get directions to campus.
Have questions related to campus parking or the Lazer Line?  Call Campus Safety at (315) 498-2478.