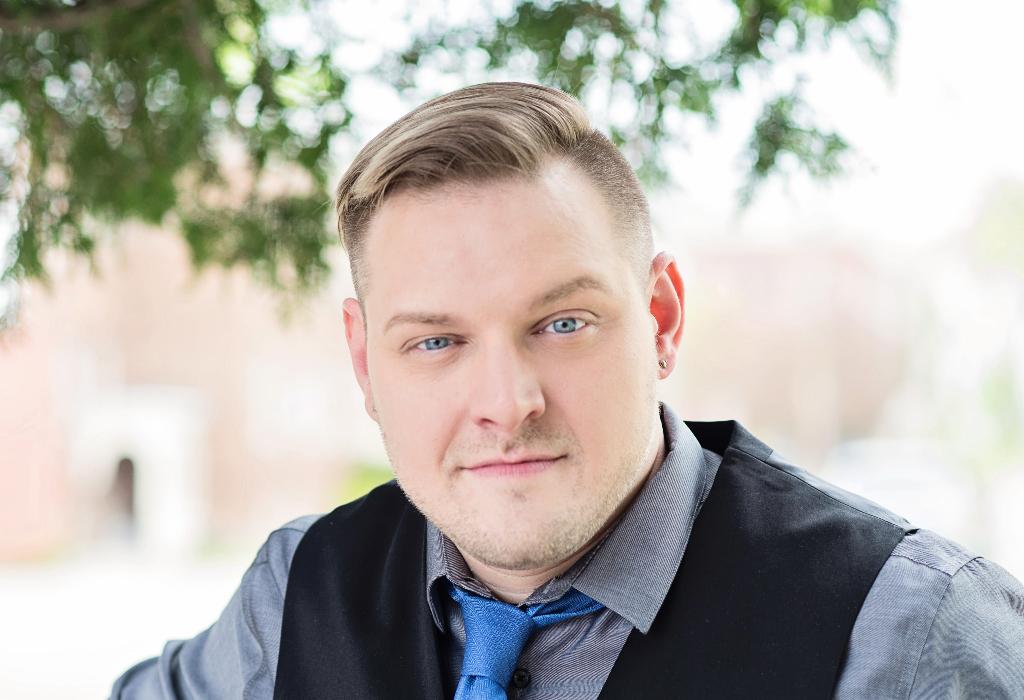 Each year Onondaga Community College recognizes distinguished graduates who have made a difference in their community and professional life, naming them "Alumni Faces" honorees. Tonight at 5:30 p.m. in the Frederick Marvin and Ernst Schuh Recital Hall, we will pay tribute to the Alumni Faces Class of 2021. Today we proudly profile one of the honorees on our website and social media, Michael Speach Jr., '02.
When Michael Speach was growing up, life revolved around the family business. He couldn't wait to get as far away from that life as possible. "We didn't enjoy the holidays because those were our busiest times and we were exhausted. My view of life and holidays were very skewed. We didn't take a family vacation until I was 15. I told my parents I didn't want to have anything to do with the business."
Today Speach is the business. He's the fourth generation President and Head Chocolatier of The Speach Family Candy Shoppe, located at 2400 Lodi Street on Syracuse's north side. In 2020 Speach and his family celebrated their 100th year in business. "Making it to 100 years means you've overcome a lot. To survive so much is exciting."
Speach's first step away from the family business was in 2000 when he enrolled in Onondaga Community College's Electronic Media Communications (EMC) program. His parents wanted him to go to school for business but he preferred something performance related which appealed to his creative side. He was most interested in sound and lighting. While learning about those within the EMC major he also received what he referred to as a 'well-rounded education' which paved the way for him to transfer to Ithaca College. He did so well at OCC he received a full scholarship to Ithaca while earning a bachelor's degree in Theatrical Production.
From Ithaca it was on to New York City where he was hired as an apprentice on Broadway. He was working on nine different shows at once. He loved the work but not some of the things which surrounded it. "I had some awful experiences. I had learned how to be creative but wasn't prepared for the politics of the job." 
Exhausted and disillusioned, Speach returned home in the summer of 2007 and 'slept for three straight weeks.' By mid-August the State Fair was approaching and his mother asked if he could help make fudge to sell there. She gave him his space and let him work at his pace. "She checked in on me a couple of days later. She was expecting me to have two cases of fudge and literally half the store was filled with it because I didn't have anywhere else to put it. I got to be creative making the fudge and making the labels. I really enjoyed it!"
While the Fair was a success, the business was at a crossroads and hard decisions needed to be made. Years earlier his mother Susan, who is also an OCC alumna, had taken a job with the United Postal Service so she could provide the family with benefits. They had invested everything in the business but weren't getting back what they had put in. Speach's parents wanted to either sell the business or sell the building and liquidate. Speach sat down with his parents and two sisters to discuss the future, and committed to running the business. "I said I would give it three years. I cashed in all my retirement and savings, cleaned out the store, and started over."
A century after an Italian immigrant named Michele Spicciati started the business, his great grandson put together an elaborate plan for the 100 year celebration in 2020. Speach released 100 new products. He also organized "Ten Decades of Giving" during which he partnered with a different non-profit each month and created a custom sweet treat for each for which they received 100% of the profits.
Fifteen years after deciding to pour his heart and soul into the family business Speach is in a good place. "I had to go away and do what I had to do for myself. I needed to rebel to appreciate what was here. If I would have just stayed in the business I probably would have been downtrodden and tired like my parents. My mom realized she loved making candy but didn't do business well. I think I would have been in that same frame of mind."
Speach is looking forward to returning to campus tonight. He considers the College to be the place where everything began for him. "OCC started my journey into my chosen career. I'm so pleased to have my journey come full circle and return to the community that molded me into the person I am today."
Michael Speach Jr. is a guest on our podcast, "Chatting About College." You can listen to our conversation by clicking on this link. You can also find "Chatting About College" wherever you download fine podcasts.
You can watch Speach and the entire class of Alumni Faces honorees be recognized when tonight's ceremony is livestreamed on OCC's YouTube channel and Facebook page.