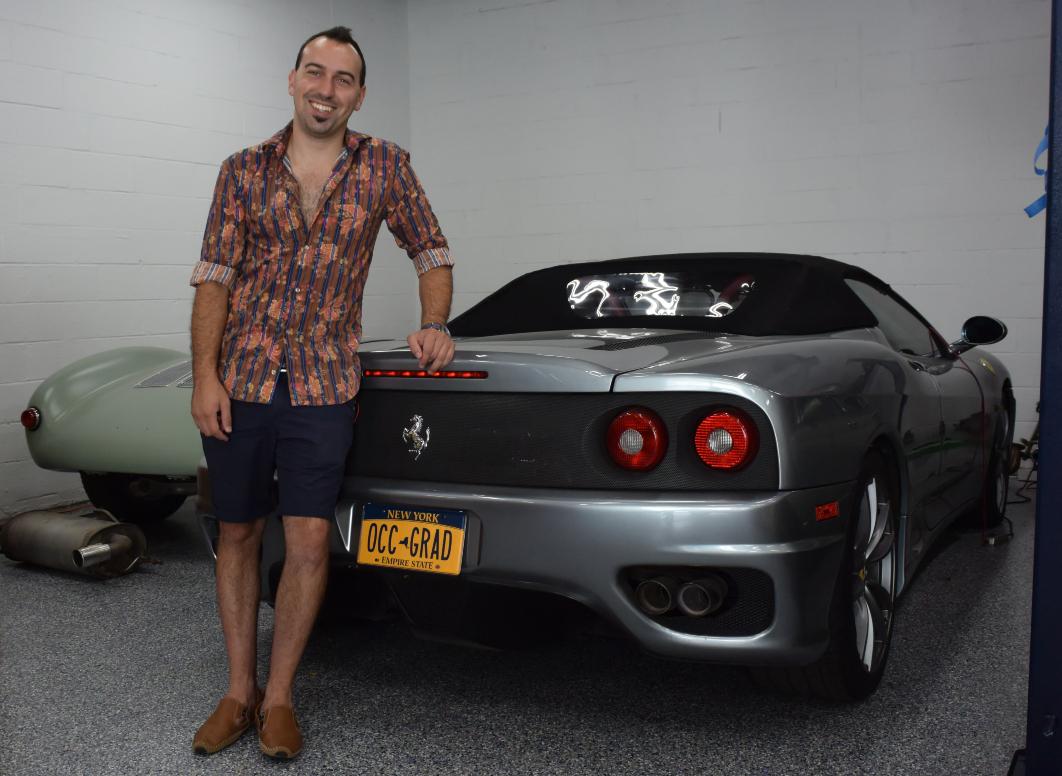 Each year Onondaga Community College recognizes distinguished graduates who have made a difference in their community and professional life, naming them  "Alumni Faces" honorees. On the night of Thursday, October 6 at 5:30 p.m. in the Frederick Marvin and Ernst Schuh Recital Hall in the Academic II building, we will pay tribute to the Alumni Faces Class of 2022. In the weeks leading up to the event we are proudly profiling our honorees on our website and social media. Today we recognize Jesse Wilson '12.
Jesse Wilson, '12 works hard, is proud of his Onondaga Community College degree and his incredibly successful business, and is comfortable bragging about it. That's why at age 25 he bought himself a sleek 2001 Ferrari and put custom "OCC GRAD" license plates on it. "I'm a big proponent of the school, the program, and community colleges in general. They are such a better idea. So many people go to more expensive schools and have so much student debt it takes them longer to start their own business."
Wilson owns and operates "Ish Guitars" on Teall Avenue. His customer base is literally the world. He sells 2,500 guitars a year to people in far away places including Japan, Australia, and Norway. He even sold guitars to American soldiers when they were stationed in Afghanistan.
His love of business began when he was a young boy growing up in Camillus. At age 7 he started "Jesse's Movie Theater" at his parents home. He would invite friends over and charge them a quarter each to watch a movie on his parents VCR.
He began buying and selling guitars a few years later, and at age 15 bought his first Porsche even though he wasn't old enough to drive. That same year he would also sell the car and use the money to start an online-only guitar store in his parent's basement.
Wilson began taking classes at OCC while he was a student at West Genesee High School. He earned his high school diploma after his junior year, and completed his OCC Business Administration degree at age 18.
Two years later he opened "Ish Guitars" in downtown Syracuse's Armory Square. The business name was a tribute to his grandfather who used to call Jesse "Ish Kabibble" after the 1940s era comedian.
In 2020 he moved his business to Teall Avenue. The new Ish Guitars is everything Wilson hoped it would be. Bright lights illuminate shiny new guitars, but his showroom inventory is much less than what it was at Armory Square. "We had 280 guitars in that store. We wanted to make this store feel more museum-like and less chaotic." He actually has a larger inventory now but most of it is in the back room. A cloud-based app runs the entire inventory system so they can easily locate the guitar someone wants which meets their exact specifications. Their inventory is also available for viewing on the Ish Guitars website where each instrument is highlighted in numerous, detailed photos and a listing of all important specifications. "The inventory is the advertisement. We get something that is so cool that people show their friends, tell their buddies, post it. We sell a lot of guitars that you can't get other places." 
People who visit the Teall Avenue showroom will find an entire wall dedicated to Paul Reed Smith guitars, of which Wilson is the 3rd largest dealer in the nation. He's pictured in front of that wall at the bottom of this story. His store also includes sound proof rooms where customers can play guitars for sale and take lessons, and a repair shop where his highly-skilled employees do amazing work. All of his employees are talented musicians who take their craft very seriously.
More than 20 years after he started Jesse's Movie Theater, he's proud of what he accomplished and the place where he earned his only college degree. "I think everyone should go to a two-year school and get their degree so they have something. If you decide you want more you can go get your four-year degree. When I was in high school I would hear people say, 'Why go to OCC?' I say, 'Why not go to OCC!"
Wilson visited campus recently and joined us for an edition of our podcast, "Chatting About College." You can listen to our conversation by clicking on this link. You can also find it at place like iTunes or Spotify by searching "Chatting About College."