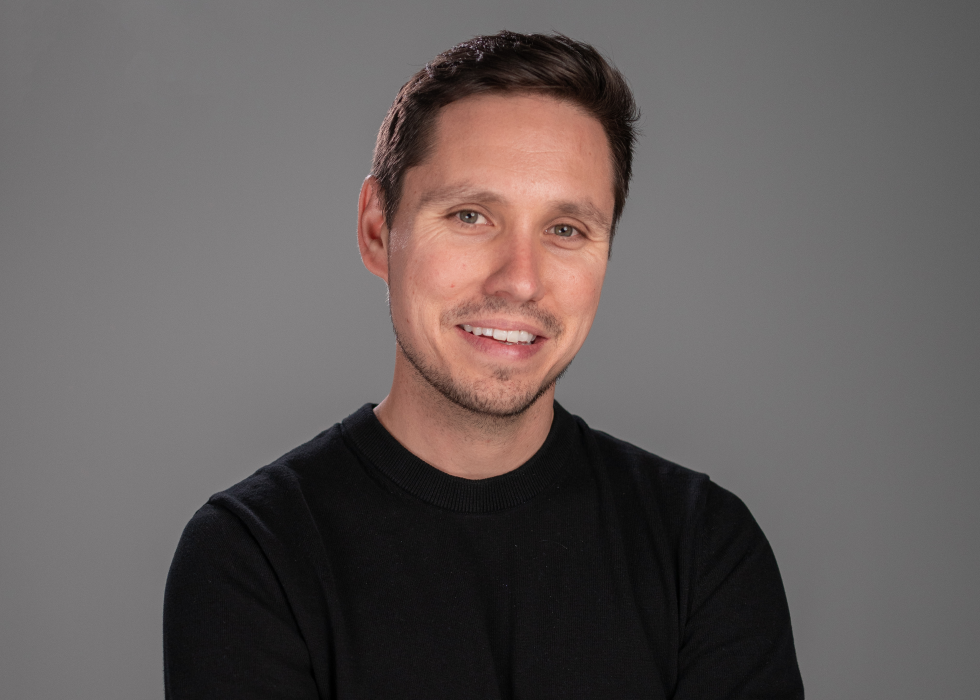 Each year Onondaga Community College recognizes distinguished graduates who have made a difference in their community and professional life, naming them  "Alumni Faces" honorees. On the night of Wednesday, October 18 at 5:30 p.m. in the Frederick Marvin and Ernst Schuh Recital Hall in the Academic II building, we will pay tribute to the Alumni Faces Class of 2023. In the weeks leading up to the event we are proudly profiling our honorees on our website and social media. Today we introduce you to James Domroe '02.
James Domroe has turned what began as a passion for making home movies as a teenager into 325 Productions, a highly successful content based marketing agency. Their impressive list of clients includes SUNY Upstate Medical University, Salt City Market, Syracuse University, JMA Wireless, OCC, Saab, and Loretto. Domroe says his two years in OCC's Broadcast Media Communications degree program set him on his path. "OCC pushed me to grow, pushed me to evolve, and turned me into a professional. If it wasn't for OCC, I don't believe I would be where I am today."
Domroe's career inspiration came at age 15 while he was watching the war drama movie Braveheart. "I cried my eyes out. The movie made me feel something. From that moment I knew I wanted to do something with videos and movies." His father worked at Ra-Lin's appliance store on Burnet Avenue in Syracuse. He seized upon his son's sudden interest and bought him a digital camcorder. "I went in my backyard every day and filmed ants, bees, trees, grass and put it to music. I started creating."
In 2000 Domroe graduated from Liverpool High School. He came to OCC with the intention of taking his core classes and stumbled upon what was then known as the Electronic Media Communications degree program. He transferred into the major after his first semester on campus and found a home. "I learned so much about making videos and was surrounded by people doing the same. In between classes, we loved grabbing cameras, going outside and being creative. Being able to take advantage of all of the facilities here made such a difference. We really challenged each other. The teachers were great and they really pushed me forward."
Domroe earned his degree and transferred to SUNY Fredonia. "I was so ahead of the game when I got there. What they teach here at OCC is essentially a four-year program. I needed a challenge and started a film club there." The club was allotted $325 by the Student Activities board which it would use to make an hour-long movie.
After graduating Domroe and a friend moved to North Carolina to work on movies. His job didn't have anything to do with shooting or editing video and he didn't enjoy it. He kept shooting and editing video on his own and eventually moved back to Central New York.
Domroe was at a crossroads. He needed to make money and told his mother he wanted to return to OCC and earn a Nursing degree so he would have a steady income. "My mom told me what I really wanted to do was to make videos. She told me to live at home for one year and make videos every day. After a year if I wasn't going anywhere, I could go into nursing."
He took his mother's advice. Some days he would shoot and edit videos. Some days he would network and get his name out there. Eventually Domroe started shooting and editing rap videos for friends. Over the course of a year he made 200. In 2012 one of his videos made its way to an administrator at an Ivy League school. "Someone knew someone who knew someone who knew someone at Cornell University who saw one of my videos. Suddenly I went from making rap videos to making videos for Cornell!"
It was the big break for 325 Productions, which he named after the $325 his film club at SUNY Fredonia was awarded. As they began doing outstanding work for high-profile clients, their reputation grew as did their client list. When they weren't on-location shooting videos, they were using the nearest Panera Bread Company as their "office" for editing and sending videos to clients on their wifi. They became familiar with the internet speed at each store and which was the best to work at depending on their needs of the day.
Two years ago all of that changed when 325 Productions opened its home office, a spacious 4,000 square foot studio located in the former Dietz Lantern Factory on Wilkinson Street in Syracuse. They have expanded into Rochester and Fort Lauderdale, Florida where they have clients. Domroe's workforce has grown to 14 employees, several of whom are former OCC students like himself.
As 325 Productions has climbed the ladder of success, Domroe and his staff have never forgotten where they came from. Their stated mission is to build the local community by telling stories and helping companies stand out. Each video they produce is an opportunity to grow a local business, which can lead to more jobs and growth in the area, giving them the opportunity as artists to have a greater impact on the place they call home. They like to say they are community builders who create change with their art.
As part of their annual 325 GIVES BACK effort, they donate up to $25,000 in video, web, and marketing services to non-profits who want to expand their reach, raise awareness for their cause, and connect with donors and volunteers. Earlier this year their generosity produced this video about the "Tiny Home For Good" agency, and profiled homeless who had benefitted from tiny home efforts.
Domroe's connection with the community he calls home and the businesses he's built valued and trusted relationships with has set the stage for continued success at 325 Productions. His path to a career began with home movies, and solidified when he set foot on campus. "OCC has always been the place I contribute to the start of my career. And now I'm extremely honored to be an Alumni Face honoree."