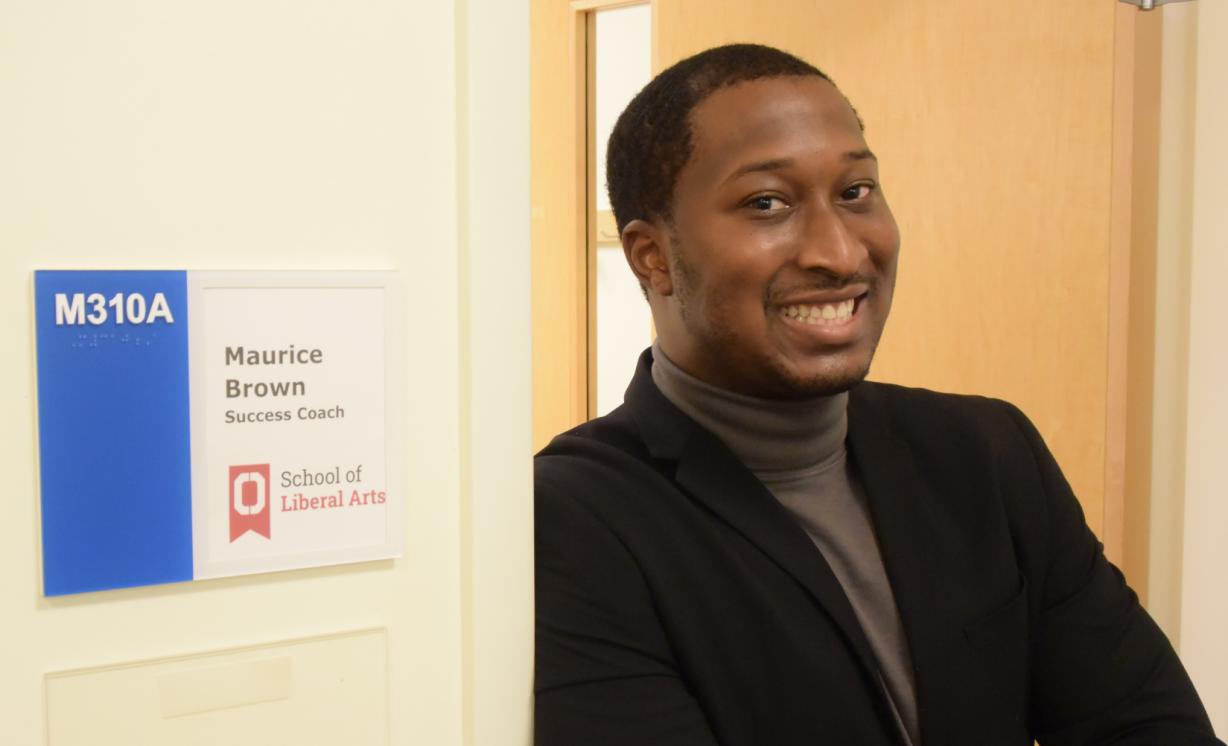 Some people call him "Maurice." Others go with "Mo." His closest friends call him "Breezy." And occasionally he hears "Mo Breezy." He's a man of many names and even more life experiences. And Maurice Brown has returned to OCC as a Success Coach in the College's School of Liberal Arts to guide students to where they want to go. "I want to be able to help people. I get to do that in this position and I love that. OCC is my home. I really believe in the mission of this college and I like that I can help execute it."
Brown came to OCC from Brooklyn and got the full college experience. While working toward a degree in Communication Studies he was a member of the Politics Club, the Black Student Union, and dabbled in the world of Stand-Up Comedy. He was also a delegate to Presidential candidate Bernie Sanders, and served as a United States Army Reservist. He was on track to graduate from OCC in December 2016 when he was activated for duty and sent to the military prison in Guantanamo Bay. He would spend 8 months there before returning to OCC and completing his final semester.
Brown transferred to Syracuse University where he would earn his bachelor's degree in Communication and Rhetoric Studies in 2019. During and after his time at S.U. he continued to be active politically/ In 2020 he was campaign manager for Anna Kelles of Trumansburg who successfully ran for the New York State Assembly representing the 125th District.
By the middle of this year he decided to step away from politics and get back to his first love, helping people. That brought him back to Onondaga Community College and his new role as a Success Coach. "My mission is to help students orient themselves to college life, help them learn good study habits, and how to stay in touch with their professors. We want to help students figure out what their goals are and how to get there."
He's also found as someone who was a student here just four years ago, he has an instant credibility with students. "I can tell them I went to the Learning Center several times when I was here. I can tell them about being in the Politics Club, or the Black Student Union and how being in clubs and organizations really improved my college experience. It exposed me to a lot of good people and I made good friends."
Brown is a guest on the latest edition of our podcast, "Chatting About College." You can listen to it by clicking on this link. You can also find the podcast at places like iTunes or wherever you download fine podcasts from by searching "Chatting About College."