Image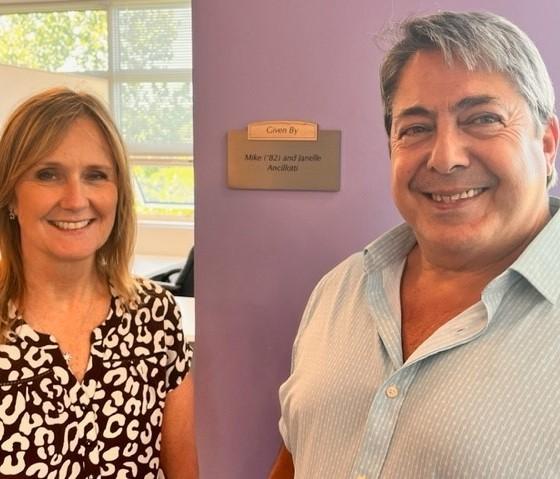 Career success can be defined in many different ways. For some, it's all about how much money they make. For Michael Ancillotti '82, the focus has always been on doing what he loves.
Ancillotti grew up with a passion for drawing. He would doodle anywhere there was a blank spot on a piece of paper. After he graduated from West Genesee High School, Ancillotti enrolled at Onondaga Community College with the intention of majoring in Art. When he was told he would need a portfolio of his work to be considered, he knew he needed to create one. "My mother helped me put together any drawings I had done, whether they were on paper or napkins."
He brought his homemade portfolio to campus for a professor to review, and was told he would need to take two summer classes and earn no lower than a "B" in each to be accepted. Motivated by the challenge he worked hard, earned two "A's," and became a Graphic Arts major.
Upon completing his degree at OCC, Ancillotti's future wife Janelle encouraged him to continue his education at Syracuse University where she was enrolled. After they graduated, they decided to stay in the area and start their careers and their family.
Ancillotti worked at a couple different local advertising agencies before joining Latorra Advertising prior to its three-way merger resulting in the formation of Latorra, Paul and McCann. He worked his way up, became a partner in 2005, and eventually acquired the entire company in 2011. Today he is the president of the company that is celebrating its 30th year in business, and is now known as LP&M.
Since graduating from OCC more than 40 years ago, Ancillotti has been a frequent visitor to campus and was inducted into OCC's Alumni Faces in 2009. He enjoys meeting students in OCC's Business Club, sharing his story with them, and answering their career questions.
Michael and Janelle Ancillotti have also supported students through the OCC Foundation, giving $10,000 to students most in need of financial support both inside and outside the classroom. "If OCC had not been flexible in giving me a chance to follow my passion and guide me along the way, I don't know where I would be. The decision to give back was simple. I hope it helps current and future students achieve their dreams like I have done."
If you are interested in supporting the students of today and tomorrow, you can do so by visiting the OCC Foundation.