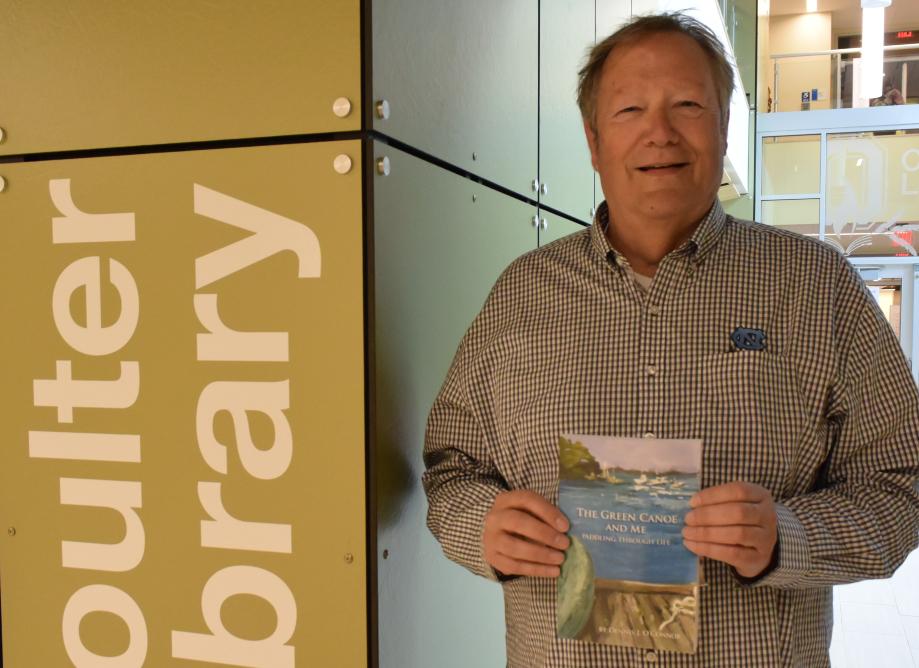 Dennis O'Connor '71 earned his General Studies degree from Onondaga Community College 50 years ago, but didn't realize what his alma mater had become until he visited campus recently. "This is really amazing. I could have never imagined this when I was a student."
O'Connor became an OCC student in the late 1960s after graduating from West Genesee High School. At the time the College was located in Midtown Plaza, an old typewriter factory and office building in downtown Syracuse. Many of the classrooms had huge pillars in inconvenient places, opaque industrial windows, and stark factory floors.
As O'Connor was working toward completing his associate degree the current OCC campus was being built. In 1972, one year after O'Connor had graduated, OCC held its first commencement ceremony on the new Onondaga Hill campus. By then O'Connor was a student at SUNY Brockport, on his way to earning his bachelor's degree in History.
O'Connor would work in leadership positions in the food industry for most of his career. To this day he can recite, very quickly, all of the private sector company mergers and sales he survived. "I spent 36 years with Oscar Mayer which was bought by General Foods which was bought by Phillip Morris. Then they bought Kraft. Then they merged it all together. Then they bought Nabisco. Then they spun off Kraft and Nabisco. Then I retired."
During his career he worked on many sizeable projects which included well-known brands. His crowning achievement was his personal leadership of the sales launch of Crystal Light on the Go for Kraft Foodservice.
When O'Connor finally retired and settled into life in Concord, North Carolina, he found himself back in college taking a Creative Writing class. Over the years he compiled dozens of short stories about his life. Once the pandemic hit, he worked to put them all into a book titled, "The Green Canoe and Me Paddling Through Life." The book's liner notes includes this sentence: "Stories from an unusual life include: partying with The Jackson Five, riding on the Goodyear Blimp, flying downhill on a Bobsled, close encounters with Polar Bears, not winning a Bathtub Race, surviving an alcoholic father, and launching Crystal Light on the Go."
Amidst the humorous and entertaining mentions in his book description is the ominous phrase "surviving an alcoholic father." O'Connor credits his mother with being the steadying influence in his formative years. While raising the family she worked for General Electric and then John Deere where she would work until she retired. She passed away in 2007 at age 84. One year later O'Connor contacted the OCC Foundation and created the Bettie Mann Stevens Scholarship Endowment in her memory. "I thought this would be a great way to honor her. She was a strong woman and a huge proponent of higher education. And I'm a big believer in community colleges."
The Bettie Mann Stevens Scholarship Endowment is open to all incoming or continuing, full or part-time students, with a minimum 2.0 grade point average. The scholarship award is $1,000. Full-time tuition during the 2021-2022 academic year is $2,545.
A complete listing of all scholarships available at Onondaga Community College and an application form can be found on our website.
Onondaga Community College and the OCC Foundation are grateful for O'Connor's support in memory of his mother, and the two copies of "The Green Canoe and Me Paddling Through Life" which he donated to Coulter Library. During his recent visit to campus, O'Connor visited the library for the first time. Its construction began when he was a senior at SUNY Brockport.