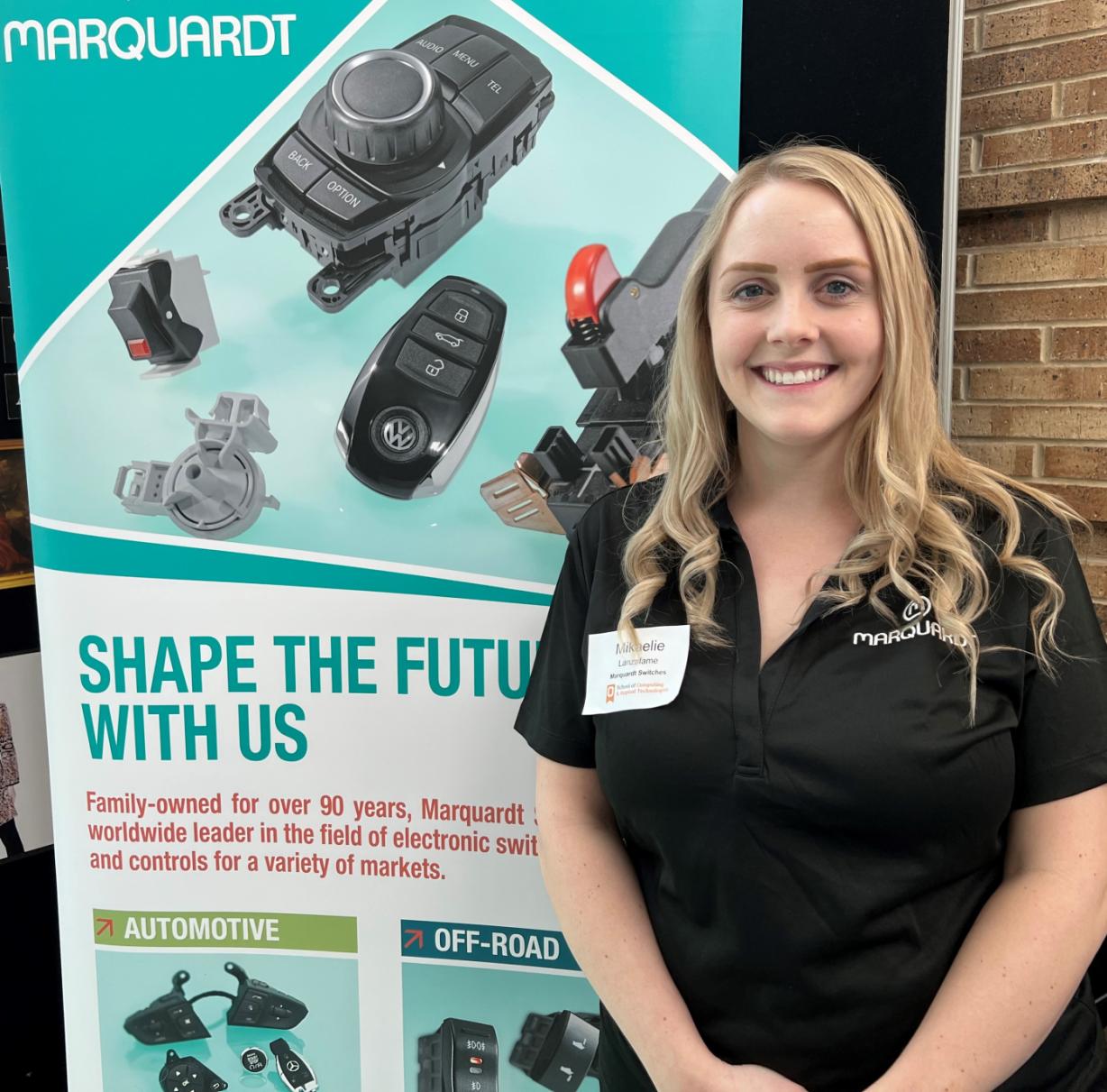 Mikaelie (Fletcher) Lanzafame '11 has a challenging job. As a Human Resources Business Partner at Marquardt Switches in Cazenovia, she's trying to find workers at a time of profound labor shortages. The plant has approximately 260 employees and dozens of openings. "Our apply rates are down. We work with temp agencies to get people in here and they are struggling. We've put incentives in place, sign-on bonuses, we've increased wages, we've increased perks. It's just a very challenging time."
The need for workers brought Lanzafame back to her alma mater last month for the School of Computing & Applied Technologies Career Showcase. Marquardt Switches was one of 17 employers scheduled to appear and speak with students about career opportunities. "I was excited to come back and see all of the changes. I can't believe how much it's changed just since I was a student."
Lanzafame graduated from Central Square High School in 2009 and chose OCC after getting strong degree and career advice from her mother. "She was a teacher and gave me ideas about jobs I might fit into. She explained human resources to me and thought Humanities would fit for my associate degree."
OCC's Women's Tennis team also played a role in getting her to come to campus. "I didn't want to go to a big school right away. I visited the campus and liked it a lot. And my tennis partner from high school (Liz Uhrinec) ended up following me there and we got to be doubles partners which was really exciting."
Lanzfame completed her OCC degree in 2011 and continued her education at SUNY Oswego, and then SUNY Empire. She earned a degree in Business, Management and Economics, Human Resources. She landed an internship at Marquardt and eventually a job. "It's the only place I've worked since I got out of school. I really like it there. That's why I've stayed."
She also feels strongly about her time at OCC and wouldn't have minded if there was a way to stay longer than two years. "OCC felt like a family, especially being on the tennis team. I had tons of friends, we had traveling tournaments which helps you bond with your team. We did community activities and helped new students move into the dorms. I absolutely loved it at OCC."