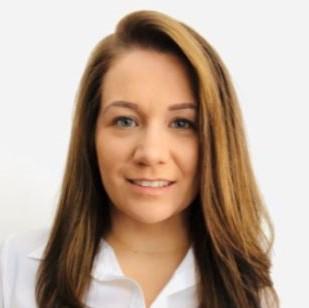 Nikki Carlson '13 is proud of what she has accomplished and, more importantly, how she has accomplished it. Her parents always encouraged her to 'do what you love.'  It resulted in a non-traditional and highly fulfilling path to a great career. "I regret nothing. Everything I've done has led me to where I am today. It's such a great feeling to be where I am!"
Carlson is a Senior Project Manager at National Grid. During her first three years there, she has led teams of more than 20 people while successfully completing projects totaling $35 million.
Her career achievements brought her back to Onondaga Community College earlier this month when she participated in a Girls Going Tech event sponsored by Micron. She served as a career mentor, speaking with 8th grade girls about STEM-related professions. "I definitely did a lot of self-reflection when I returned to campus and remembered how with each semester I was getting closer to where I wanted to be. Being able to tell these girls they now have this opportunity and to grab onto it, I can only imagine the shift it will bring to this area. It's such an awesome shift from when I was their age."
The Liverpool native has come a long way since she dropped out of high school in 2004 and ventured out into the working world. She earned her GED shortly after leaving high school and decided to spend time figuring out what she wanted to do. She was always drawn toward male-dominated jobs and activities such as firefighting, hunting, strongman competitions, and construction. She became interested in a career as a forest ranger and decided to pursue a college degree. In 2011 she began taking classes at OCC with the goal of transferring to the SUNY College of Environmental Science and Forestry (SUNY-ESF).
Carlson enrolled in the Fire Protection Technology degree program. She had been serving as a volunteer firefighter in Liverpool and was pleased to learn she would receive college credits for training seminars she had attended while serving as a volunteer firefighter.
She completed her degree in 2013 and was accepted at SUNY-ESF. As she was getting ready to start classes, she went to a firefighter trade show and noticed a construction company with a booth there. She began asking questions and learned Hueber-Breuer had an area that specialized in developing fire stations. Two years later, as she was in her final semester at ESF, Hueber-Breuer contacted her and asked her to come in for an interview. She was hired as Project Coordinator in Hueber-Breuer's Division of Fire Protection Services. She would start her new job while continuing to pursue her degree.
Carlson gained valuable experience working at Hueber-Breuer, followed by Barrett Industries and JPW Construction. In 2020 she started her own company, NC Design and Construction. Three months after starting her company, a position opened at National Grid which was perfect for her. She was hired and today is a Senior Project Manager there.
Her ability to get things done coupled with her husband's professional experience as a heavy equipment operator in the military has them collaborating on a sizeable project building their own home. "It's been going great. We work very well together. Our strengths compliment each other very well."
You can learn more about OCC's Fire Protection Technology program which Carlson completed, and our brand new Construction Management degree program by clicking on the links in this story.