Image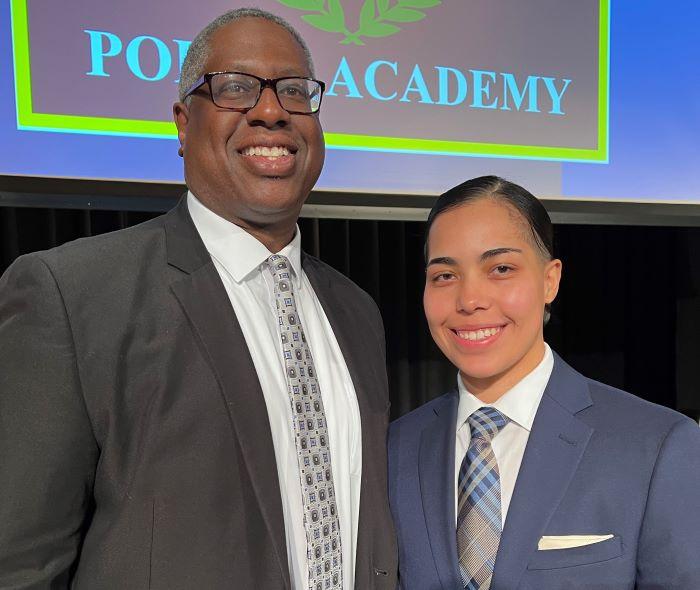 Nadia Diaz '20 discovered her passion at Onondaga Community College, and on November 20 she returned to campus to be sworn-in as a Syracuse Police Officer. "I had a phenomenal time here. I learned a lot, I grew a lot. To come back here today... there's no other place I'd rather be to do this."
Diaz became a full-time student at OCC in the fall of 2018 after graduating from the Syracuse Institute of Technology. Initially she was a member pf the P-TECH program, majoring in Electrical Technology. She would eventually change majors and choose Criminal Justice. "One of my former teachers, Professor David Wall was a former Sheriff's Deputy. His class and the law enforcement classes I took really inspired me to become a police officer."
She was also an outstanding athlete, playing for OCC's Women's Basketball team. However, she first gained notoriety in the sport of baseball. In 2012, at age 11, she struck out 19 batters in a Little League baseball game. And during the spring of 2023 she was a volunteer coach for OCC's Baseball team.
Now her focus is on law enforcement, and contributing to a team which is making the city of Syracuse a safe place for all. She knows the reputation of police has suffered in the eyes of some, but she's ready to make a difference. "It motivates me more with everything going on. Cops are essential. Being able to create that positive relationship between a community and law enforcement is very important. I'm very honored to be where I am today and to be a part of the Syracuse Police Department specifically."