Alumni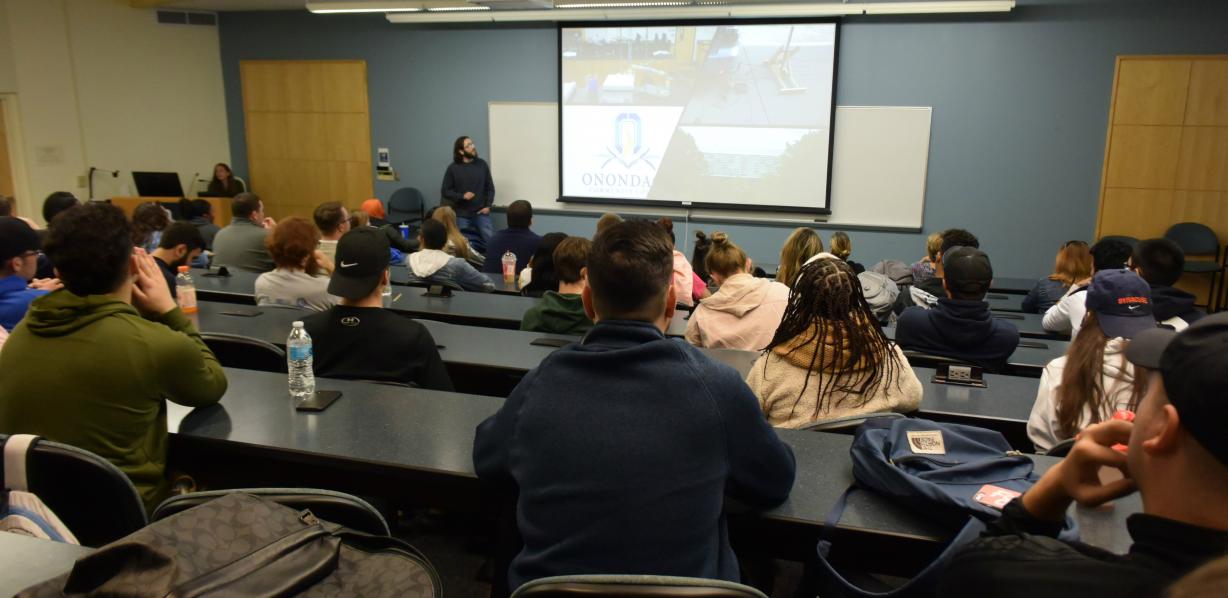 Peter Raymond-Smiedy, '17 never expected to be where he is today. A decade ago he was struggling through his senior year at Syracuse's Fowler High School. "I wasn't the best student. I had no concept. I didn't have the best grades." Now he's in his first semester of graduate school at Syracuse University where he's pursuing his Ph.D. in Biology. He credits Onondaga Community College and its faculty with playing a critical role in his success. "OCC is the reason I'm where I am right now. It's the ideal place for education and I wanted to come here to share that message with students."
Raymond-Smiedy returned to campus October 28 and spent an hour speaking with students and faculty in a filled-to-capacity lecture hall in Mawhinney Hall. His appearance was sponsored by the Biology major, Phi Theta Kappa honor society, the Veterans Association, and the CSTEP and LSAMP programs.
He shared with students details about his personal journey. After earning his high school diploma in 2010, Raymond-Smiedy spent four years in the United States Navy as an Information Systems Technician."In the Navy I learned work ethic, self-discipline, and that you can achieve anything if you work hard."
He arrived at OCC with dreams of becoming a lawyer or medical doctor. "My adviser told me to take the Anatomy & Physiology class. It made me realize how interested I was in science and I loved it. Professor (Matthew) Ruddy really ignited a flame and kept it going."
A summer learning opportunity also played a critical role in Raymond-Smiedy's growth. "The most important thing that happened here was being encouraged by Dr. (Fred) Jaquin and Professor (MaryAnn) Page to apply for an internship. The 10-week program exposed me to doing research in a laboratory."
After earning his Mathematics & Science degree in 2017, Raymond-Smiedy transferred to SUNY Binghamton where he earned a bachelor's in Biochemistry.
During his conversation with students Raymond-Smiedy offered three important pieces of advice:
Ask questions and act on the answers.
Use your resources.
Embrace your trajectory.
Raymond-Smiedy reassured students they were in a great place for learning and could accomplish anything they wanted with the foundation they were building. "OCC was very fertile soil for growing. I really appreciated how much the faculty cared about my education and got me interested and pushed me along the way where I wouldn't have known to go otherwise. When I came to OCC I had no idea what graduate school was all about. I wouldn't have known to get an internship without a professor telling me to do it because I didn't know about that kind of thing. Professors here really care. They want you to succeed, they want you to do well, they want you to be educated, and they really want you to understand concepts."
He also encouraged students to work harder than they ever felt possible and learn what they are capable of. "I bit off more than I could chew which I recommend everyone do. My last two semesters here I took 19 and 20 credits on top of the extracurricular things I was doing. I really pushed myself and it made Binghamton easier than OCC because of it. Work as hard as you can while you are here and find out what you can and can't do."