Image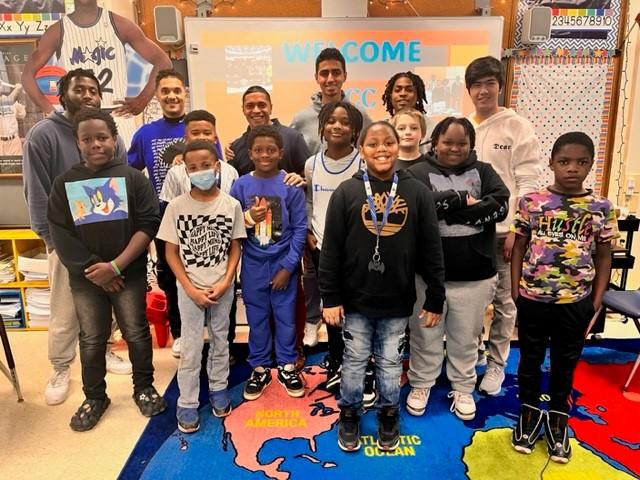 When Shayne Turo '23 read a story on OCC's website about the work Cameron Littlejohn '15 was doing, he saw an opportunity for the two to bring their groups together.
While pursuing his bachelor's degree at Syracuse University, Turo continues to be an influential person on the Onondaga Community College campus where he is an advisor and program developer for Extraordinary Men of Distinction. The program provides brotherhood, scholarship, and leadership space for men of color. Through Turo's mentorship, students learn how to succeed at OCC and make a positive impact in the community.
Littlejohn is a 2nd grade teacher at Meachem Elementary School who helped create the Building Men Program which gives young students in the Syracuse City School District male role models. Each week when students meet, they are given a new theme to focus on such as self-respect, character building, perception, or maturity.
When Turo learned about Littlejohn's efforts, he thought their two groups could benefit from spending time together. "I had brought professionals in to talk to my students," said Turo, "but I hadn't provided them the opportunity to be mentors."
That changed on November 3 when Turo brought his students to Meachem Elementary to meet with Littlejohn's group. "I'm really proud of what we've done," said Littlejohn, "but sometimes these students need to hear from other people. Hopefully having the group from OCC come here and talk about making positive choices, facing hardships and overcoming them will resonate with my students."
The opportunity to help young students was extremely meaningful to OCC student Mustafa Alnuaimi. "When I first came to America I spoke little to no English. I kept pursuing my education until I could speak perfect English. Discipline and dedication goes a long way in everything."
The OCC Foundation prides itself on connecting groups like Extraordinary Men and Building Men to benefit the youth of Central New York. If you would like to learn how you can support similar endeavors, please contact us at occfoundation@sunyocc.edu.