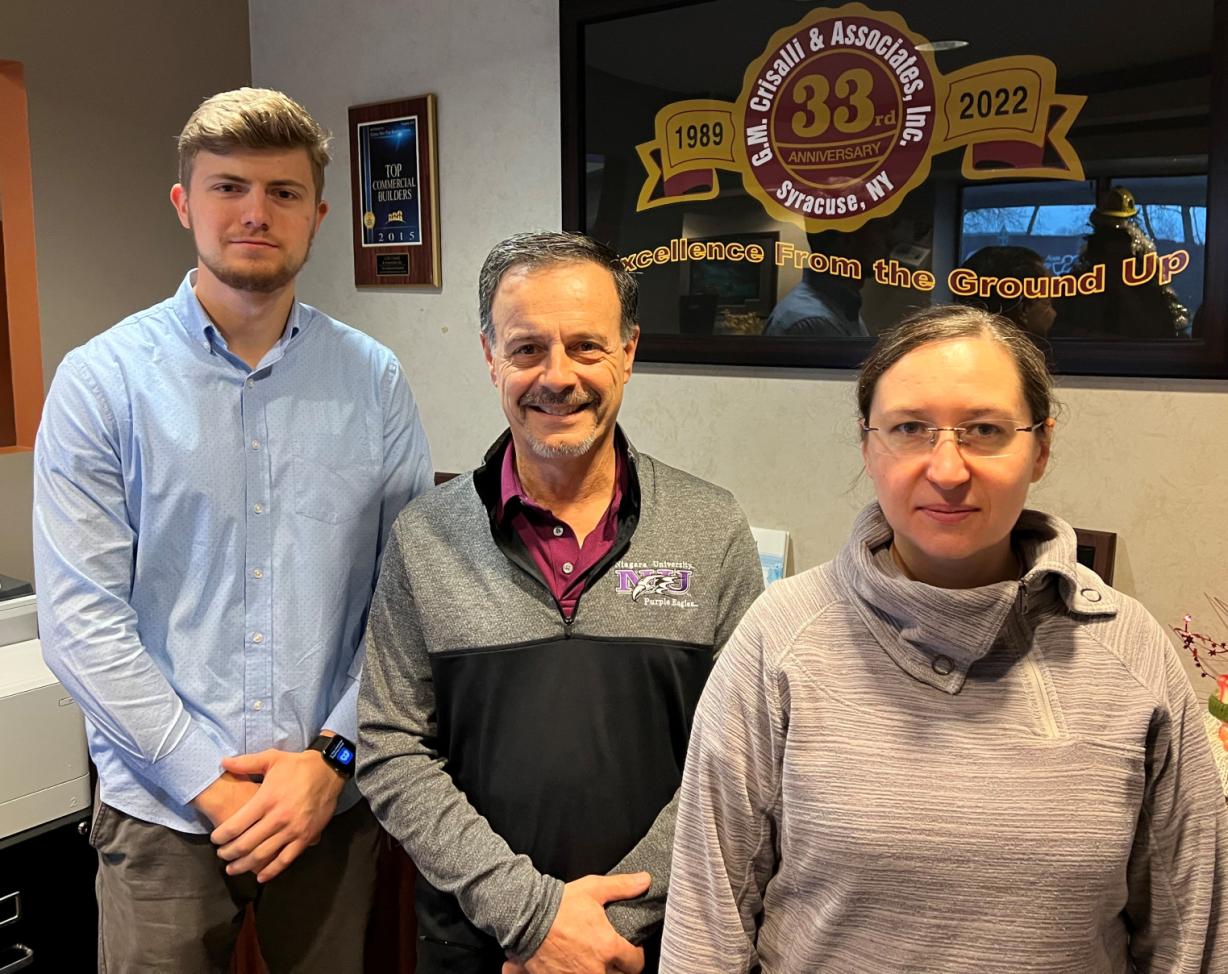 There's a pretty good chance you've seen the amazing work G.M. Crisalli & Associates does, and an equally good chance you've never heard of the construction management company which is headquartered on Hiawatha Boulevard in Syracuse. They've built spectacular structures like the Penguin Exhibit at the Rosamond Gifford Zoo at Burnet park, the massive Abundant Life Christian Center in East Syracuse (it's 40,000 square feet with a purple roof) which is located right next to I-481, and the sparkling Cayuga Medical Center next to Cayuga Lake in Ithaca to name a few. They've also built countless business spaces in shopping malls, grocery stores, drug stores, gas stations, and large structures for BJ's and Walmart. "We don't advertise. We are fortunate in that we don't need to. We fly under the radar," said Rocco Paone '76, a Preconstruction Executive Manager at Crisalli.
Paone was destined to spend his life building things. As a youth, he was a tinkerer. He loved working on cars and had part time jobs at auto parts stores. His father, Anthony, was a World War II Veteran and eventually became what Rocco referred to as a "suit and tie engineer." He had 19 patents on the way to becoming the manager of engineering and manufacturing at Smith Corona, the typewriter maker which at one time was located in Midtown Plaza in downtown Syracuse. Midtown Plaza was also the first home of Onondaga Community College when it opened its doors to students in 1962.
Paone graduated from Bishop Grimes High School, and then Onondaga Community College with degrees in Mechanical Technology, Electrical Technology, and a minor in Architectural Technology. When he completed his degrees in 1976, the region was dominated by major employers. He had local job offers from General Electric, New Process Gear, and Carrier. He began his career as a Design Engineer at Carrier.
Paone joined Gary Crisalli's new construction management company 32 years ago when the business was just one year old. The client which really put them on the map was Pizza Hut. Crisalli was building one after another, and the pizza chain's Regional Construction Manager in Albany was noticing the high quality of their work. "He asked us if we wanted to work in other states like Massachusetts, Connecticut, and Pennsylvania. We did. Once you understand how to build one particular type of store, it keeps going and becomes a little easier because you are replicating, or modifying something to fit a certain site."
Crisalli has a similar history with Walmart. They've worked with them for 21 years and are a preferred contractor. Crisalli's decades of success has expanded their footprint into 15 states, ranging as far west as Wisconsin and as far east as Maine where they just put the finishing touches on a sizeable distribution center. They currently have 9 projects under construction, and another 4 to 6 that will begin in January or February.
Crisalli's current workforce ranges from 55 to 60 people, including two more alumni of Onondaga Community College's Architectural Technology degree program. Iryna Leskiv '09 and Bogdan Bondarenko '20 are both Assistant Estimator's there. "We review a project and figure out what is involved," said Leskiv. "We reach out to sub-contractors and make sure they have everything, and we cover everything on our end."
Bondarenko credits lessons learned on the OCC campus with preparing him for his current role. "We did a lot of design classes where you built a model on a computer so you could see which components go together. It helped me to understand what went on from the ground up. With the professors explaining things and actually designing things in the computer, that helped me."
Like so many businesses, Crisalli is grateful for the employees it has and has openings to fill. Paone has had good luck working with graduates of OCC's Architectural Technology program. "If they understand architecture, they understand construction," he said. And he hopes OCC's new Construction Management degree program will also help satisfy needs in the workforce.