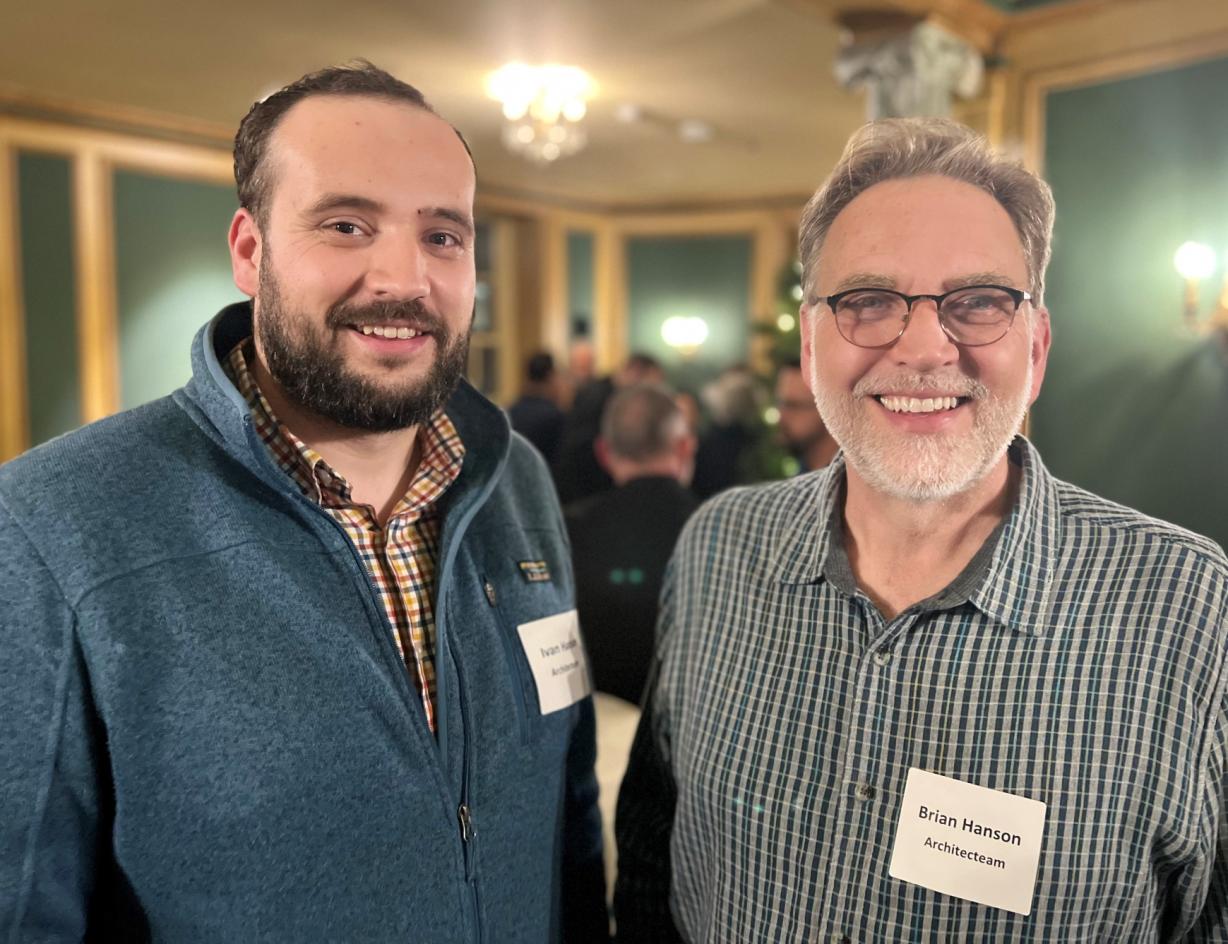 Onondaga Community College Architectural Technology Alumni spanning six decades came together earlier this month to reminisce about their time on campus, their careers, and where life has taken them since they were students on Onondaga Hill. "There were 5 or 6 here from my class. It was a nice turnout," said Ivan Hanson '15. "OCC is the reason I'm in architecture. The instructors and professors we had were great. They put me on the path to where I am now."
Hanson graduated from Christian Brother's Academy in 2011, went to a four-year school with a focus on Physics, then decided to transfer to Onondaga Community College and change majors. By the time he graduated from OCC he was named the Curriculum Honoree (top student) in Architectural Technology. He would earn his bachelor's degree in Architecture from Marywood College in Pennsylvania, get married, move to Southern California for three years, then return to Central New York.
He landed at Architecteam, a Syracuse-based design-oriented architecture and planning firm where his father and fellow OCC Alumni Brian Hanson '81 is Managing Partner. Dad has enjoyed the opportunity to work with his son. "He's brought capabilities to our office we didn't have. It's very complimentary. His ability to use technology, to see things with a different perspective, a newer perspective not a 60 year old perspective, are wonderful."
Brian Hanson graduated from Fulton High School in 1979. When he wasn't in school, he loved drawing. He chose OCC's Architecture Technology program and it was a perfect fit for him. "I came here and realized I found my niche. It was a real confidence builder. So many opportunities came my way because of my relationships with my professors."
The Architecture Technology Alumni gathering was held December 8 in the Marriott Syracuse Downtown. It was organized by Russ Corbin, OCC's Director of Alumni Relations. He can be reached at corbinr@sunyocc.edu.