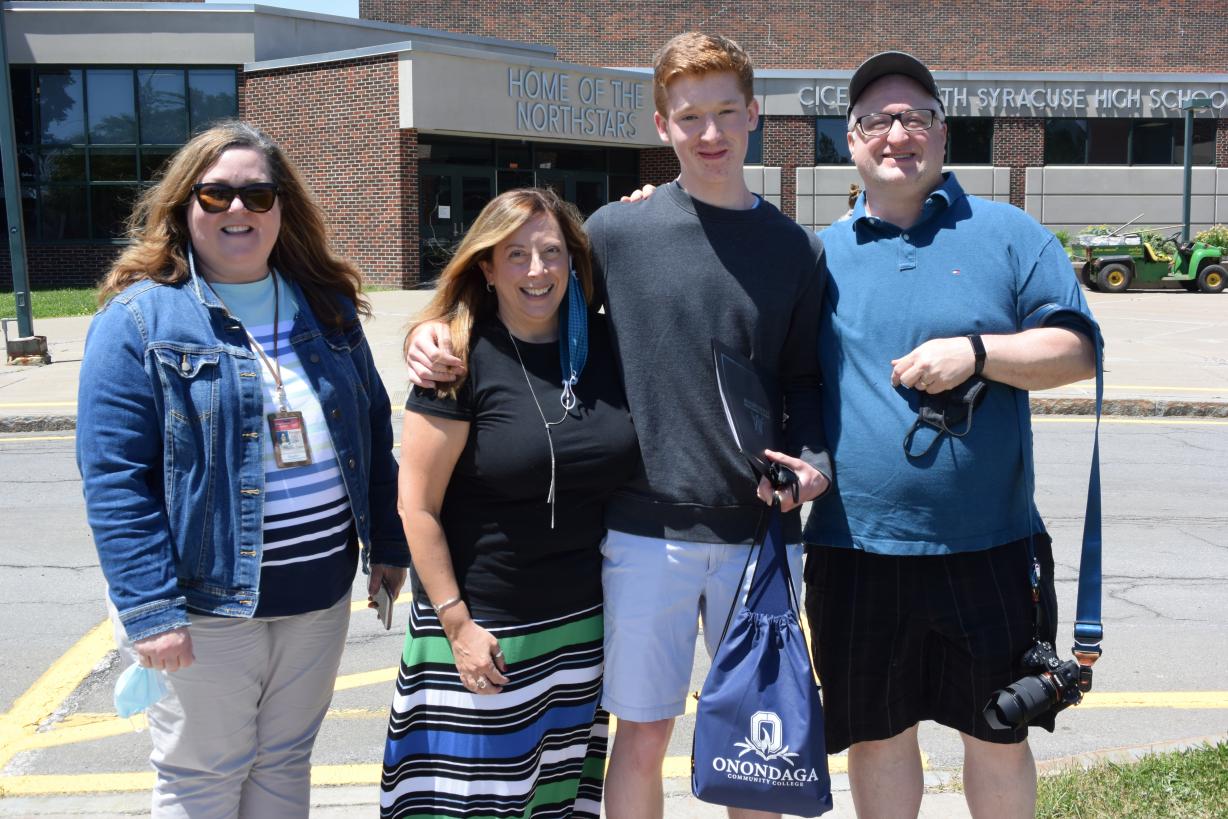 Cicero-North Syracuse High School graduating senior Connor Fry received an unexpected surprise this week. He was greeted at his school by Steffani Williams, Director of Development & Annual Giving with the OCC Foundation. She presented Fry with the the Nicholas Todisco Scholarship. It's value is $500. Full-time tuition for one semester at OCC is $2,545. OCC Foundation Board member and alumna Karin Franklin-King, '69 was also in attendance for the presentation.
Todisco was a legendary Central New York Art teacher for a half-century. He taught at Onondaga Community College as well as LaFayette High School, Westhill High School, and Vocational High School in Syracuse which he graduated from. Todisco passed away in 2012 but his spirit lives on in the countless students whose lives and careers he impacted.
Fry was nominated for the award by Heather Blaski, who has both taught at C-NS and been part of the CNY Scholastic Art Advisory Council for 20 years. OCC hosts the Scholastic Art Show at the beginning of every calendar year. Blaski had been named the 2020 recipient of the Nicholas Todisco Teacher Inspiration Award and, along with that, was given the opportunity to select the student recipient of the Todisco Scholarship. She chose Fry who had been a Photography student of hers in 10th, 11th, and 12th grades and had received numerous awards for his work. "This year I saw Connor gain a confidence in himself and his work that inspired everyone around him. He became an inspiration to his classmates – encouraging them to work harder and build up their confidence in themselves and their craft. He was comfortable with offering insights and suggestions from a student's perspective in a way that is welcomed and refreshing. Once we went into remote learning, he still would seek me out via emails, texts, and phone calls to continue his education. When many students were struggling with remote learning, Connor stepped up to encourage his classmates that he knew were having a tough time and was conscientious enough to often inquire how I was doing with the 'new normal.' This is the person that he is: kind, considerate, dedicated, inspiring, and talented. These are the reasons why I knew that Connor needed to be the recipient of this Scholarship…I cannot think of anyone else that is more deserving of this recognition than Connor Fry!"