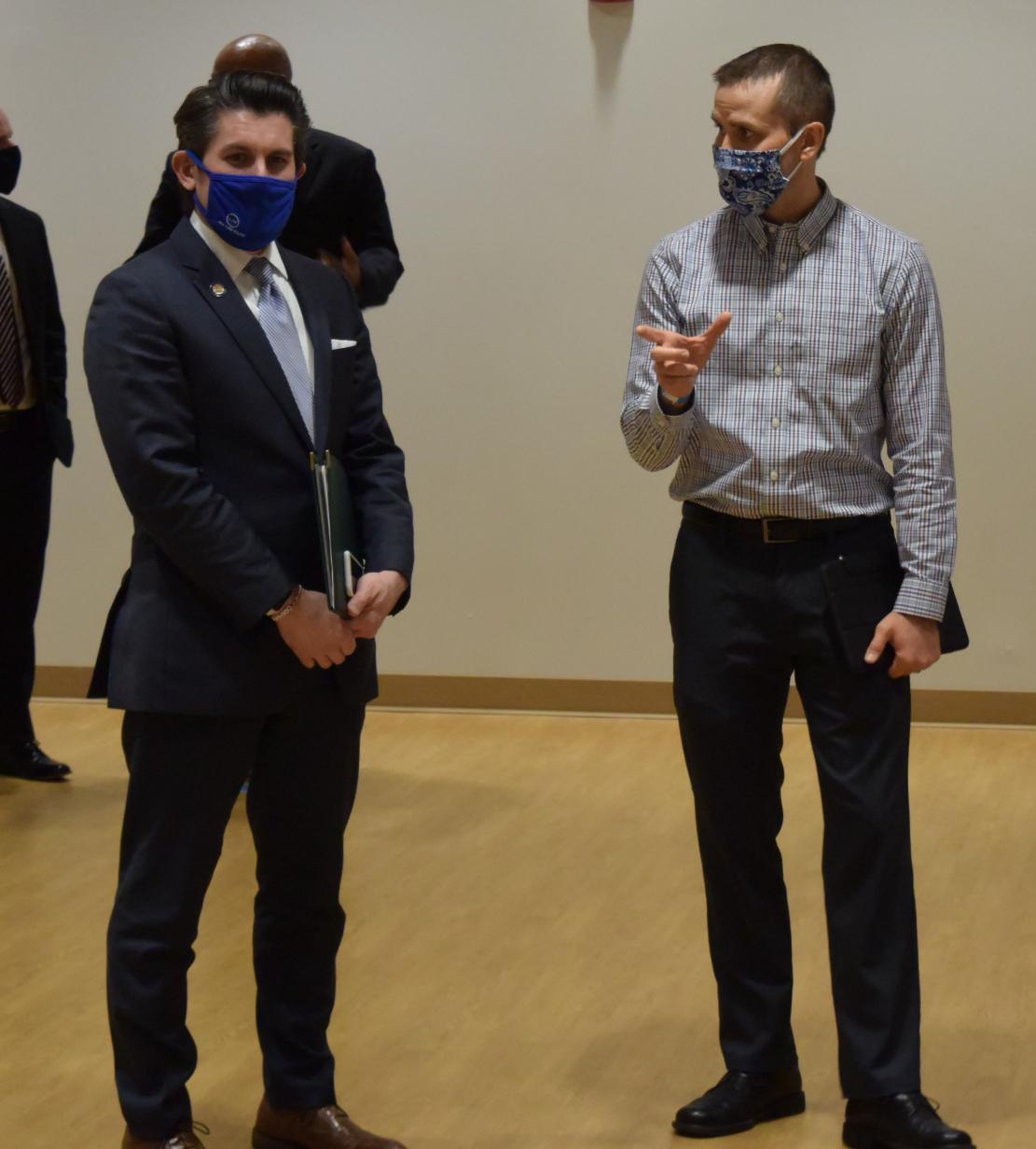 Life on the OCC campus has changed significantly since the arrival of COVID-19. Dr. Sean Vormwald has played a significant role in most of it. "I think the fall semester went really well. The steps we took ahead of time to put the measures in place like masks, social distancing, and disinfecting all helped as well. I was pleased we were able to make it through without having to go remote before Thanksgiving with relatively low numbers. We didn't have a significant outbreak."
Vormwald is OCC's Director of Sustainability and Environmental Health and Safety. The Cortland native began working here 10 years ago. You may have heard about him in connection with any of the College's sustainability efforts such as solar panels, the collection of rainwater runoff, the conversion of outdoor lighting across campus to LED's, or the College's two newest buildings achieving LEED Gold status.
Several months ago his work suddenly had a new focus. "We were all working remotely and I was tuning in to the Governor's daily press conferences and trying to hone in on what it meant for the College. When there was something relevant I would send notes to my supervisor (Sarah Gaffney). I'd be telling her things like 'we're going to need a written reopening plan,' 'there's going to be a phased approach and we can bring office workers back at a certain point.' I was trying to figure out what would be happening based on what the Governor was saying."
Vormwald ultimately created a reopening plan which SUNY approved and employees began returning to campus in June. In mid-August students moved in to the residence halls. They took part in mandatory COVID testing which Vormwald administered along with colleague Steve Suarez. In October testing was expanded to include any member of the campus community at no expense to them.
The process of reopening included the creation of numerous procedures aimed at keeping the campus community as safe as possible:
The closing of the two Route 173 campus entrances along with daily health screenings at the Route 175 campus entrance.
The closing of a residence hall (Shapero) for quarantine purposes and the intentional reduction of the number of students in the three remaining residence halls.
The closing of the College's cafeteria.
Mandatory mask wearing across campus.
Social distance-related signage across campus both at eye-level and on floors.
Plexiglass in places like science labs and at the Student Central counter.
The constant sanitizing of high-touch places across campus such as door handles.
COVID-19 testing for students and employees.
Daily wastewater surveillance testing.
Literally every inch of campus was measured by the Facilities team for social distancing purposes to determine where employees could work and how many students could safely sit in each classroom.
As learning space capacities were being determined, Academic Services was creating various learning modalities giving students the ability to participate live in classes while at a remote location. 
Although Vormwald was one of the leaders of the College's reopening and staying-open process, he prefers others receive the credit. "It really speaks to Casey's (OCC President Dr. Casey Crabill) and Executive Council's leadership. They did a really good job of outlining the major safety precautions we were going to have in place. It was her leadership that set the stage for how we were going to keep everybody safe. I simply provided guidance on specific things throughout the process. I'm grateful I could contribute to such an important cause and I'm happy to do my part."