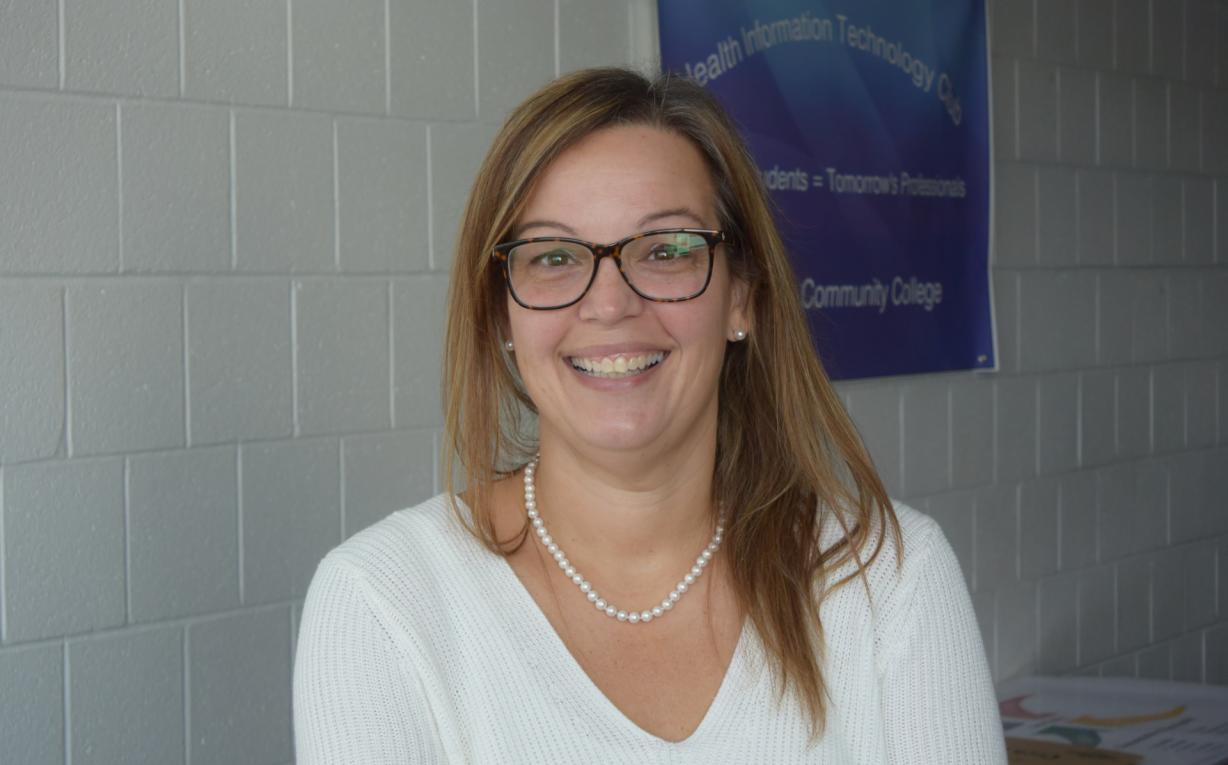 The professors Dori LaRue, '11 learned from while she was a student at Onondaga Community College inspired her to be exactly where she is today. "I knew eventually I wanted to teach here because of those relationships I had built with my teachers. I want to make my students want to do well the same way my professors made me want to do better."
LaRue teaches students in OCC's Health Information Technology degree program. Health Information Technology, which is often called 'HIT' or 'Health IT,' refers to the electronic systems health care professionals use to store, share, and analyze health information. It's a rapidly growing career with outstanding employment opportunities.
LaRue is a graduate of Canastota High School who spent most of her 20s working as a waitress. "It was very rough and very physical. I came to realize I wanted a career and not just a job. I knew the first step toward transitioning would be to go to college." LaRue's mother had attended OCC. One day Dori noticed alumni literature her mother had received which promoted different programs. "I saw something about the Physical Therapist Assistant (PTA) program and that's where my original interest was."
LaRue enrolled in OCC's PTA program in 2008. Eventually she realized she didn't like the direct care side of health care. She spoke with her advisor about it who recommended she try Health Information Technology. It required medical knowledge without the direct care aspect.
Health Information Technology turned out to be the perfect fit. She earned her associate degree in 2011 and got her first job in the industry working for a small nursing home in Morrisville. She kept working while she earned her bachelor's degree from SUNY IT two years later, and a master's degree from Keuka College in 2015. She would also work for St. Joseph's, Oneida Healthcare, and Crouse Hospital where she specialized in coding. Medical coders translate medical services into codes which are then used in the payment and reimbursement process.
While working at Crouse she was contacted by one of her OCC Professors, Karen Fabrizio, who is now the Dean of Health & Community Service at the College. Fabrizio told her about a full-time position at OCC which LaRue now holds. She started teaching at OCC on a part-time basis in the spring of 2018, working with P-TECH students in a Medical Terminology course. By that fall she was a full-time faculty member.
As she works with her students LaRue has a wealth of both industry and OCC experience to fall back on. "I remind my students that it wasn't that long ago that I was on their side and that I do understand where they are coming from."
Working through instructional limitations caused by COVID-19 has been a challenge, but she says everyone has made the best of it. She teaches in the Hyflex format, meaning some days her students are in the classroom with her and other days they join virtually. That format paid dividends recently when a student heading to campus got a flat tire and had to join virtually even though it was her day to attend face-to-face.
The local Health Information Technology community is a small one. Nine years ago LaRue received a scholarship from the Central New York Health Information Management Association. Today she is the organization's president-elect. "At my association meetings I see different teachers who I had when I was a student here. It's always nice to run into them." When she got her first job in the industry, Fabrizio was her reference. When Fabrizio became a full-time faculty member, LaRue was her student reference. "Karen (Fabrizio) was my mentor through college and is someone I've always used as a role model. She's someone I've always gone back too. I've been fortunate to learn from her and now work with her."