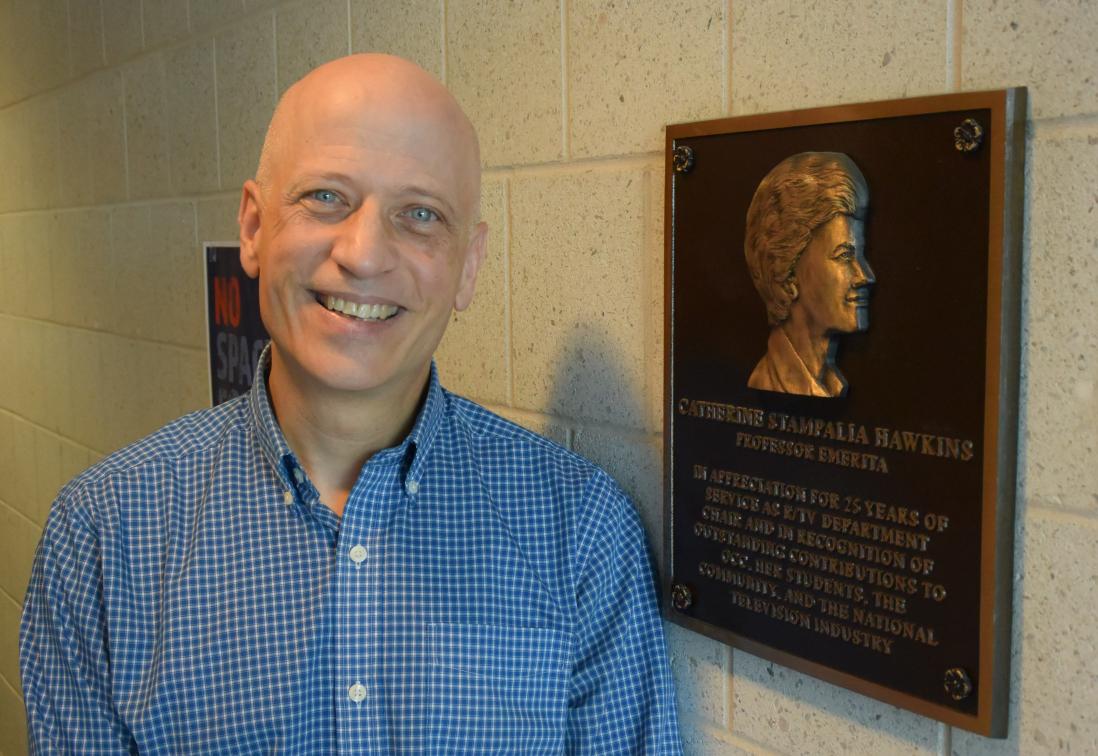 Professor Tony Vadala came to Onondaga Community College as a student approximately four decades ago and never left. The environment he found on campus as a student inspired him to have a successful career both inside and outside the classroom. "I experienced a very open, warm, inviting atmosphere. I fit in very well. The RTV (Radio & TV) faculty always described this program as a family and that you would become part of the fabric as you went through here. Whenever I had time outside class I was in the studio working. It was very welcomed. I had a very positive experience here."
Vadala is in his 36th year working with students in the recently rebranded Broadcast Media Communications degree program. Courses he teach include Multi Camera Studio Production, Video Field Production, Audio Production and Design, and Sound Recording.
Recording audio was his earliest passion. Everyone in his family played a musical instrument. When he was a young boy his father bought him a portable cassette player with a couple of microphones and Vadala became the official recorder of family music. "I got the bug early on. When I wasn't playing myself, I was recording everyone playing."
The love of music was also part of Vadala's extended family. His aunt discovered the legendary Frankie Valli while she was working as a disc jockey in New Jersey. She watched him perform as a high school student and got him an audition with a record producer which led to his first recording contract. Valli would become lead singer of the "Four Seasons" and still performs to this day. Vadala's aunt would go on to have a successful career as a recording artist in Nashville.
While attending LaFayette High School Vadala played the trumpet and was active in the band and chorus. He also became interested in video and started shooting high school plays and sporting events. It would become normal for him to arrive at school at 7 in the morning and not get home until 9:30 at night.
Vadala made his first visit to the OCC campus as part of a "Media Day" during which high school students would spend an entire day participating in workshops and radio and television productions. He loved the atmosphere so much he decided to enroll after receiving his high school diploma.
As a student here Vadala was inspired by Professor Catherine Hawkins who was Chair of the RTV degree program. "She was tough, she was fair, she knew you could do more than you thought you could. She would see that potential and try to cultivate that in everyone."
By 1984 Vadala was working for Hawkins as a Professor at OCC. When he wasn't teaching students, she encouraged him to be as active as possible within the broadcasting industry. "She had produced television shows that were nationally syndicated and brought that knowledge and skill into the classroom. She saw having faculty still connected to what was going on as a benefit."
Vadala would work on a documentary which took him to Rome, Italy where he shot video, edited video, and designed sound. The finished product aired on several PBS stations. He would also travel the U.S. on weekends working at a variety of sports events. He became well-known within the industry for his expertise in television sports productions and sound. Since 2014 he has overseen sound design and mix at the Red House Arts Center on South Salina Street in downtown Syracuse. Vadala has also become a staple at OCC's Commencement ceremony. Since 1996 he's been heavily involved with the audio and video productions of the event.
During the fall 2020 semester COVID-19 presented Vadala and his colleagues with unprecedented challenges. In a very "hands-on" degree program they needed to redesign instruction methods. One of the most creative solutions was in an Audio Production and Design class where students needed to be socially distanced while learning. Broadcast Media Communication degree program Engineer Greg Endler led an effort to technically connect two classrooms so the course could be taught simultaneously in two different locations (see photos below). "We applied all of the traditional things as if we were doing a remote broadcast. It was the same kind of situation with the same equipment," said Vadala. "We used cameras and microphones and speakers in each room. The output from the computer station could be seen in the remote classroom on the big screen. There was a monitor with me in it for students to see and a monitor with them in it for me to see. Students could ask questions in real-time. It worked very very well."
It's those opportunities to teach which keep Vadala coming back to educate a new group of students every year. "When I'm explaining and showing something and you see that light bulb go off in their eyes, you know you've made a difference. They go from struggling to getting it. It motivates me. The students energize me!"
Vadala instructs students in an Audio Production & Design class on the second floor of the Whitney Applied Technology Center. A camera and microphone placed directly in front of him...
...allow him to be seen and heard in a classroom on the first floor. Present with students there is Instructor's Assistant Mark Ballard.