Image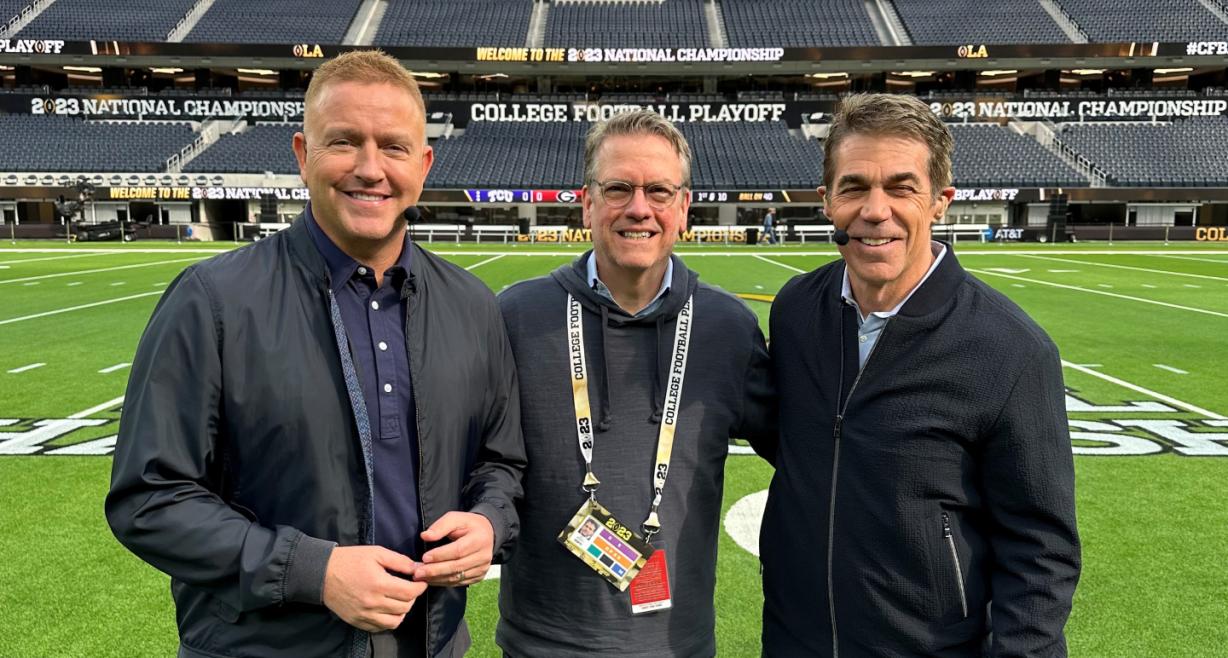 Bill Bonnell '83 can finally exhale. The college football season, which began in August and took him to a different high-profile stadium every week for several months, finally ended on the night of January 9th with the national championship game at SoFi Stadium in Los Angeles. "We had a great season. It felt good to be back to normal after what we went through with Covid."
Bonnell is the Coordinating Producer for Saturday night prime time college football telecasts which air on ESPN and ABC, and the College Football Playoffs. He's a graduate of North Syracuse High School (class of 1981), Onondaga Community College's Radio & TV program, and is one of the College's distinguished Alumni Faces honorees.
While Bonnell was a student at OCC, he was also working on ABC television's Monday Night Football telecasts which at the time included the legendary broadcast team of Howard Cosell, Don Meredith, and Frank Gifford. Throughout his career he has played critical roles in some of the biggest sporting events, including the Olympics which he was part of while working for NBC in the 1990s.
It was during the Olympic games he developed a relationship with legendary composer John Williams, whom he contacted and asked to write a new score for the opening to this season's College Football Championship Game telecast. Williams agreed and created "Of Grit and Glory." It was recorded just before Christmas with a 96-piece orchestra. You can view the finished product here. It was produced by ESPN's Martin Khodabakhshian. "It's probably the greatest open in sports history," said Bonnell.
As Bonnell reflects on the recently completed season there are two other moments he is proudest of; his broadcast team's coverage of LSU's unexpected overtime victory over Alabama in Baton Rouge, and the live production his broadcast team orchestrated detailing the Clemson football team's dramatic entry into their stadium.
With the college football season behind him Bonnell will take a brief break, then begin working on National Hockey League telecasts. Once the hockey season ends, he'll begin preparing for another college football season.
Even though it's been nearly 20 years since college football became his primary focus, he's still gets as excited as ever for the challenges that lie ahead. "It's not lost on me how fortunate I am to work with the people I do every week, from all of us behind the scenes to our on-air team of Chris Fowler and Kirk Herbstreit who our viewers see. I have a great job and I don't take it for granted. It's a privilege to do what I do. I learn something new every day in television and give it 1,000% every time. I'm always learning and keeping it fresh."