Image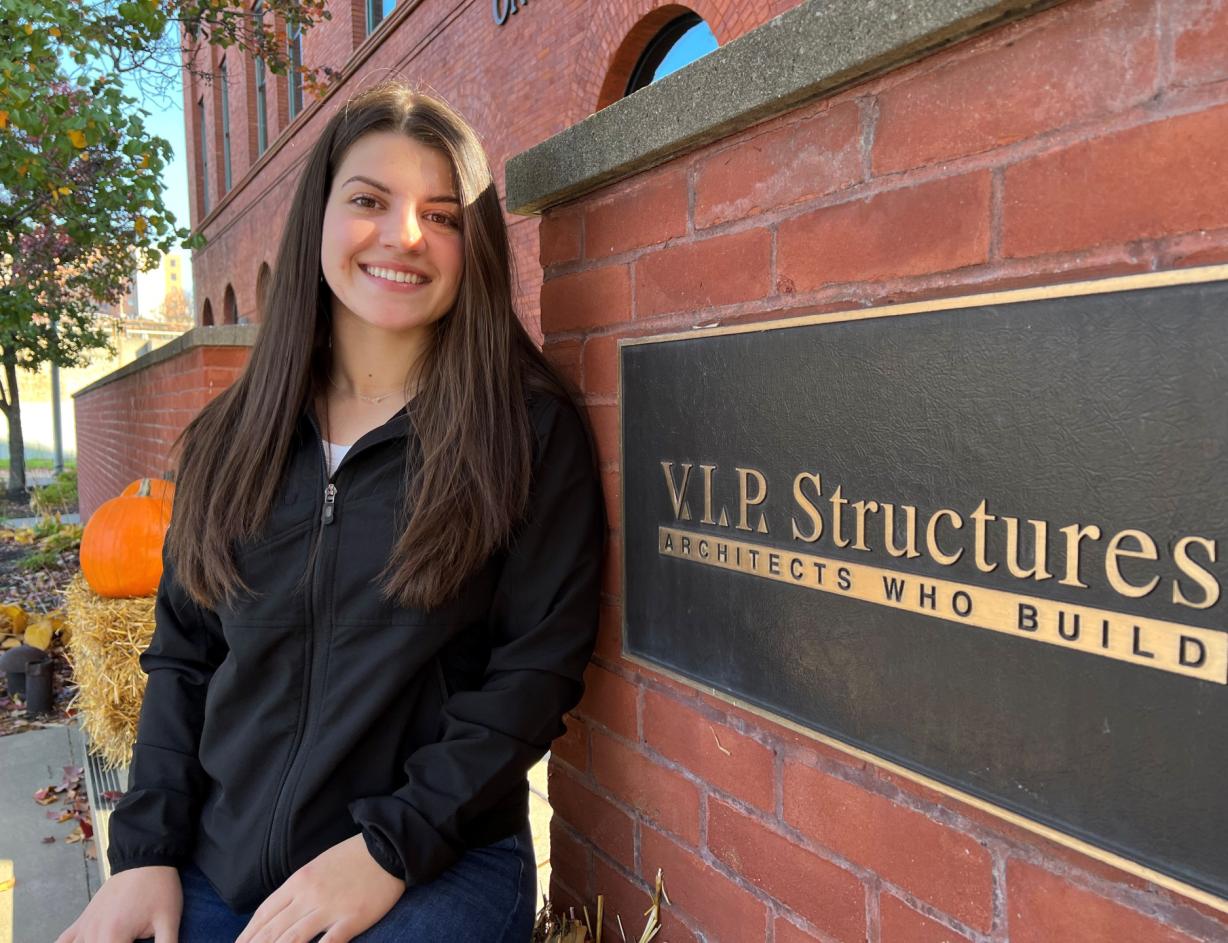 Kenna Maring '22 knows the value of getting an opportunity and taking advantage of it. While pursuing her Architectural Technology degree at Onondaga Community College, Maring was welcomed into VIP Structures as a job shadow. She was quickly elevated to intern, and after completing her associate degree in May became a full time employee as a Project Technician. "When I started job shadowing here I thought everything was temporary. I didn't realize it would turn into an internship and then a job."
November is Career and Internship Month at OCC, and VIP Structures has openings for interns which you can learn more about by clicking on this link. "Any time you can spend getting experience is incredibly valuable. It's a huge bonus."
While working at VIP Structures, she is also a student at SUNY-ESF in their Construction Management program. Her professional experience, which began as a job shadow, is making a difference in how she performs as a student. "It's made me more confident in the classroom and I'm comprehending more. The students I feel equal to have also done internships. When we are working in a group it's obvious who has experience. You can tell who has been on a job site and who is hearing certain words for the first time. It's really cool to know what everyone is talking about and to be able to contribute more because of my experience."
Just three years ago Maring graduated from Cicero-North Syracuse High School and began her journey through higher education at a four-year college. After one year there, she came to Onondaga Community College. "I'm so glad I went to OCC. I really think a two-year program is much easier to start, stay in, and complete than a four-year program."
While juggling coursework at SUNY-ESF, she's also working as a Project Manager at a 5,500 square foot building which is being converted from an adult day care facility to the headquarters for an organization called Peaceful Schools. "We are removing wheelchair railings, protective coatings in bathrooms, some sinks, and creating more employee space, putting in all new flooring, and partitions which create dedicated space for group training."
She credits her experience as an intern, during which she worked in multiple areas within VIP Structures, as giving her the big picture perspective she needed to oversee an entire project so early in her career. "Having that background of what happens after the Project Manager clicks 'submit' was invaluable. I was able to see the big picture."
OCC has just received approval to start its own Construction Management degree program. With Micron's decision to come to Onondaga County, major changes planned for Interstate 81, and related projects throughout the area, there will be significant construction management opportunities in our region for years to come. The average salary 5 years after graduating is estimated to be $79,000.