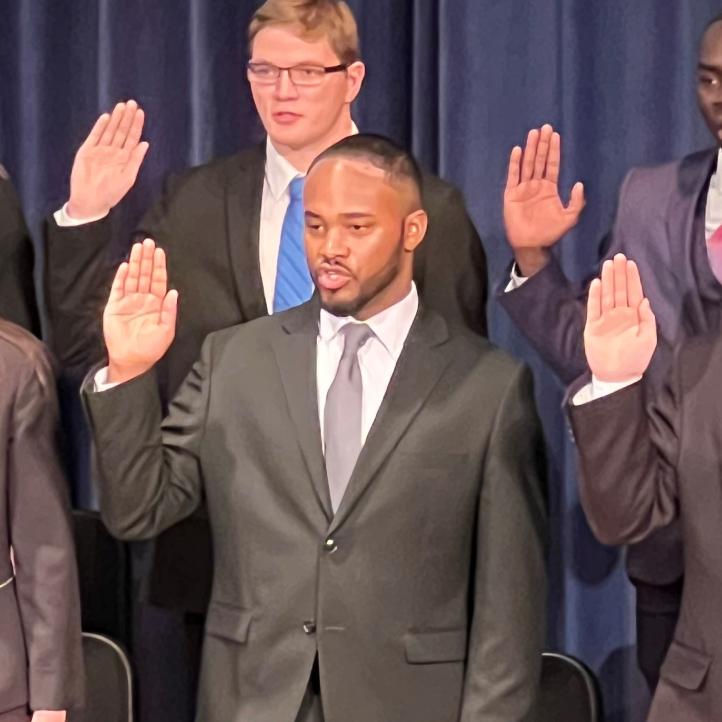 DeJuan Tigner Jr.,'s dreams came true at Onondaga Community College. He grew up watching a family member serve as a parole officer and it inspired him to pursue a career in law enforcement.
After he graduated from the Institute of Technology at Syracuse Central, he came to OCC and enrolled in the Criminal Justice degree program. He received his associate degree in May 2022.
Seven months later, on December 16, he was sworn-in to the Syracuse Police Department during a ceremony in OCC's Storer Auditorium. "It feels amazing to be sworn-in here. I had a passion for law enforcement as a little kid. I pursued my dream. My family is excited and I'm very happy too."
Among those in the audience was one of Tigner Jr.,'s OCC Professors, Pete Patnode. "From day one he was always pro-justice and pro-fairness. It was never a 'police versus community thing.' It's nice to see people still be interested in policing, especially someone of color because we need strong people of color in this field," said Professor Patnode.
"He's an amazing professor. When he would teach us in his lectures, he would tell us the good side and the bad side of the job and it helped paint a picture in my head," said Tigner Jr. "He has such an infectious personality," added Professor Patnode. "The community will be able to relate to him."
Congratulations to DeJuan Tigner Jr. and the all of the new Syracuse City Police Officers!