Image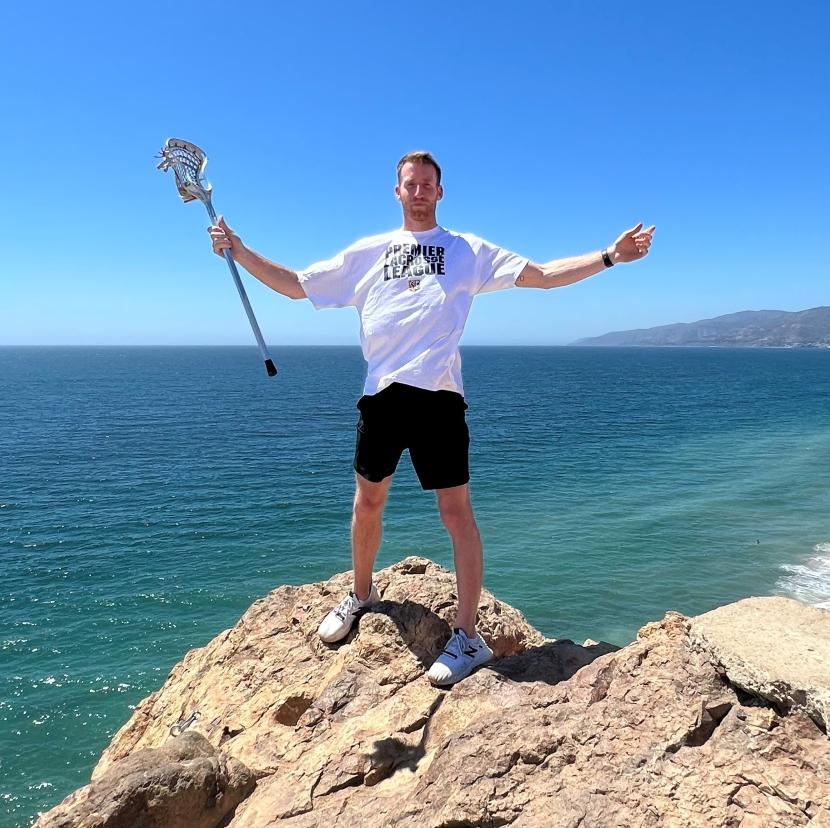 Alex Waelder '16 has found his happy place in work and in life. He's in his first season working as an Account Executive with the Premier Lacrosse League, and in his down time he's enjoying life in Southern California. "Between the subject matter of the job, the travel I get to do because of it, the people I work with, and the connections I've been able to make, it's been a home run. The whole experience really checks the boxes of things I'm passionate about."
While the Premier Lacrosse League (PLL) is headquartered in the Los Angeles area, its teams gather in a single city each weekend and play a series of games. It's a format similar to professional auto racing or golf where the athletes go to the fans rather than the fans traveling to traditional "home stadiums." For example, in the month of June, PLL teams were in Albany, Charlotte, Long Island, and Baltimore on consecutive weekends.
The June 10 and 11 games in Charlotte were Waelder's first working on-site as an account executive, connecting with clients and overseeing group experiences. "It's a combination of interacting, meeting people, making sure the people who are under my umbrella are having a great time, and contributing anywhere else where we can be helpful."
Before joining the PLL and becoming a frequent flyer, Waelder had never lived outside of Central New York. He graduated from Corcoran High School in 2014 and came to Onondaga Community College. While earning his General Studies degree, Waelder was a member of the 2015 Lazers' Men's Lacrosse National Championship team and the 2016 squad which finished #2 in the nation.
During his two years on campus he took a Business class which began to give him a career focus. "Before that class I never really had a passion academically. It was awesome. I enjoyed it. I always had kind of an entrepreneurial business mindset. So once I transitioned to sports management it combined the business world with a subject matter (sports) I thought was awesome. It clicked right away. I knew I wanted to work in sports."
His academic transition happened at SUNY Cortland where he completed his Sports Management degree in 2019. During his senior year the PLL began taking lacrosse on the road from coast-to-coast. Being part of the organization one day became a goal. "I always had an idea I would work there. I didn't know when or what department. I only knew that I wanted to one day."
A few months after graduating from SUNY Cortland, Waelder returned to OCC to work in the Office of Student Recruitment. "I was selling the school, selling an experience, building relationships, and event planning. It was a chance to get my professional feet wet, live close to home, pay off some loans, and learn as much as I could."
In January of this year the PLL offered Waelder a position. He accepted, headed west, and has loved every minute of it.
The PLL just concluded its regular season and will begin the playoffs Labor Day Weekend. The first round will be in Boston, the semifinals in Washington, DC, and the championship in Philadelphia. "Throughout the course of the season we've gone into areas that are lacrosse hotbeds but also hit places where the sport is really growing. It's a great way to take the product to our core regions but also take it to some emerging markets."
As Waelder enjoys everything about where he is in life, he's grateful for his time at OCC and how his two years working in Student Recruitment paved the way for where he is now. "I really appreciate Dana Acee (former Director of Student Recruitment), her leadership and management style, and the amount I professionally matured working for her. I learned an incredible amount and will forever be grateful for time spent under Dana."