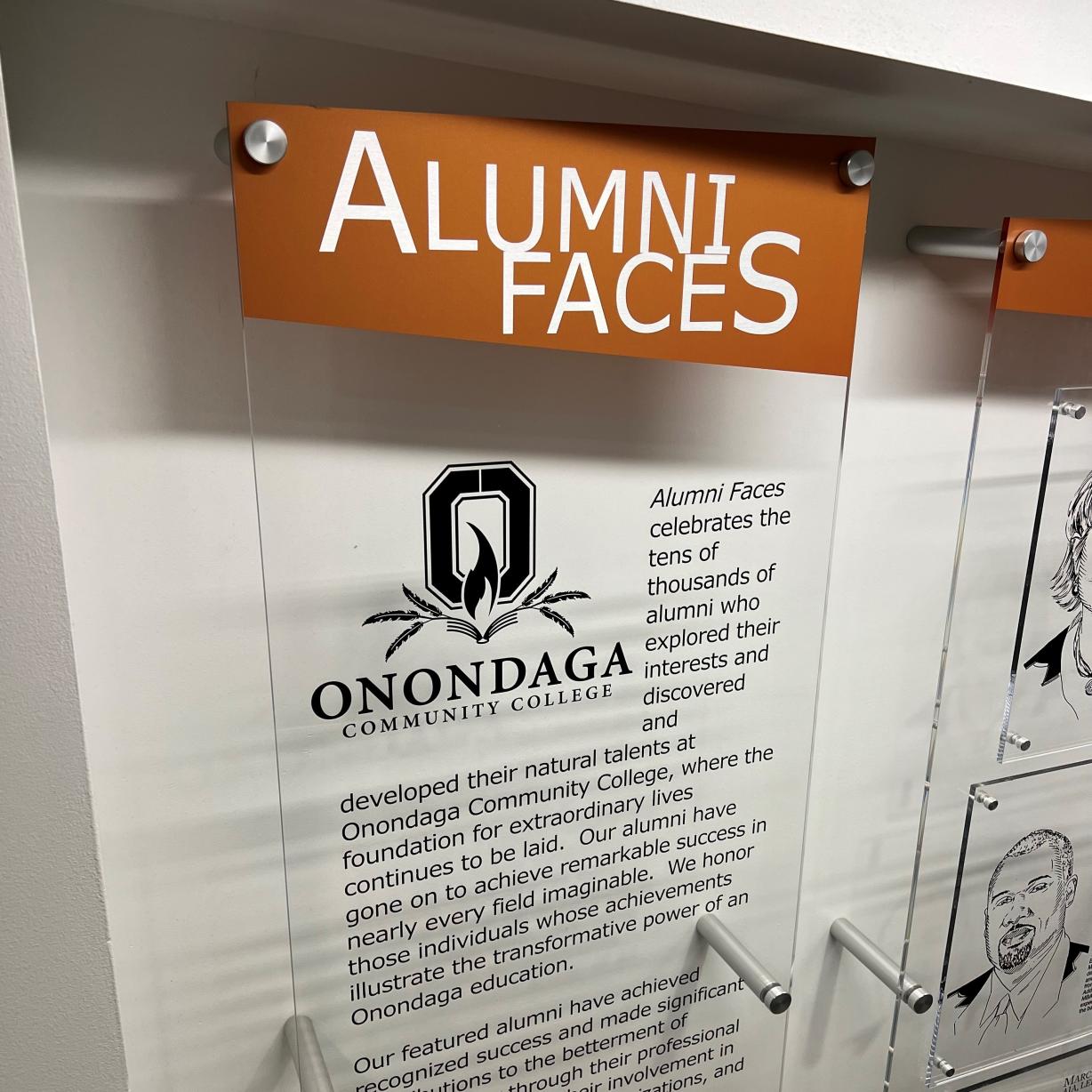 Onondaga Community College will welcome six distinguished graduates into the exclusive club of Alumni Faces honorees. They will be recognized on the night of Wednesday, October 18 during a ceremony in the Frederick Marvin and Ernst Schuh Recital Hall in the Academic II building. The event will be emceed by Glenn LaPoint '16 who is also known as "Gomez" on radio station WTKW FM, TK-99. The honorees are:
Anas Almaletti '08
Degree: Mathematics & Science
Entrepreneur
Anas immigrated to the U.S. from Jordan so he could attend college while working with his father in their cell phone repair service. He learned the English language and came to OCC, completed his associate degree, then earned a chemistry degree from SUNY Binghamton. He decided to take a year off school, found his true passion in business, earned his MBA from Syracuse University, and partnered with his brother to grow the business to 50 Cricket Wireless stores in New York and Pennsylvania.
James Domroe '02
High School: Liverpool
Degree: Electronic Media Communications
Marketing Agency Owner
James turned his teenage passion for making home movies into a career, creating a content-based marketing agency. He earned his associate degree at OCC where he says the EMC program, "Pushed me to grow, pushed me to evolve, and turned me into a professional. If it wasn't for OCC I don't believe I would be where I am today." His client list at 325 Productions includes Cornell University, Salt City Market, SUNY Upstate Medical University, JMA Wireless, Syracuse University, Loretto, OCC, and Saab. 
Dennis Hebert '67
High School: Henninger
Degree: Liberal Arts
Financial Services and Community Servant
Dennis decided to try the "new college downtown" on the advice of his guidance counselor. While pursuing his degree he served as Student Government Vice President and Treasurer of the Ski Club. He transferred to the University of Bridgeport where he met his wife Judi. The Hebert's eventually moved to Liverpool where Dennis became a leader both in village government and with many community-based organizations. While working professionally in financial services, he held multiple positions on the OCC Foundation board and led fundraising efforts for student scholarships.
Kayla McKeon '22
High School: Cicero-North Syracuse
Degree: General Studies
Down Syndrome Advocate
Kayla earned her degree over the course of 12 years while advocating for those with Down Syndrome. She became the first lobbyist in U.S. history with Down Syndrome; was named the National Down Syndrome Society's Self-Advocate of the Year; led an effort to pass legislation in Congress which aids people with disabilities; and helped Mattel design a Barbie doll with Down Syndrome.
Bryan Morris '14
High School: Red Creek
Degree: Engineering Science
Engineer
Bryan went from high school to the United State Air Force, then came to OCC. While earning his degree he was inducted into the Phi Theta Kappa Honor Society and worked in OCC's Office of Veterans and Military Services. He completed his bachelor's degree at Syracuse University and is now an engineer at Micron Technology in Boise, Idaho.
Diana Robertson '77
High School: Westhill
Degree: Drama
Fundraiser for Higher Education
Diana unexpectedly found her passion in a Creative Writing class at OCC. Writing became an important component of her work as Director of Development and Alumni Affairs for the NYU Grossman School of Medicine. As she saw the gradual erosion of writing skills due to the growing influence of texting and social media, Diana and her husband Drew gave the OCC Foundation funding for the creation of the Endowment for Student Success in Writing.
Congratulations to this year's class of Alumni Faces! Each Wednesday we will profile the story of one of this year's honorees on our website and social media. We hope you will enjoy learning more about those who make Onondaga Community College such a special place.