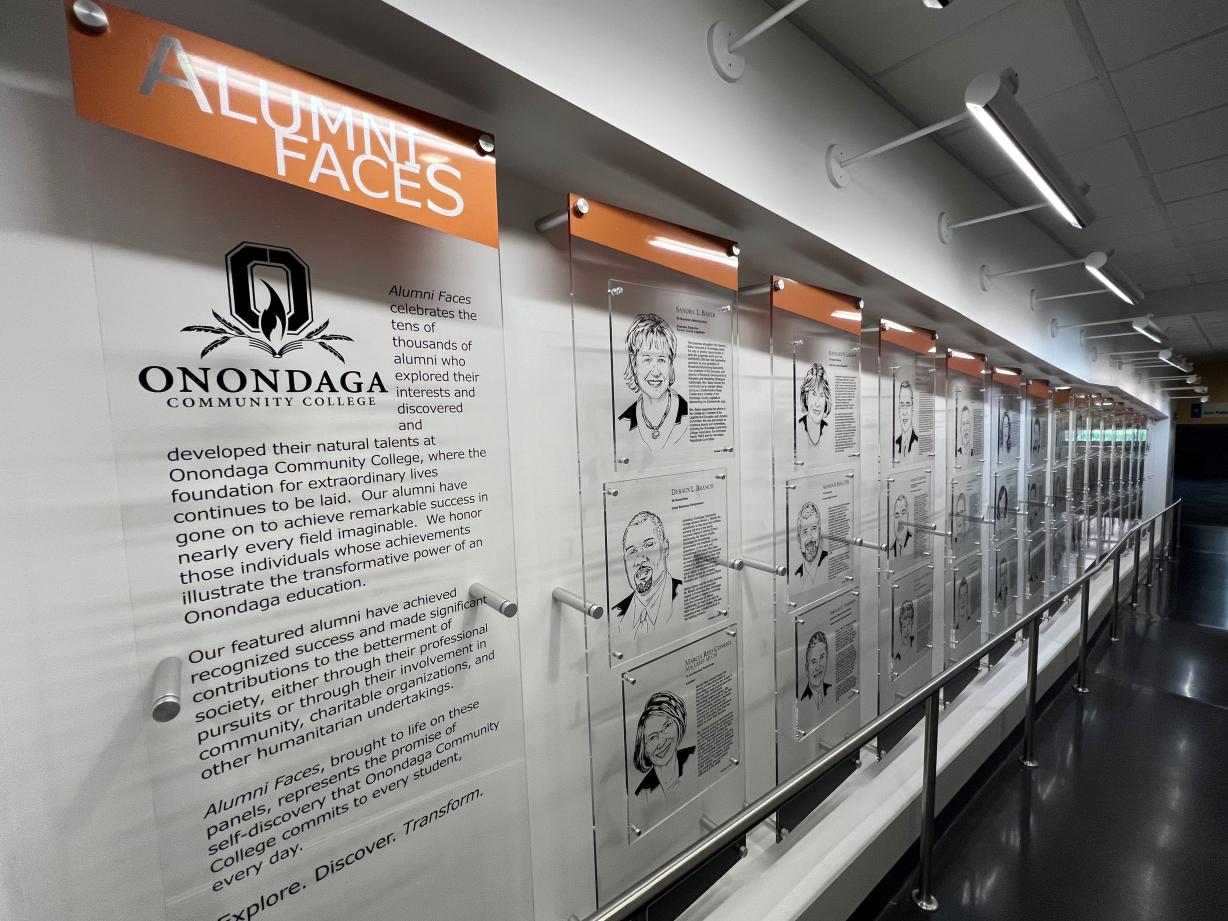 Five Onondaga Community College graduates will be recognized as distinguished Alumni Faces honorees for their professional achievements and contributions to the college and the community. Their accomplishments will be highlighted during an induction ceremony October 6 at 5:30 p.m. in the Frederick Marvin and Ernst Schuh Recital Hall in the Academic II Building. Their likenesses and inspirational success stories will be added to the Alumni Faces display in the Academic II Building.
The Alumni Faces class of 2022 is:
Hassina Adams '17
Prior to attending OCC: Immigrated to the United States from South Africa
Degree: Humanities and Social Sciences
Profession: Aspiring Immigration Attorney.
While attending OCC, Hassina was her younger siblings' legal guardian and taught middle school-aged girls at the North Side learning Center. She earned her bachelor's degree from Syracuse University and will enter law school next year. She is working as a Paralegal in the City of Syracuse's Office of the Corporation Counsel. She plans to become an immigration attorney who advocates for refugees and underrepresented people.
Dr. Danielle R. Berry '13
Prior to attending OCC: Homeschooled, from Syracuse
Degree: Mathematics & Science
Profession: Chemist and Senior Research Specialist at Dow
Danielle enrolled at OCC at age 16 where the Collegiate Science and Technology Entry Program introduced her to laboratory research opportunities. She earned her bachelor's degree at SUNY-ESF and her Ph.D. in Chemistry at the University of Texas at Dallas.
Richard Calagiovanni '68
High School: Jamesville-Dewitt
Degree: General Studies
Profession: WCNY TV Production Manager
As a member of Student Government, Dick lobbied County Legislators to build a new OCC campus on Onondaga Hill. He spent 29 years in leadership roles at WCNY TV, and in retirement continues to produce videos for non-profit organizations such as the Onondaga Historical Association, the Veterans History Project, the Town of Onondaga Historical Society, and Honor Flight Syracuse.
Steve Schill '78
High School: Fowler
Degree: Electrical Engineering
Profession: Senior Director at Inficon
Steve has spent his entire professional career at Inficon where he is the Senior Director of Global Sales Projects. He's served OCC as a member of the Foundation Board, the Perkins Grant Committee, a mentor to students in the P-TECH program, and a frequent speaker on campus.
Jesse Wilson '12
High School: West Genesee
Degree: Business Technology
Profession: Entrepreneur
Jesse started taking classes at OCC while he was in high school and earned his degree at age 18. He owns and operates "Ish Guitars" on Teall Avenue and sells more than 1,000 guitars annually to customers around the world. He also owns a Ferrari with "OCC GRAD" license plates.
"We're so proud of this class of Alumni Faces honorees. They came here from a variety of backgrounds with the common goal of bettering their lives through higher education. Their success stories and accomplishments are an inspiration to our entire campus community. We look forward to welcoming them home and celebrating their achievements," said OCC President Dr. Warren Hilton.