on
News Briefs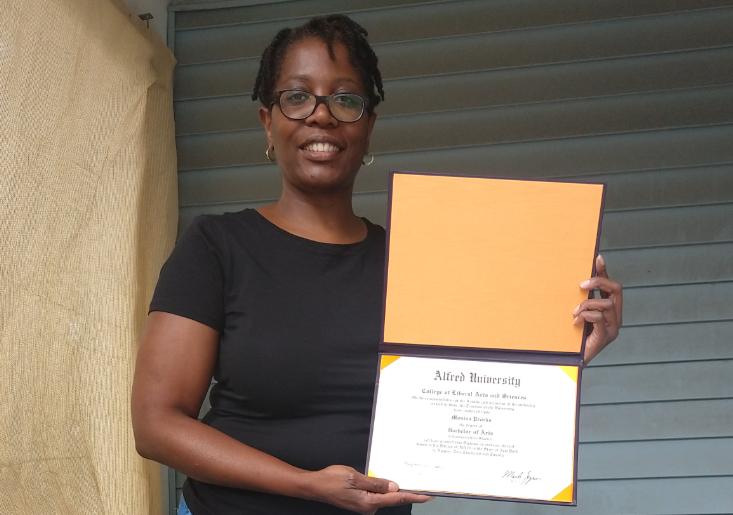 For 25 years Monisa Procks thought about taking that one last class she needed to get her college degree. "Any time I would talk to someone I knew who I hadn't seen in awhile they would ask me 'did you finish your degree yet?'" The answer was always the same. She was still just one class away and was going to take take it... soon.
Procks began her pursuit of a college degree in 1991 right after she received her diploma from John Jay High School in Brooklyn. She enrolled at Alfred University and majored in Communication Studies. Four-and-a-half years later she was three credits shy of finishing when life happened. "I got pregnant and left school. I kept saying I would go back and never did."
She would become a stay-at-home mom. It was a non-stop, around the clock job because she and her husband Reggie had six children including five girls and one boy. "I had the kids with me 24/7. We were always together when they weren't in school. I took the bus everywhere with them because I didn't have my driver's license."
In 2016 after the youngest of their six children went off to school, Procks started thinking about her future. "I remember that day when the last one left. I closed the door and there was nothing for me to do. It felt so strange. I was looking around thinking 'I could clean' but I didn't want to do that all of the time." She got a job working in a cafeteria in the Syracuse City School District, took up Tai Chi, and focused on getting her Driver's License. "After I passed my driving test I was so excited I hugged the instructor. That's when I decided it was finally time to finish my degree."
Procks needed a science class and decided to come to Onondaga Community College for the spring 2020 semester. She enrolled in Geology, taught by Professor Calvin Prothro. "Being back in class was definitely weird at first. The students around me were the same age as my kids. At some point I realized me and Professor Prothro were the oldest people in the classroom."
In May, having survived a quarter-century between classes and a pandemic which closed campus, she completed the Geology course. Earlier this month she received an envelope in the mail from Alfred University. She excitedly opened it and pulled out her bachelor's degree. "I thought 'finally!' I wanted to jump up and down but I'm kind of old now so I wasn't going to do that." She showed her degree to her children and husband who were excited for her. Then she emailed Professor Prothro a message of thanks along with the photo at the top of this story. "He was such a good teacher. I was so fearful of taking a class for all these years and he just made it so easy."
Today, along with one of her daughters, Procks is a student at Le Moyne College. She's pursuing a master's degree in K-6 Inclusion. Her goal is to become a teacher after she completes the program in 2022. She's also still working in the Syracuse City School District, now as a Teaching Assistant at PSLA at Fowler. At age 47, she's grateful for where she is in her life. "I adore my kids. I'm thankful for how well they turned out. And I couldn't have done any of this without my husband. Because of his support I was able to stay home. Now I am pursuing my dreams."