on
Alumni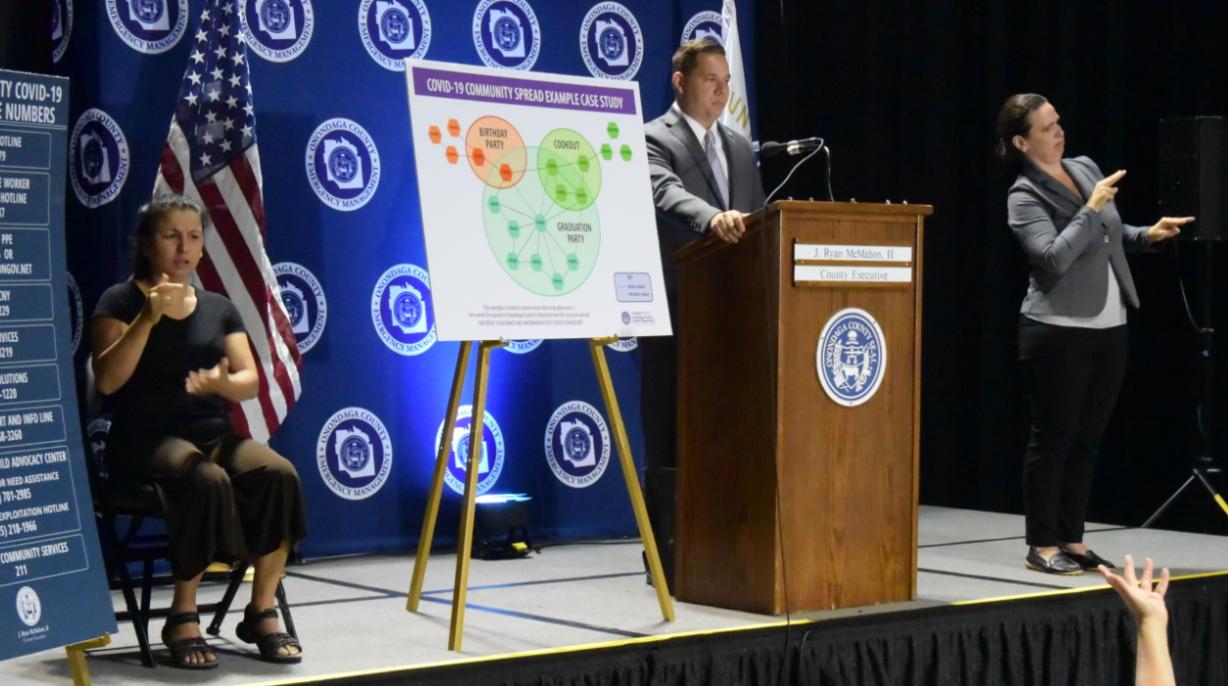 Throughout the coronavirus pandemic, OCC Alumnae Grace Cogan, '16 and Monu Chhetri, '12 have served as interpreters for Onondaga County Executive Ryan McMahon's press briefings. Cogan's specialty is American Sign Language (ASL), while Chhetri's is Nepali Sign Language (NSL). It is rare for press briefings to have both ASL and NSL interpreters. It's also a direct result of Cogan and Chhetri's passionate advocacy for the deaf community.

Initially Onondaga County didn't plan to have ASL and NSL interpreters at the briefings. The plan was to use closed captioning to serve the needs of the deaf community. But through the combined effort of Cogan, Chhetri and Maggie Russell, Director or Aurora of CNY's interpreter referral service, they were able to convince them of the value of live interpreters. Both ASL and NSL rely heavily on emotional facial expressions to convey the tone of the speaker as well as the words themselves. Cogan and Chhetri applaud the County's decision to include both interpreters. 
Being on stage didn't come easy at first for either of them. "It is incredibly frightening to stand on stage where everyone has their eyes on you and try to simultaneously interpret was is being said," said Cogan. Neither Cogan or Chhetri had previous experience with platform interpreting, but over time both became comfortable with the format.

Since both woman are Deaf, interpreting live on stage requires great teamwork. Two ASL Interpreters, referred to as "feeders" in Deaf Interpreting and ASL teams, are seated on the floor facing the stage where they listen to spoken English and interpret it into ASL. Cogan and Chhetri see their messaging and relay it to the viewing public. Half the battle they say is just getting familiar with the information they are being asked to present so they're not making errors. They fill out fact sheets everyday upon arrival so they have a better understanding of what will be discussed during the briefing. This ensures the interpreting will not lag behind the County Executive during the briefing. Both have found the process to be a very rewarding experience. 

Their current work as Onondaga County briefing interpreters is only part of the advocacy they do for the Deaf community in Syracuse which they feel personally connected to. Cogan's parents discovered she was deaf when she was 15 months old. Growing up, she struggled to find her identity. At age 12 she learned ASL from friends in the BOCES Deaf Program. Since then, she's been a passionate member and advocate for the Deaf community. After spending 20 years as a stay-at-home mother, she decided to get more involved. This passion was realized when she started working for Aurora of CNY and Liberty Resources, Inc. She served as a care manager and was assigned to many Deaf families throughout Onondaga and Cayuga Counties. As she began to lend her support she realized how much the system favored able-bodied people. It motivated her to pursue a national certification in ASL. 
For Chhetri, her personal experience has also deeply impacted her passionate advocacy for the Deaf Community. She is a Deaf New American, a community comprised of immigrants and new American citizens who are also deaf. In Syracuse, the community is around 50 people. Chhetri grew up in Nepal before relocating to the United States. When she arrived in the U.S. she found herself isolated because she was deaf and unable to understand English. Eventually, she got connected to Aurora of CNY and was encouraged to learn ASL and English. This led her to OCC to take courses in the American Sign Language program. She was motivated and passionate to learn because she saw so many other Deaf New Americans alone and isolated in their homes as she had been. When she finally graduated, she went to work bringing the local community together. "I did what I did back in Nepal. I invited people into my living room and we would just speak and share our experiences together," Chhetri said. Once they started to gather, Chhetri began supporting them to get their independence and opportunities to integrate in societies. At the time, she didn't have a car so she walked to the people in the communities where they lived. Eventually, she was able to become full-time with Aurora of CNY to make her support of the Deaf New American community her career. 
Both Chhetri and Cogan view ASL and NSL interpreters working during the County Executive's briefings as a significant victory. "This was a monumental step in access services for CNY Deaf community members and an opportunity of a life time to have Deaf interpreters on stage," Chhetri said. 

To support the work of Cogan, Chhetri and all the local organizations that advocate for the Deaf Community, check out some of the links below: