on
Alumni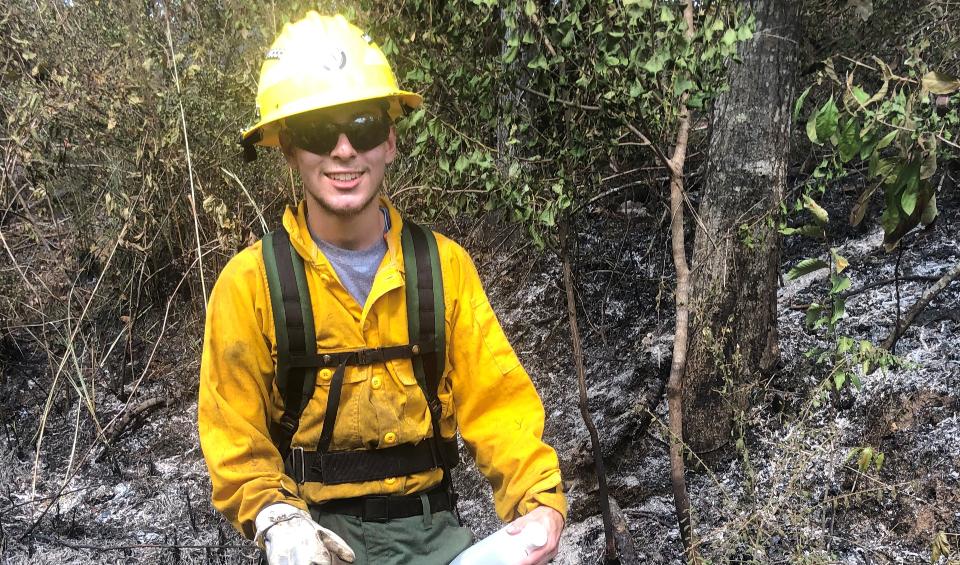 Spencer Parsons, '19 always had a natural love for the outdoors. Growing up in Rouses Point, New York which borders Canada, Parsons was always doing something outside. It's fitting he's serving a 10-month commitment with the United States Forest Service through the AmeriCorps NCCC program where his work has taken him to numerous locations in the southern portion of the United States, fighting wildfires and cleaning up after storms.
How did Parsons wind up where he is today? After graduating high school he spent one semester at a four-year college, then transferred to Onondaga Community College where faculty played a significant role in his academic success. "The professors really took an interest in their students. That personal interest made learning enjoyable and allowed many of us to get more out of education that just preparing for a test."
Parsons earned his Humanities degree in 2019 and decided to try another four-year college. As he was realizing that school wasn't for him, he discovered AmeriCorps. He completed the lengthy application process and began his tenure in July 2020 in the Forestry Services Program. "I immediately felt right at home in the woods. I've found my passion."
While the COVID-19 pandemic has significantly impacted much of life, Parsons feels fortunate that his area of focus has remained largely untouched. "The virus has turned many AmeriCorps programs upside down because of the community engagement piece, but my work with Forestry hasn't been impacted as much."
Parsons will complete his commitment in May, then he hopes to become a full-time employee of the National Forestry Service. During his tenure he's become certified in multiple aspects of forestry. He also has a new appreciation for his work thanks to his time at OCC. "I didn't realize it at the time, but OCC provided me with the tools I needed to find the deeper meaning in my work and to look for ultimately what will make me happy long term. My journey of discovery brought be back to the outdoors where it all began."