on
Alumni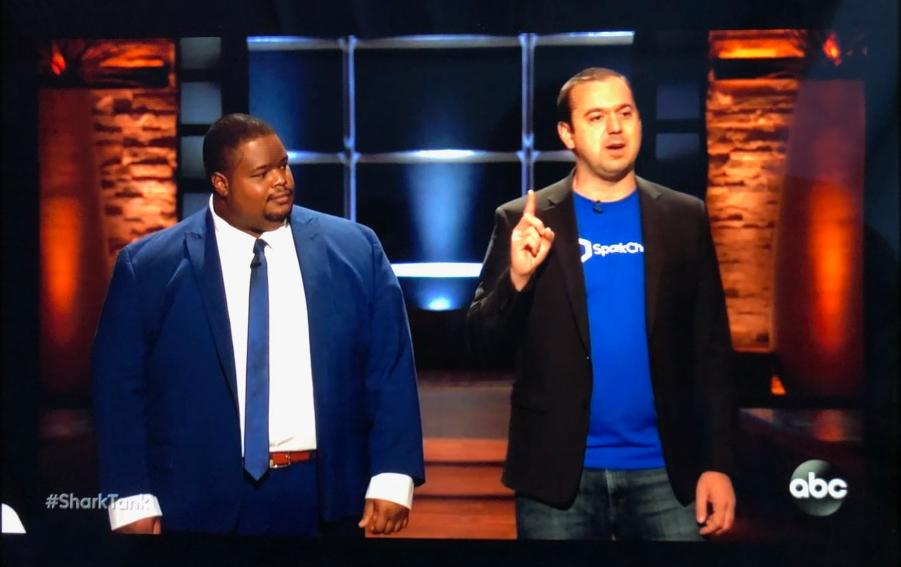 SparkCharge has two new high-profile business partners! The Buffalo-based startup company, which makes portable rapid electric charging units for electric cars, was founded by former OCC roommates and Electrical Technology majors Christopher Ellis, '14 and Richard Whitney, '13 along with Syracuse University alumnus Joshua Aviv. Friday night SparkCharge took center stage on the season-premiere of ABC TV's "Shark Tank" where entrepreneurs make business presentations to a panel of five investors or 'Sharks' who ultimately decide whether to invest in their company.
Ellis and Aviv teamed up to make the SparkCharge pitch. The moments right before they went on stage were the most nerve-wracking. "My heart was racing when we were standing behind the doors waiting for them to open. I was simultaneously excited and nervous about what was about to happen. The adrenaline was surging, but thankfully all of the nerves went away the moment we started to speak," said Ellis.
Ellis and Aviv explained how their product work and asked the Sharks for $1 million dollars in exchange for a 6 percent stake in the company. Their product pitch was followed by a question-and-answer session during which three of the Sharks dropped out, leaving Mark Cuban and Lori Greiner as interested Sharks. That's when the questions-and-answers turned into a negotiation. Cuban and Greiner agreed they would invest a total of $1 million dollars in SparkCharge in exchange for 10% of the company, along with each receiving 2% advisor equity and a seat on the SparkCharge board. Ellis and Aviv accepted. "I really like what you're doing here and I think you can have a direct to consumer end of this down the road where they can put in their cars something smaller that will give them that little bit of that piece of mind where they can get to somewhere where they are safe. I think it's super smart. It is innovative," Griener told them.
What did it feel like to win the public and financial support of two high-profile Sharks? "It was a swirling feeling of joy, excitement, relief, and exhaustion. We had to answer some fairly rapid questions from a wide range of topics for what felt like an eternity. To know it was over and we walked away with a deal was amazing and satisfying," said Ellis. The morning after the episode aired, Ellis woke up to hundreds of positive messages from friends and family as well as almost 500 new LinkedIn messages and views.
Ellis shared some behind-the-scenes stories about Shark Tank during an appearance on radio station WTKW TK-99's morning show with Gomez & Lisa. Gomez's real name is Glenn LaPoint. He's a 2016 alumnus of OCC's Broadcast Media Communications degree program. You can listen to the entertaining interview, which was conducted October 20, by clicking on this link!