What We Do
The Learning Center provides FREE online and in-person tutoring, academic support, and a quiet and friendly atmosphere to work on your assignments! STAR-NY is also available for tutoring in the evenings from 7:00pm–12:00am (Sunday - Thursday).
 
Schedule or Access Existing Appointments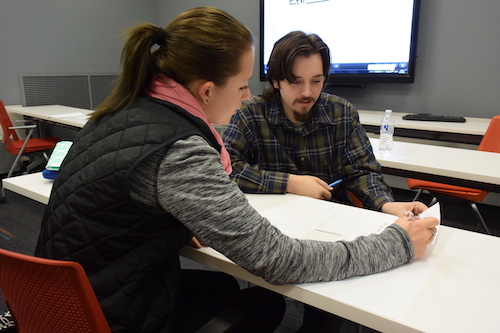 Tutoring Subject Areas
For the Summer 2023, semester, we have tutors available in the subject areas below.  Schedule a one-on-one tutoring session at any time, simply Make an Appointment or call us to schedule, 315-498-2103.   If your course is not listed below, you can request a tutor.
BIO 121
BIO 151
BIO 171
BIO 172
BIO 205
BUS 105
BUS 106
CHE 121
CHE 151
CHE 171
COM 100
COM 210
COM 220
COM 282
CRW 103
ENG 103
ENG 104
ENG 222
ENG 259
HIT 120
MAT 113
MAT 114
MAT 115
MAT 118
MAT 143
MAT 151
MAT 161
MAT 162
MAT 241
MAT 251
MAT 263
MAT 264
PHI 107
PHY 103
PHY 104
PHY 105
PHY 205
Writing Assignments
D2L Brightspace Support
Microsoft Word Support
Microsoft Excel Support
Microsoft PowerPoint Support
TEAS Math Support
TEAS Reading Support
TEAS Science Support
TEAS Writing Support
Drop-In Tutoring
For our high volume tutoring subjects, we offer drop-in tutoring sessions (no appointment necessary).  Students may come as often as they'd like to our drop-in sessions.  Tutors will be available during these hours to answer questions and provide academic support in the subject area.
These are group sessions.  If you need further assistance, please schedule an appointment with a tutor.
---
SUMMER 2023
DROP-IN MATH HELP:  2:00-6:00 pm every Monday, Tuesday, and Wednesday (beginning June 12), in the Learning Center, G202.
After Hours Tutoring (STAR-NY)
We now offer after-hours tutoring!
Summer 2023 STAR-NY will have math and writing tutors only.
Through a unique collaboration with other SUNY schools, you'll be able to receive the extra help outside of the classroom beyond our typical Learning Center operating hours. You'll be sent to the STAR-NY site which will connect you with a tutor. All you have to do is:
Log in with your OCC credentials
Get academic help!
STAR-NY is open in the evenings:  7pm - 12am (Sunday-Thursday).
Classroom Workshops
Workshops are offered throughout the semester on a variety of study and academic skills topics.  Faculty can request a 30-minute mini workshop for their class on any of the above topics.  Faculty should complete this simple request form to request a classroom visit. Common topics include:
Learning Center Overview
Time Management
Note Taking
Stress Management
Test Taking
Textbook Reading
How To Study
Role of the Tutor
The main function of the tutor is to help students improve their academic performance.  Tutors help students understand key concepts in their coursework during individual or group tutoring sessions. An important role of the tutor is to help the student attain self-confidence by providing positive feedback, encouragement, and helpful tools to attain success in the course.  Tutors do not provide answers, they guide the student towards independence and how they can attain the answer themselves. 
All tutoring positions are temporary and part-time (less than 29 hours per week).  Applicants should be willing to work a minimum of 5 hours a week.  Student workers may work up to 20 hours per week while classes are in session.  The Learning Center is open seven days a week and offers day, evening, and weekend appointments for students (both in-person, and online).  If hired, your working hours will depend upon the number of students requiring tutoring in your subject area(s), your availability, and the hours that the Learning Center needs coverage.
NOTE:  Applications are accepted on a "continuous recruitment" basis.  We accept applications year-round and reach out to the pool of qualified applicants only when the need arises.  Need is based upon student demand in the specific course/discipline. This can change from semester to semester.  These positions are temporary and there is no guarantee of work.   
Positions and Requirements
Academic Tutor I (Peer Tutor): 
Open to current OCC students.
Must have achieved a grade of B+ or higher in the course they wish to tutor.
Must have a cumulative GPA of 3.0 or higher.
Must obtain a positive faculty recommendation within the discipline and/or course.
Excellent interpersonal, communication, and technology skills are needed for this position.
Preferred applicants will have taken subsequent higher-level coursework in the discipline, and/or have prior tutoring experience with individuals or small groups.
To read the full job description and apply to be an Academic Tutor I, click HERE.
Academic Tutor II: 
Possession of an associate degree from a regionally accredited higher education institution including a grade of B+ or higher in the course and subsequent higher-level coursework.
Prior tutoring experience with individuals or groups.
To read the full job description and apply to be an Academic Tutor II, click HERE.
Federal Work Study - Office Aide (non-tutoring position):
Open to current OCC students who qualify for federal work study (applicants should inquire with financial aid before applying).
Must have successfully completed at least twelve (12) credit hours at OCC.
Must have a cumulative GPA of 3.0 or higher.
Must be familiar with D2L Brightspace, OCC email, and Microsoft Office.
Must be dependable and willing to learn new technology.
Excellent attention to detail, excellent customer service skills are needed for this position.
To read the full job description and apply to be an Office Aide, click HERE
When You Apply
Please include the following information in your cover letter:
The specific courses you are interested in tutoring using the college catalog.

 What days and hours you are available to work.

How many hours a week you desire.

Attach a letter of recommendation.

If you are not a current student, please attach a copy of your transcript.
You can borrow a laptop at The Learning Center — Bring your LazerCard!  
Location
All tutoring sessions and workshops are hosted in the Learning Center, Gordon 202, unless indicated otherwise.
Hours
Summer 2023
Mon - Thu: 8:30am - 6:00pm
Fri:  8:30am - 4:30pm
Sat/Sun:  CLOSED

After Hours Tutoring