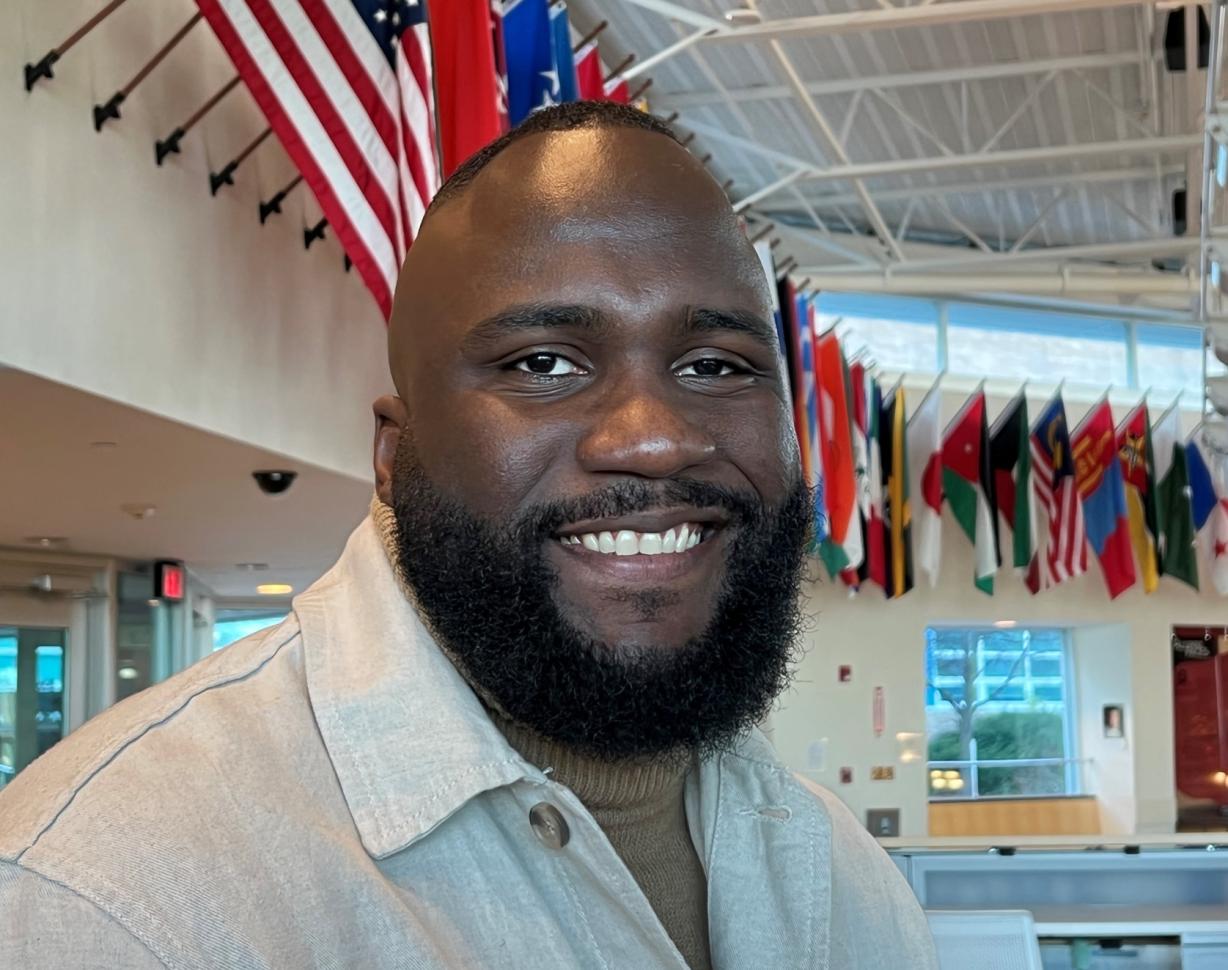 Ten years ago the dream of life in America motivated Romeo Kpolo to leave his home in Africa and come to the United States. Today he has an office on the 4th floor of Syracuse City Hall where he works as a Civil Engineer. "Syracuse gave me so much. I want to give back. Working there makes me happy. Friends tell me I could do jobs outside and make more money. I tell them 'I know but I want to work for the city and give back.'"
When Kpolo (last name is pronounced 'polo' due to a silent 'k') landed in the U.S. in April of 2012, he almost made a u-turn. "I didn't speak English, it was cold, and I wanted to move back home," he remembers. Kpolo survived the ups and downs of a Central New York spring and by the fall was a student at Nottingham High School.
He made friends quickly as a member of the varsity soccer team, but had to adjust to wearing cleats on his feet when he played. "In Africa we always played soccer in the street barefoot. I had never worn cleats before and didn't know how to kick the ball with them." Kpolo eventually figured out how to coexist with cleats and had an outstanding season, drawing interest from numerous colleges. After receiving his high school diploma in 2013, he decided to come to Onondaga Community College. "I thought it would be a good place for me to keep playing soccer, improve my English, and transfer anywhere to."
Kpolo became heavily involved in campus life and fit in immediately. While playing soccer he was also a member of the International Club and the Collegiate Science and Technology Entry Program (known as C-STEP). During his sophomore year he would be named to the All-Conference Soccer team and earn membership in the Phi Theta Kappa Honor Society.
When he needed help with coursework, he found the Learning Center to be an invaluable resource. When he had to write a paper for Enlgish, he would take his first draft to the Learning Center where a tutor would assist. His experience there was so positive, he eventually became a Math tutor. "My English wasn't great, but tutoring helped me improve it and also made me understand Math better."
Kpolo completed his Engineering Science degree in 2015, earned a bachelor's degree from Syracuse University, and has been working for the City of Syracuse for more than three years. The focus of his most recent work has been the Creekwalk, a two-and-a-half mile long pathway which winds its way through the city.
Even though it has already been seven years since he was a student here, Kpolo loves visiting campus and has strong feelings about OCC. "When the President came last month I said 'oh man! That's my school!' Whenever I come here it gives me chills. This is my old school!"