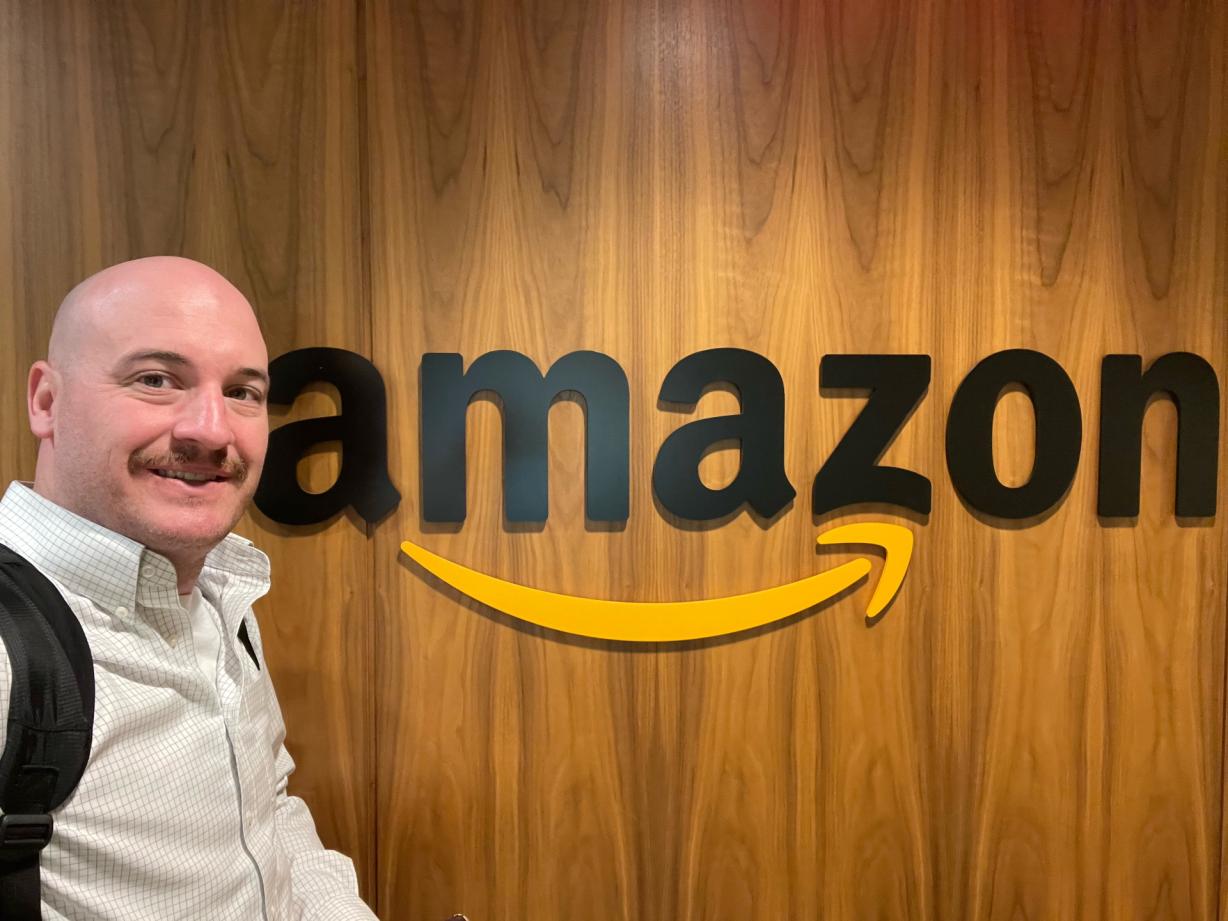 Jeff Cleland's life and career keep intersecting with Onondaga Community College. Cleland is a former United States Marine who earned his General Studies degree in 2013. Three years later he became a distinguished OCC Alumni Faces honoree while working at the George W. Bush Presidential Center as its Manager of Research and Policy. Today he's a high ranking manager at Amazon which just last month named OCC as an education partner in its Career Choice program which provides hourly employees access to pre-paid tuition to learn new skills for career success at Amazon or elsewhere. "The Career Choice program is really cool. It's one of the few I've seen in the private sector where we're almost training our employees to leave. They can get certificates or degrees and go anywhere. It's a unique benefit for employees. As an employee of Amazon and a graduate of OCC, I was excited to see the partnership. It just makes sense. This is a really cool opportunity for recruiting for both Amazon and OCC."
Cleland is a 2005 graduate of West Genesee High School. During his freshman year, the 9/11 attacks happened. He came home from school that day, told his parents he was going to join the military after he finished high school, and kept his word. Two weeks after he received his diploma, Cleland was on his way to boot camp. He would become an infantry machine gunner and serve in Fallujah, Iraq during Operation Iraqi Freedom in 2006 and 2007. He was wounded twice and medically retired in July 2008.
After recovering, Cleland came to OCC and became an outstanding student. A professor in the English/Reading/Communication major, Joe Walsh, played a significant role in his development. "Joe was exactly what I needed. He provided tough love and guidance. He also helped me find a career path I could get excited about."
That career path was public service. Professor Walsh helped Cleland get an internship in the office of Congressman Richard Hanna. He enjoyed the experience and made contacts with a professor from Syracuse University's Maxwell School for Public Citizenship. After earning his degree from OCC Cleland would transfer to SU and earn his bachelor's degree.
Cleland would go on to work for Congressman John Katko's first campaign, Clear Path for Veterans, the Institute for Veterans and Military Families at Syracuse University, and the George W. Bush Presidential Center in Dallas.
The same year Cleland graduated from OCC, he also married his wife Kimberly whom he had known since the 6th grade. While they were living in Texas they had their third child, Vivian. That's when they both decided they needed to be closer to their families in Central New York. They set their sights on moving to the Washington, DC area.
Through his maze of professional and political connections Cleland landed a job in Maryland as the Department of Transportation's Chief of Staff. About a year later, colleagues whom he had worked with in Texas and had moved on to Amazon told him they had the perfect job for him there. The day he interviewed was also the same day the deal for a massive Amazon headquarters in Long Island City, Queens fell through. He got the job and his first order of business was to fix damaged relationships. "I also did a lot of work around taxes, environmental issues, transportation, data privacy, and things like that."
About two years ago he became Amazon's Senior Manager of State Transportation Public Policy. He leads their "last mile transportation work" which includes things like commercial drones, autonomous vehicles, and electric vehicles. He's been at Amazon for four years which is the longest he's ever worked in one place. "The cool thing about Amazon is that they pride themselves on this 'day one' culture. Every day is day one and when you get to day two it's maintenance mode and it's not fun. It really is day by day, week by week. It's like I always have a different job and I'm never doing the same thing. I think that's the most exciting thing about working here."
During his time at Amazon he's been involved in the construction of two large Amazon facilities in Onondaga County, one of which was built at the site of the former Liverpool Country Club. "It was sad to see the golf course go but I think it was flooded every time I played it!"
This Friday is Veterans Day, a day when the nation pays tribute to those who served. Cleland still has vivid memories of his time at OCC and the critical role its Office of Veterans and Military Services played in his success. "It was tremendously beneficial. The most successful college campuses for student life have a really vibrant student veterans office. I don't think I would be where I am today without that office helping me through OCC."
He's also proud of Amazon's commitment to those who served and their ambitious goals. "We pledged a year-and-a-half ago to hire 100,000 veterans and 16,000 military spouses. If you are a Student Veteran at OCC, you have a higher leg up on others with a company like Amazon."