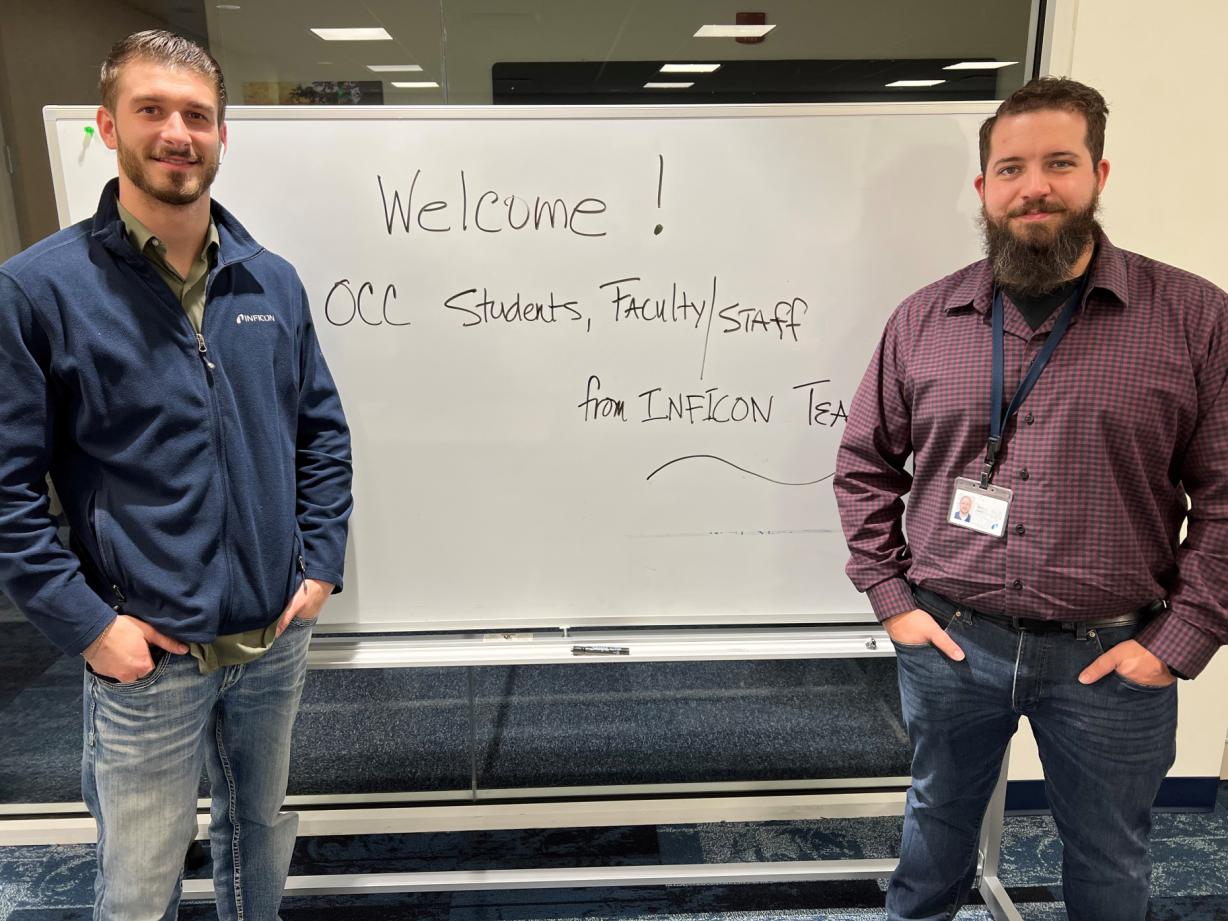 Onondaga Community College Alumni Layne Bolton '18 and Mike Burst '19 want students who sit where they once sat to know they can have great and rewarding careers right here in Central New York. Bolton and Burst are graduates of OCC's Mechanical Technology program who work together in East Syracuse at Inficon which makes world-class instruments for gas analysis, measurement, and control. "There's so much opportunity for growth here. And they really care about the people here and I appreciate that," said Burst who is a Test Technician. "The people you have around here make the job great," added Bolton who is a Mechanical Technician. "When I wake up in the morning I'm ready to go see my friends at work. It's a very friendly environment here."
Bolton and Burst had an opportunity to share their experiences earlier this month when approximately two dozen Mechanical Technology and Electrical Technology students toured Inficon. They visited "clean rooms" where extremely precise work is done in highly controlled environments, and learned about numerous employment and career growth opportunities there.
One of the interesting facts company leaders shared with students is that 13% of those who work on Inficon's production floor earned degrees at OCC. "We know OCC students come here with foundational knowledge. They're already prepared," said Inficon Manufacturing and Production Manager Steve Bedford. "OCC's programs lend themselves well to the foundational expertise we're looking for, and that lends itself well for them to continue their education and training here."
The best news of all for Mechanical and Electrical Technology students is that Inficon is hiring. They're becoming an around-the-clock operation to keep up with global demand for their products. "The amount of opportunity here is substantial. The market is booming and this is not a market that is going away. Our ability each year to increase our output, adding the 24/7 structural capacity and integrity, is key for staying as the market leader we are," said Bedford.
Ella Heckert is one of the OCC students who enjoyed the opportunity to explore career options at Inficon. She's a 2021 graduate of Phoenix High School who began working toward her Mechanical Technology degree in 9th grade as part of the P-TECH program. While taking classes at OCC this semester she's also doing an internship as a mechanic at Novelis. The visit to Inficon gave her a new career option to consider. "I was impressed with how clean, precision-based, and laid back it was. I also liked how willing they were to train you and teach you everything you need to know."
Students interested in learning more about careers at Inficon should contact Mechanical Technology Professor Gino Duca at [email protected]
The visit to Inficon was coordinated by OCC's Assistant Director of Employee Relations Rebecca Fracchia and Director of Business & Community Education Russ Corbin.