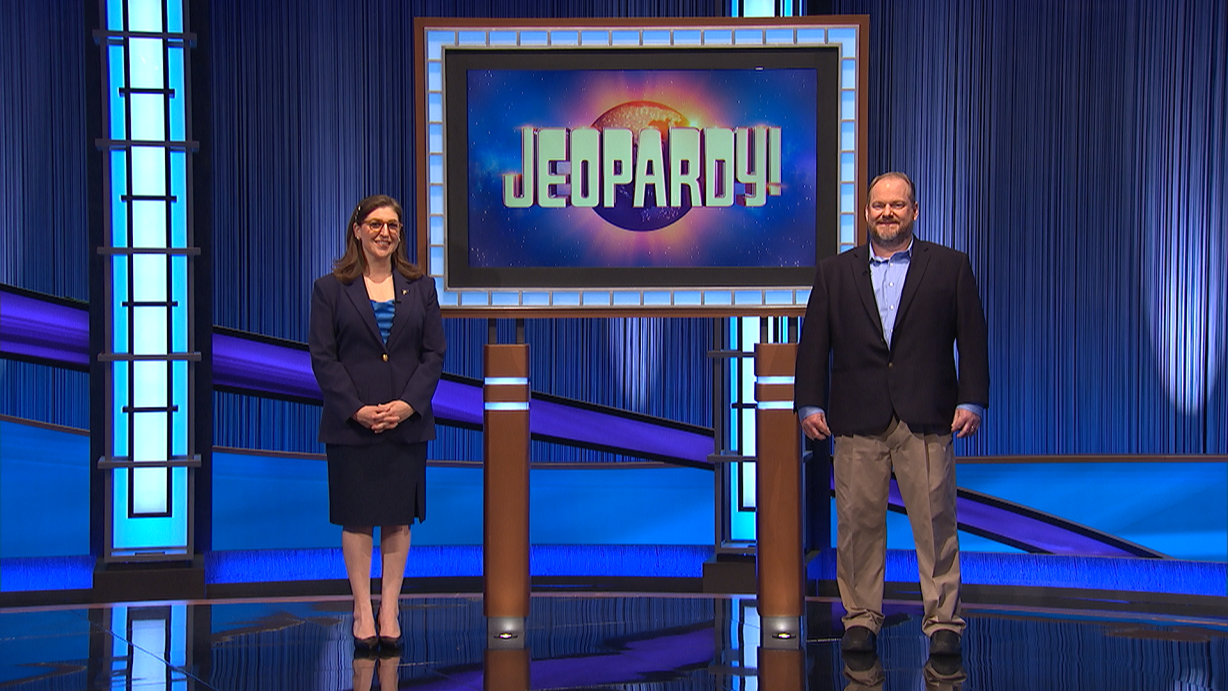 Onondaga Community College Philosophy Professor David Bzdak became a regular viewer of the television game show "Jeopardy" at a young age. "My grandmother on my dad's side was a huge fan. She always watched it. I would watch with her and liked the show a lot."
Contestants on Jeopardy need to be intelligent and fast. The show host reads an answer, and contestants hit a buzzer and respond with the correct corresponding question. The show is entertaining and easy to play along with at home, which is why it has been so highly-watched since the 1960s.
Bzdak is now part of the historic television show. He was selected to be a contestant and flew to Los Angeles in April for a recording. Due to the show's strict rules, he can't reveal how he did. The show will air June 30 on the local FOX affiliate, WSYT TV, channel 68. "My kids keep asking me what happened and I tell them 'you've got to watch.' They have to wait too."
His journey to becoming a contestant began in 2001 when he went to Turning Stone Casino for in-person tryouts for Jeopardy. He took a 50 question quiz, thought he did well, but never heard back from anyone. He would make other attempts through the years, but the dream of making it on stage was fading.
Four years ago one of his former students, Ashley O'Mara, appeared on Jeopardy. "She told me what a great experience it was. That motivated me to start taking the test again regularly."
In April of 2021 he took a test online. He did well and was asked to take another test a couple of months later. That was followed by an interview over Zoom and a trial round of Jeopardy with a small group. "They told all of us we were in a pool of contestants but not everyone would get called."
Eight months later, in early April of this year, he got the call. "I was so excited. I thought this would never happen. I thought 'what a great opportunity' but I also hoped I wouldn't make a fool of myself on national tv."
A couple of weeks later Bzdak was in the Jeopardy studios in Culver City, California. He credited the show's staff with making all of the contestants feel comfortable in front of the bright studio lights and cameras. "There was a group of about 10 contestants. We spend the morning talking about the rules of the game, how you work the buzzer, those kinds of things. Then we did some practice rounds on the set. It really helped you get over the nerves before we started recording."
Bzdak also enjoyed the opportunity to talk science with the show's host, Mayim Bialik. Prior to working on Jeopardy she was an actress on the situation comedy "The Big Bang Theory" where she played neuroscientist Amy Farrah Fowler. She's extremely knowledgeable about neuroscience, having earned a degree in it from UCLA. "I spoke with her about my dissertation related to neuroscience and that was also her background. She was interested in it and was really nice."
When Bzdak's episode finally airs next week, his children will know how well their dad did. As he remembers back to when he first started watching Jeopardy, he can't help but wonder what his grandmother would think if she were still here today to see him on the show. "She would have loved it. She would have been amazed. She would have been happy to see somebody on it she knew."