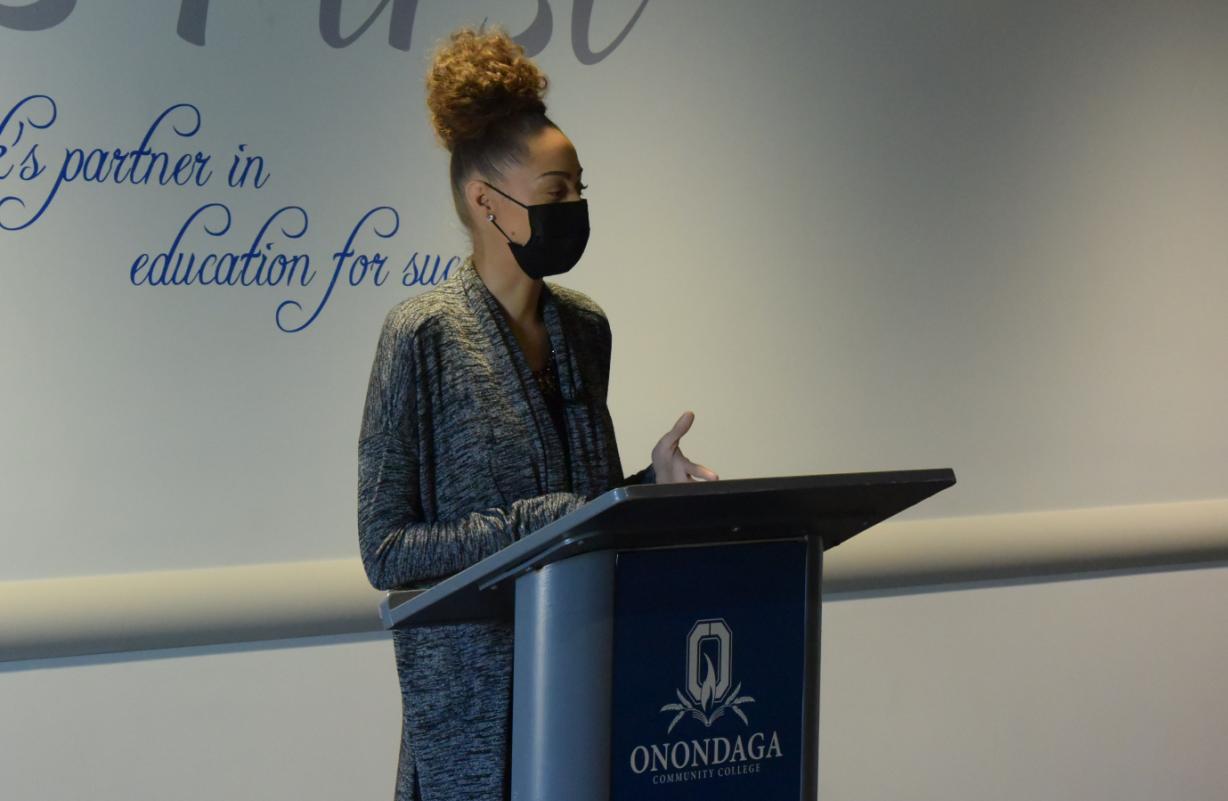 Chalea Jones '21 brought her uplifting message of perseverance and believing in yourself to Onondaga Community College students Monday, encouraging them to keep working hard as they pursue their degrees. "Whatever you want to do, give it your all and never give up. Hold tight to what you want to do and what you're working for. It's never too late."
Approximately 50 students who benefit from the CSTEP, EOP, LSAMP, and TRIO programs came to hear Jones' story as part of OCC's First-Generation Celebration, a day which commemorated both students who were first in their families to attend college and the signing of the Higher Education Act of 1965.
As she encouraged students and told them to be proud of where they are now and where they are going, she shared her story of overcoming the odds. Jones was pregnant when she graduated from Corcoran High School in 2005 and worked a variety of jobs for more than a decade. "I struggled. I had some very low times. But I never ever gave up."
In 2019 she decided to enroll at OCC and pursue an Accounting degree. She did so well in her first year she was inducted into the College's chapter of international honor society Phi Theta Kappa. As she headed into her final semester, she interviewed for an internship with the Syracuse accounting firm of Dermody, Burke & Brown. The interview was a stunning success, and rather than an internship she was offered and accepted a full time job. During the spring 2021 semester she completed her degree while working as an Accounting Specialist.
"This was such an amazing opportunity to speak to students, share my experience and what I got out of it, and really touch someone in the room," Jones said following her conversation. "I think it's always important to reach out and give a word of encouragement. I know it meant a lot to me during my journey."