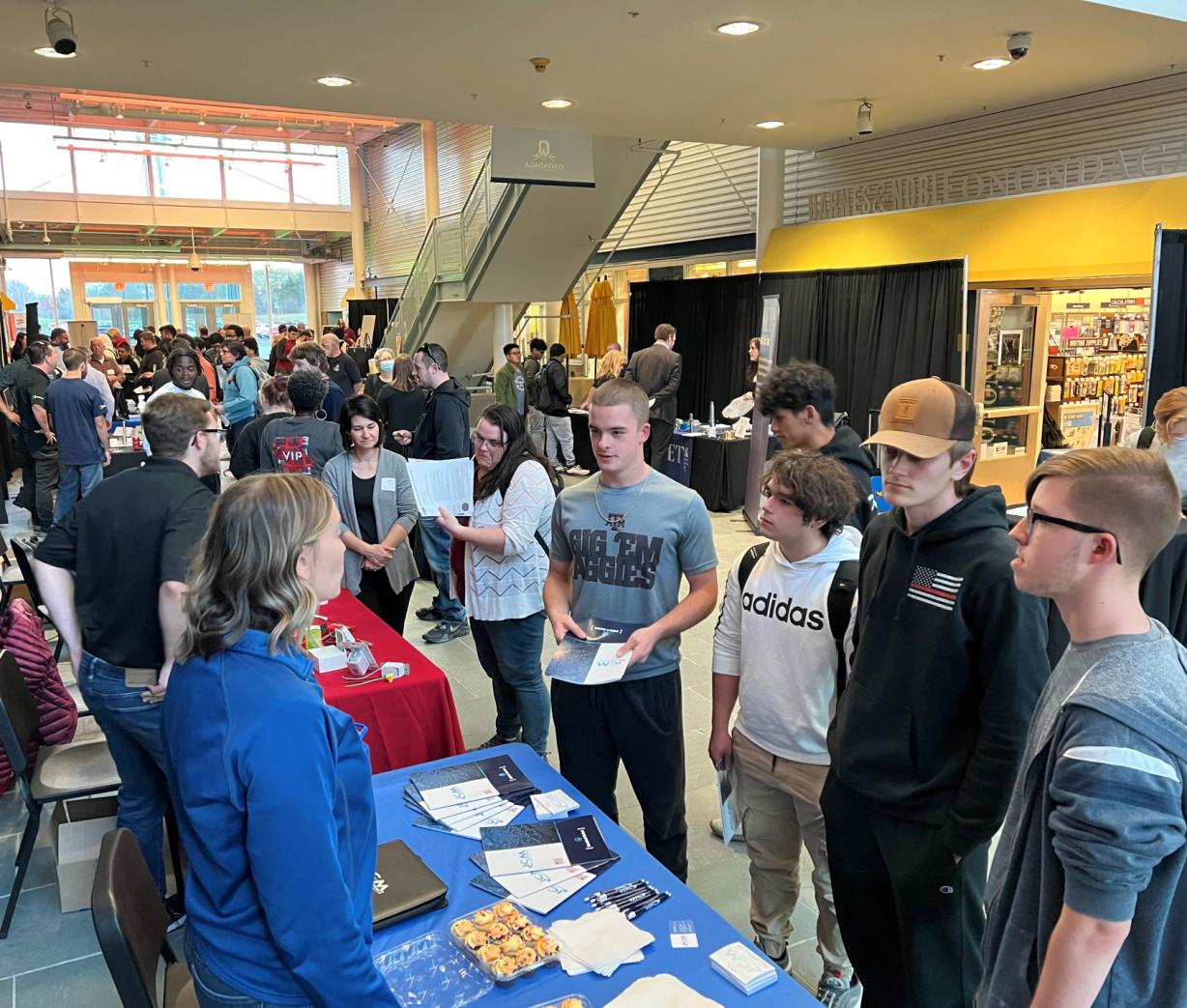 Yasmine Chatila came to Onondaga Community College's Computer & Applied Technologies Career Fair to get a head start on building her resume. She's a Computer Science major who will complete her degree next May. "A lot of jobs require experience which can be so hard to get. I'm here to network and get to know local companies to increase my chance of getting an internship or a job," she said.
Giving students the opportunity to interact with multiple employers in one location is exactly what the Career Fair was designed to do. "We're trying to build this connection between our students and our industry partners. This is a great opportunity for them to meet each other and for employers to tell students about their career opportunities," said Professor Mike Grieb, Chair of OCC's School of Computing & Applied Technologies.
The college hosted its first Computer & Applied Technologies Career Fair in the Whitney Atrium during the spring semester. Attendance was good the first time, and even better this semester. "The turnout was amazing," said Professor Grieb. "This was much bigger than our first one. It's getting a lot of traction. We may need to hold our next one in a bigger place!"
The Career Fair was a success for Chatila as well. "I found an internship that doesn't require any experience, only a background in computer science which I have. They say they will teach you on the job. I'm thinking of applying."
Employers who were scheduled to appear at the Career Fair include:
Baxter-Hillrom
Consolidated Precision Products
Cryomech
Eaton
ICM Controls
Jadek
Knowles
Legrand
Lockheed-Martin
NET & Die
Scientific Tool
Syracuse City
TTM
VIP Structures
"We're grateful for our workforce partners and this opportunity," said Professor Grieb. "Employers across the board are struggling to even get people to show up for interviews. Those open positions put a strain on the existing workforce and hinder any opportunities for growth."